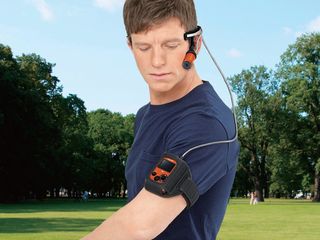 First we had Glassholes. Now, it looks like we're entering the age of GoSchmoes. GoPro is the industry's leading brand of wearable camcorders for those who want to document their every move, and Panasonic wants a piece of the action with the HX-A500.
The electronics maker just announced the world's first 4K-capable 25p wearable camcorder that has the added benefit of making you look like a cyborg. The two-part product features a Gameboy-like operating unit on an armband and a earpiece-mounted camera, and will be available in May 2014 for £379.99 ($626).
MORE: 10 Ugliest Wearable Devices
Joining the A100 as part of Panasonic's wearable camera lineup, the HX-A500 will let anyone from extreme sports junkies to Blair Witch enthusiasts shoot in high 4K resolution at a framerate of 25 fps. That frame rate is fairly good and beats the GoPro Hero 3's 15 fps at 4K.
What really stands out about the A500 is how cumbersome it looks. The 4.19-ounce orange operating unit is strapped onto your arm in a black case, while a 1.09-ounce camera sticks out of an earpiece. The two parts are connected by a cable which, based on the picture, will not afford you much range of motion (Panasonic did not specify the length of the cable).
We imagine tennis or basketball players will find themselves restricted when using the A500, despite Panasonic saying the camcorder "is not restrictive, even during sport and other physical activities."
The device is waterproof up to 3 meters (9.84 feet) for up to 30 minutes and dust-proof, so extreme sports enthusiasts can take it anywhere.
A 1.5-inch color LCD monitor on the operating unit lets you see the camera's range of view as your record, and the A500 sports NFC capability so you can quickly connect it to your smartphone or tablet. Using Panasonic's Image App (Android and iOS), you can then record and edit your video and share it via social networks or broadcast it live via UStream.
Follow Cherlynn Low at @CherlynnLow and on Google+. Follow Tom's Guide at @tomsguide, on Facebook and on Google+.