The new Moto Droid Turbo 2 could be the cure for klutzes. Using new ShatterShield technology, this new Android handset ($26 per month for 32GB) can survive a drop face-down on concrete. Those on a budget might like the new Droid Maxx 2 ($16 per month), which isn't as durable but offers a big display and big battery for an aggressive price.
The ShatterShield system on the Droid Turbo 2 consists of five layers. This includes a rigid aluminum core, an AMOLED Flexible Display and a Dual Touch Layer (with redundancy to survive accidents). An interior lens and exterior lens provides additional protection. Motorola claims that this system provides unprecedented durability.
During our hands-on time with the device, I dropped the Turbo 2 from above chest height and it didn't have a scratch on it. A Verizon rep took it a step further, literally spiking the phone like a football from above his head. Again, no scratches or dents.
The Moto Droid Turbo 2 is also the first Droid you can customize online via Moto Maker (allowing you to choose various colors and textures). There are more than 1,000 possible combinations.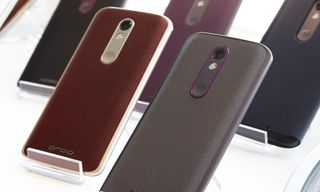 MORE: Best Smartphones on the Market
Our only complaint about the design so far is that the phone seems fairly wide compared to other phablets; it's 3.07 inches across, compared to about 3 inches for competing devices.
Motorola says to expect up to 48 hours of battery life via its 3760-mAH battery. As with previous Droids, this one includes turbo charging capability. TurboPower promises 13 hours of juice in 15 minutes. Plus, Droid Turbo 2 supports both PMA and Qi wireless charging.
Other specs include a Snapdragon 810 CPU, 3GB of RAM, a 5.4-inch quad HD display and a 21-megapixel camera. The front has a 5-MP camera with a wide-angle lens. The Droid Turbo 2 comes with 32GB or 64GB of storage with the option to add up to a 2TB microSD card.
Motorola has also introduced the Droid Maxx 2 with a 3630-mAh battery rated for 48 hours of use. This lower-end device has a Snapdragon 615 processor and 5.5-inch full HD display (instead of quadHD). A microSD slot allows for additional storage. A protective flip shell comes in multiple colors, complete with a see-through window.
Verizon will be accepting trade-ins for the new Droids, including those with cracked screens.