Every time I think about complaining about how unreliable Gogo's airline Wi-Fi services is, I stop myself because of Louis' CK hilarious routine about whining air travlers. "You're sitting in a chair in the sky," he scolds. But you won't hear me complain about American Airlines ditching Gogo for ViaSat on at least 100 new planes.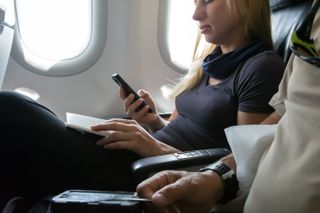 As a frequent flier who has paid upward of $40 for a cross-country flight only to experience multiple outages and speeds so slow I couldn't send an instant message, I'm glad to finally see a viable alternative. ViaSat's satellite-based service promises 12 megabits per second of throughput per passenger, as opposed to Gogo's lame 10 Mbps per plane via its ground-to-air service.
MORE: Laptops with the Longest Battery Life
With that kind of speed, you should be able to not only check email and send attachments while you're flying but also stream Netflix and YouTube. In other words, you'll be able to use the whole Internet, though we might not suggest intense multi-player gaming matches in the sky.
"We believe we are now approaching the end of an era where passengers have paid very high prices for very slow connections. ViaSat Chairman and CEO Mark Dankberg said in a statement. "Our agreement highlights a significant initial step for American to deliver an onboard Wi-Fi experience every passenger will want to use."
Based on the new contract, American Airlines will equip 100 Boeing 737 Max aircraft with ViaSat's service by next September. But the deal will likely not end there, as the Los Angeles Times reports that 550 of American Airlines 1,100 planes are subject to a contract option that enables the airlines to drop Gogo at any time.
It's not like Gogo is completely out of the picture, as American has agreed to use the provider's newer 2Ku satellite service on 134 Airbus Group planes. But the bottom line is that there is finally true competition for in-flight Wi-Fi supremacy, and travelers will be the winners.