The best soundbars make a huge first step in turning your simple TV setup into a fully-fledged home theater system. A lot of TVs — even the best TVs — can come with tinny, unsatisfying built-in speakers, so by adding a great soundbar you're helping your favorite movies and TV shows deliver the soundtrack they were always meant to. Not to mention clearer dialogue or more exciting sound effects, and that all goes for playing games as well.
You've also got a wide range of choice when it comes to picking your soundbar. You could have a simple all-in-one system, or a soundbar and subwoofer combo for deeper, room-rumbling bass. You can also get full surround sound kits that include satellite speakers along with the main soundbar.
To help you find the right speaker for the job, here's our rankings of the best soundbars you can buy. We're keeping it updated with new models as they arrive, and will look out for potential new additions too, like the Roku Streambar Pro.
What are the best soundbars?
Our pick for the best soundbar for the money is the Yamaha YAS-209, a great-value soundbar and subwoofer combo. The YAS-209 sounds much better than the price tag might suggest, and it comes complete with Alexa integration for greater smarts.
If you want to go even cheaper, the Vizio SB2920-C6 is our top budget pick. For less than $100 it gives you great sound quality in a tidy package, and can act as a Bluetooth speaker as well.
Here are all of the best soundbars you can buy right now.
The best soundbars you can buy today
The Yamaha YAS-209 is an excellent package for the price, getting you great overall sound, a wireless subwoofer for beefy bass and Alexa support for handy voice controls. The soundbar itself is one of the sleeker models we've tested, with a 36-inch design that should look great under most TVs.
The soundbar's four 1.75-inch drivers deliver immersive sound for movies and shows. What's more, the built in Alexa functionality makes it easy to control any smart device in your home — even when the soundbar is off. We wish there was more than just one HDMI port on the back, but even despite that nitpick, the YAS-209 offers a lot to like.
Read our full Yamaha YAS-209 review.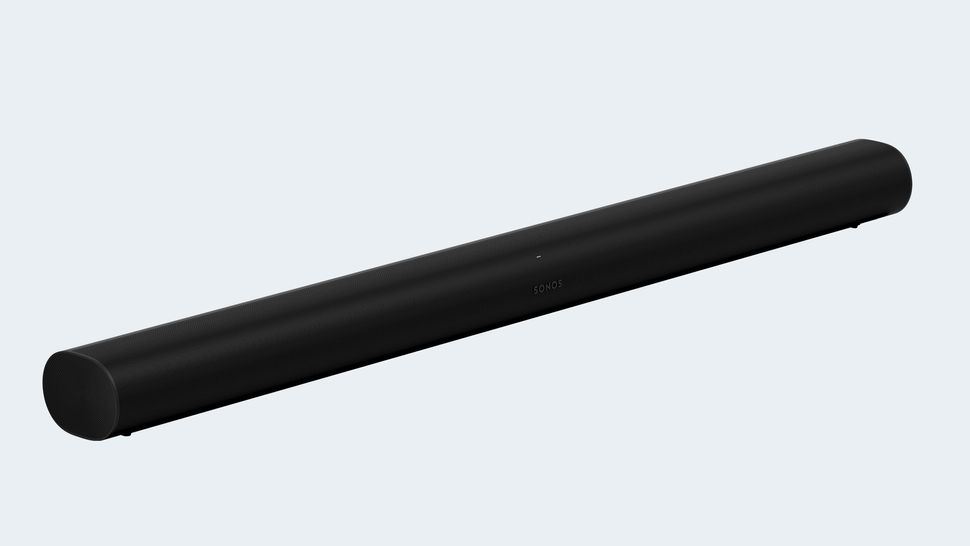 The Sonos Arc is the best soundbar you can buy if you're willing to splurge. This $799 premium speaker stands out with its gorgeous curved design, which is designed to be a centerpiece of your living room as much as it's meant to enhance your TV's sound. And it certainly doesn't skimp on sound performance, delivering deep bass and clear treble for your favorite movies and TV shows complete with Dolby Atmos support.
Thanks to Sonos' TruePlay technology, the Arc can automatically tune itself to whatever room it's in to deliver the crispest, most accurate audio possible. It also supports voice controls via Alexa and Google Assistant, making it one of the smartest soundbars you can buy. If you have a larger entertainment area — and a large budget, the Sonos Arc is the top premium soundbar out there.
Read our full Sonos Arc review.
Cheap and compact but deceptively rich-sounding, the Creative Stage V2 is another fantastic choice for those on tight budgets. The dedicated subwoofer treats lower frequencies much better than the majority of cut-price standalone soundbars, and the clearness of dialog impressed in our testing.
There's also a "Surround" mode that widens the soundstage beyond the Stage V2's modest dimensions, and you can tweak the sound even further with bass and treble boost settings. Connectivity is very good for the money, too — in addition to the expected optical and 3.5mm inputs, there's HDMI ARC, USB and Bluetooth to play with too.
Read our full Creative Stage V2 review.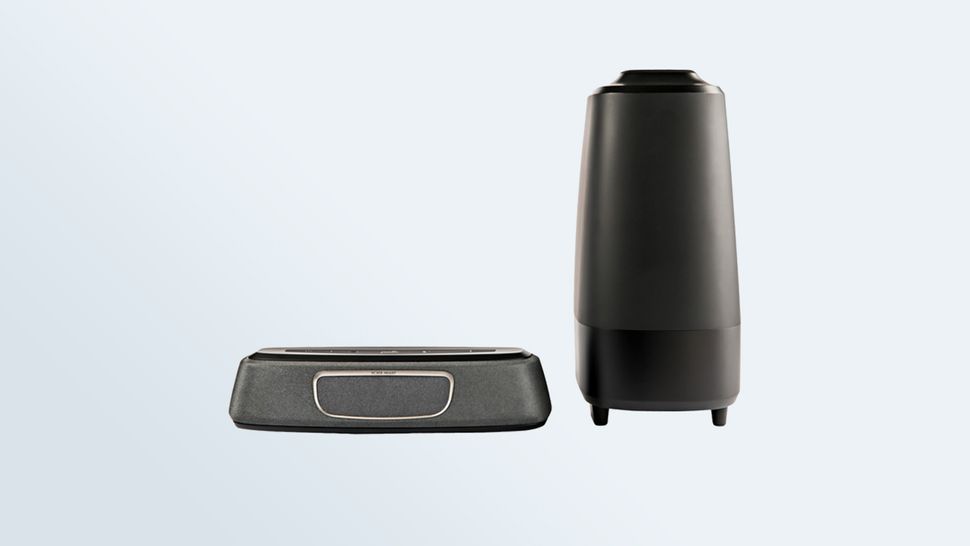 No soundbar packs huge audio into a tiny package quite like the Polk MagniFi Mini does. This unassuming speaker will fit seamlessly into any setup, and delivers crisp dialogue and deep bass with the help of its included wireless subwoofer. Plus, with Google Cast support, the MagniFi Mini doubles as a great home music speaker.
The MagniFi Mini gets loud enough to fill most bedrooms and small apartments, and we found it reliable for getting immersed in movies and shows. Factor in a handy remote and and an easy setup process, and you've got the best soundbar out there for folks short on space. And at $300, it won't set you back much, either.
Read our full Polk MagniFi Mini review.
The Sonos Beam is a small, affordable and great-sounding soundbar that also doubles as a neat smart home gadget. This speaker has full Alexa integration, allowing you to, say, control your Fire TV with just your voice, or ask about the weather or control your smart lights while binging Netflix from the couch.
It also delivers big on the audio front for its price, with a wide soundstage and crisp dialogue that will make your favorite movies and shows sing. We'd really like the Beam to embrace Bluetooth (you'll need the Sonos Move for that), but it's still an excellent choice if you want an Alexa-ready soundbar with great performance.
Read our full Sonos Beam review.
The Roku Streambar is Roku's second soundbar outing, and just might be the company's best yet. This unique all-in-one device is both a compact soundbar and a 4K Roku streaming player at once, allowing you to enjoy great sound for shows and movies while tapping into your favorite streaming services all from the same hardware.
Don't let its size fool you, though — the Streambar delivers impressive sound for its size and price. Packing four 1.9-inch drivers, this small soundbar can easily fill a living room with crisp audio for your next Netflix or Disney Plus binge. And since you're getting Roku software inside, you'll be able to watch just about every streaming service out there, with an intuitive interface and an included remote for navigation. Better yet, you can pair the Streambar to the Roku TV Wireless Speakers and Roku Wireless Subwoofer if you want even more immersive sound.
Read our full Roku Streambar review.
The Bose Soundbar 500 has unfortunately been discontinued, but for the time being it's still on sale at reputable retailers, so remains worth considering. This soundbar is an incredibly well-rounded package, offering rich sound, foolproof ease-of-use and support for both Google Assistant and Amazon Alexa for voice controls. The Soundbar 500's slim design fits seamlessly into most home entertainment setups, and supports HDMI ARC, which allows you to use the soundbar to control any device hooked up to your TV.
For a slim soundbar without a subwoofer, the Soundbar 500 delivers impressively crisp dialogue for movies and TV shows, and offers solid bass when you're thumping music via Bluetooth or AirPlay 2. Factor in reliable voice assistant controls and a painless setup process, and you've got the best soundbar in this price range.
Read our full Bose Soundbar 500 review.
"True" Dolby Atmos requires two things: surround speakers and upwards-firing drivers in the soundbar itself. The Monoprice SB600 has both, and for a lot less money than most combo kits. In fact, the SB600 is more affordable than a lot of standalone soundbars.
This does lead to limitations, like the lack of options for customizing the sound, but since Atmos works well and the subwoofer delivers strong yet controlled bass this is easy enough to live with. Connectivity is good, too: Wi-Fi is absent but you do get multiple HDMI inputs, including an HDMI eARC port.
Read our full Monoprice SB-600 review.
The Monoprice SB-600 has an edge on the Vizio M-Series 5.1 M51a-H6: both are cheap Dolby Atmos soundbars with subwoofers and surround speakers included, but the M51a-H6 lacks upwards-firing speakers for a greater sense of height.
Nonetheless, this kit offers seriously good value for money. Vizio has still thrown in some premium touches: in addition to Atmos there's DTS TruVolume and DTS Virtual:X support, as well as plenty of ways to connect. That includes HDMI eARC and Bluetooth pairing for phones and tablets.
Read our full Vizio M-Series 5.1 M51a-H6 review.
How to choose the best soundbar for you
There are a number of factors that play into deciding which soundbar you should buy. Size will likely be the most immediately prohibitive for most customers; you obviously need a soundbar that will suit your TV and space constraints within your entertainment console. And, because a soundbar is one of the centerpieces of your home theater setup, it has to look good and fit stylistically.
Then you have to factor in the size of the room you're dealing with, and the distance viewers would typically be sitting from the TV. If you're dealing with a larger space, it's probably best to target soundbars that come with a subwoofer — you'll surely appreciate the extra bass.
Ports and connectivity is crucial too, both in terms of wired and wireless access. Not every soundbar comes with an HDMI port; some force you to make do with optical audio. That's perfectly fine if you want to use your TV as a pass-through, but those who are in dire need of more HDMI ports — because their capacity is limited between game consoles, streaming boxes and so on — will need to prioritize options that offer those additional connections.
Finally, more and more of the best soundbars are embracing Dolby Atmos, which is a surround sound technology designed to simulate the immersive 3D audio you'd get from a movie theater. The big difference between Atmos and traditional surround sound is that you'll hear sound move up and down and not just side-to-side, allowing you to get extra immersed when, say, a car flies overhead in an action movie. There are already lots of soundbars that support Atmos, including the LG SJ9, Sony HT-ST5000, and Yamaha YSP-5600. For more on the technology, check out our complete guide to Dolby Atmos.
How we test soundbars
When testing for inclusion in our best soundbars page, we play a range of media — including movies, music and games — in order to evaluate overall sound quality. We also test any companion software that may come with a soundbar, and factor in how easy it is to set up and use each device.
Other features we consider include a soundbar's inputs, outputs and ability to be wall mounted, all of which determine how well it will work with your home entertainment setup. We also take into account each soundbar's wattage, its supported audio channels and whether it includes a subwoofer — all factors that greatly affect how each speaker will sound in your living room.