The Star Wars universe has usually mixed pretty well with the world of video games. It's the perfect blend of fantasy and science fiction, offering elements of both genres in a sandbox the size of a literal galaxy.
With that in mind we've seen Star Wars games focusing on dogfighting, real-time strategy, shooters, galaxy-traversing RPGs, MMOs all through the eyes of a range of different characters from different corners of the Star Wars galaxy. Unfortunately, it feels like the past decade has proven to be a huge wasted opportunity for Star Wars' gaming ambitions.
Ever since Disney took over the Star Wars franchise it feels as though game development has ground to a near-standstill. Which it did for a time, since Disney closed Lucas Arts and canceled all the games it was working on — including a game about Darth Maul and the Boba Fett-centric 1313.
Think about the number of non-mobile Star Wars games we've seen since 2013. We've had two Battlefronts, Jedi Fallen Order and Jedi Survivor, Squadrons and two Lego Star Wars games alongside the VR-exclusive Vader Immortal and Tales from Galaxy's Edge.
Meanwhile, the Star Wars movie and TV franchise has positively exploded, and I can't help but feel like there should have been a lot more Star Wars video games. In fact, the world of Star Wars video games looks incredibly bleak by comparison.
A decade in Star Wars games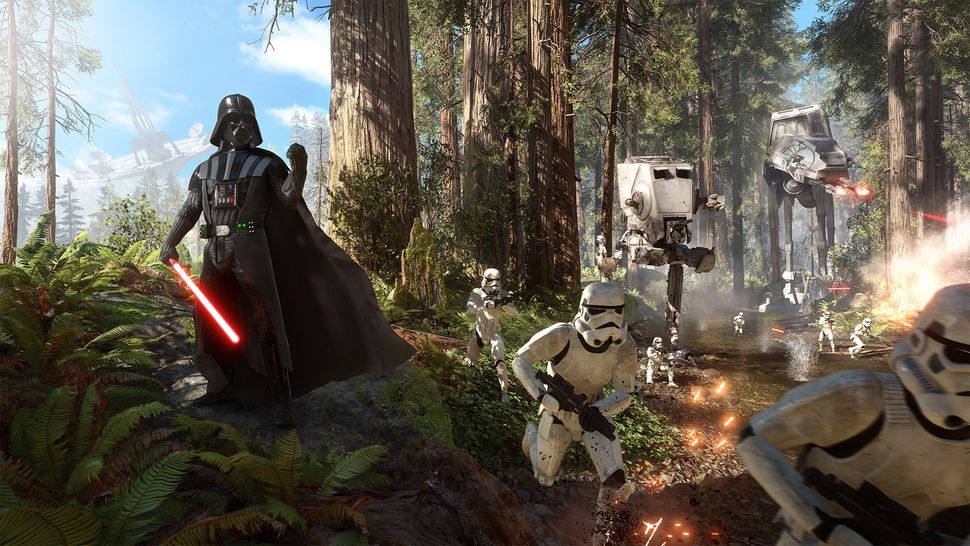 EA was granted a 10-year exclusivity deal to the Star Wars video game franchise back in 2013. That should have been, by all accounts, a license to print money. The franchise was picking up traction in the wake of the Disney/Lucasfilm buyout, and with new movies on the way there was never a better time to be working on Star Wars properties.
Unfortunately, EA seems to have dropped the ball. For the first six years of EA's control of Star Wars we got two games: Battlefront 1 and 2. The first installment was a multiplayer-only title that launched to mixed reception. It wasn't a particularly bad game by any means, but one that was lacking and seemingly released quickly to capitalize on the release of The Force Awakens that same year.
Lego Star Wars: The Force Awakens came out that same year, a move that was definitely meant to tie into the movie though this was carrying on a long-established franchise rather than creating something totally new. But even that proved to be the only Lego Star Wars game we got until the release of The Skywalker Saga last year.
Battlefront 2 had a lot more to offer than its predecessor, but its release was mired in controversy due to the game's heavy emphasis on microtransactions and pay-to-win mechanics. The campaign wasn't particularly good either, though the multiplayer mode eventually won gamers over and continues to draw in players to this day. That was after heavy modifications to the microtransaction system, naturally.
Since then we've seen the release of Jedi Fallen Order (2019), Squadrons (2020), Lego Star Wars The Skywalker Saga (2022) and more recently Jedi Survivor. That's alongside two VR experiences, Vader Immortal and Tales from Galaxy's Edge, which offer under 10 hours of gameplay in total.
That's five EA games, two Lego games and two VR titles. I don't necessarily want to label EA's games as "proper" Star Wars games, but it is very clear that there's a notable divide in the Star Wars games we've got. VR titles are targeting a much more niche audience, and as much as I love the Lego Star Wars games, they aren't on the same level as the likes of Battlefront or Fallen Order.
We could have got more of those kinds of Star Wars games as well, but they ended up being cancelled before they were officially announced.
The EA Star Wars games that never were
It's disheartening to hear that so many Star Wars games were in the works, but were canned at one point or another during development. Especially since two of those projects came from the same studio, the now-defunct Visceral that was responsible for games like Dead Space and Battlefield Hardline.
In fact, Battlefield Hardline is cited as a major reason behind the cancelation of one Star Wars game, which we only know as Yuma. According to reports, Yuma was in development before Disney shut down LucasArts and managed to survive the resulting video game purge mostly intact.
Yuma was said to be open world and would focus on Star Wars' space pirates, and would have put you in the role of a character similar to Han Solo. Unfortunately, Hardline's troubled development meant staff were pulled from Yuma to help, resulting in lack of adequate development time. To top it off, Amy Hennig, who wrote the first three Uncharted games and was brought on board to help craft Yuma's story, had very different ideas of what the game should be.
Yuma was then essentially canceled, as the concept changed into what we later knew as Project Ragtag. This was a third-person game focussing on the Star Wars universe's criminal underworld, with the story focussing on a large-scale heist and its preparation from the viewpoints of several different characters. The project proved too big and expensive, while there is said to have been drama behind the scenes between Visceral, EA, Disney and Hennig herself — ultimately leading to its cancelation and Visceral shuttering.
Elements of Ragtag were said to have transferred to a title called Project Orca, which was in development at EA Vancouver. It was reported that this would still put the player in the shows of a scoundrel type, and would return to the open world format. Little else was known, other than the fact the game was canceled — and there's been no confirmation as to why.
Finally, there is Project Viking, which was envisioned as a spin-off of the Battlefield franchise. Like Orca, very little was known about the game, though it's said EA was hoping to recycle some of the assets from the doomed project. We don't know much about Viking, other than the fact EA wanted it done too quickly for developers EA Vancouver and Criterion to manage.
Video game development is hard, but it's telling that so much time and energy can be put into making a Star Wars game — only for it to wind up absolutely nowhere.
The future of Star Wars video games is unclear
Now that Jedi: Survivor is out in the world, the future of Star Wars video games looks increasingly unclear. There are a bunch of games in active development, and without the exclusivity deal that EA held for the past decade, there's a lot we still don't know about what these games are or when they'll arrive.
And it's that lack of news that seems rather concerning, especially after the past ten years. It certainly doesn't help that many of these games are currently in the early stages of development, which means we likely won't see them for many years. Or that one of the most anticipated, the Knights of the Old Republic remake, is reported to be "indefinitely delayed".
There's every chance that barring the mobile titles like Star Wars Hunters, the next few years will be completely devoid of Star Wars video games. Devoid to the point where people may look fondly over the EA years, no matter how limited our selection of games really was. I hope I'm wrong, but I can't help but feel like video games represent the biggest missed opportunity in modern Star Wars.
More from Tom's Guide