Admittedly, Apple TV Plus offers a smaller catalogue than the other best streaming services. Its rivals, including Netflix, Prime Video and Hulu offer larger libraries of originals and a ton of licensed shows and movies, too.
That said, Apple's programming offers an excellent quality-to-quantity ratio. Plus, it's got a wide range of content on the platform, with many a hidden gems you might have missed.
Whether it is a comedy, drama or documentary, there is like to be something on there that you might not have seen yet but is worth your time. These are the TV shows on Apple TV Plus that you might have missed — and need to stream.
Mythic Quest
Mythic Quest is one of the biggest multiplayer games of all time, and the brainchild of Ian Grimm (Rob Mcelhenney), who is supported by his colleague, the brilliant developer Poppy (Charlotte Nicdao). Getting to the top is one thing, but the team must reinvent and upgrade the game to stay strong — causing chaos and comedy. Can Ian and Poppy still work together? Can their boss David (David Hornsby) cope with… any of it?
Mythic Quest is hilariously funny, blending eccentric characters and workplace dynamics to great effect. The show's serious moments are all the more effective because of the stark contrast to the rest of the series. Ted Lasso grabbed most of the attention the network gets, but Mythic Quest is not to be missed. Best of all, there are three seasons already out and ready for you to binge, with a fourth on the way.
Genre: Comedy
Rotten Tomatoes: 97%
Stars: Rob McElhenney, Charlotte Nicdao, Danny Pudi, Ashly Burch, Naomi Ekperigin
Stream on Apple TV Plus
Silo
Silo takes viewers to a ruined, toxic world where thousands of people are told they have to live underground under unimaginably strict rules and that is all for their own good. The ultimate sanction is to be sent outside to clean. Sheriff Holston Becker (David Oyelowo) helps implement the rules but his wife, Allison (Rashida Jones) starts to become suspicious whether or not what they are being is actually correct. In the end, it is not only her looking for answers.
If you like your sci-fi dystopian, dramatic and dark, Silo should be on your 'Up Next' list. It features excellent performances that draw the viewer in and you quickly come to worry about the characters' fates. Apple TV Plus is making a name for itself in sci-fi, and, along with the likes of Foundation, Silo is one of the reasons why.
Genre: Sci-fi, Drama
Rotten Tomatoes: 87%
Stars: David Oyelowo, Rashida Jones, Rebecca Ferguson, Common, Harriet Walter
Stream on Apple TV Plus
Shrinking
Sometimes therapists need help too. That is where Jimmy (Jason Segel) finds himself after the tragic death of his wife. Sadly, his struggle is not just impacting him. He is messing up his life with daughter Alice (Lukita Maxwell), and ruining relationships with his colleagues — both boss/mentor Paul (Harrison Ford) and colleague/friend Gaby (Jessica Williams). As a new patient, Sean (Luke Tennie) comes into Jimmy's life, everything changes as he takes a new approach to both his work and home.
This comedy is the product of some of the team behind Ted Lasso, as it counts Bill Lawrence and Brett Goldstein among its executive producers. Fortunately, it also shares many of the elements that made people love that show. It is brilliantly funny and very moving, with a high-calibre cast putting in great performances. If you're missing AFC Richmond, Shrinking is for you.
Genre: Comedy
Rotten Tomatoes: 82%
Stars: Jason Segel, Jessica Williams, Harrison Ford, Luke Tennie, Michael Urie
Stream on Apple TV Plus
Truth be Told
Poppy Parnell (Octavia Spencer) is a famed reporter turned true-crime podcaster. Following her career in print journalism, she records seasons of her popular show, where she gets deeply involved in the stories she covers. This means her subjects' lives often spill over into her personal life, no matter how hard she tries to keep everything balanced.
Each season finds Parnell covering a different story, so you do not necessarily have to watch one season to understand another. However, it certainly helps to do so in order to fully appreciate the relationships. Just a warning: the series covers difficult and sometimes upsetting topics, but Spencer's powerful performance in the lead role brings the whole drama together.
Genre: Crime/Drama
Rotten Tomatoes: n/a
Stars: Octavia Spencer, Gabrielle Union, Mekhi Phifer, David Lyons, Ron Cephas Jones
Stream on Apple TV Plus
Schmigadoon!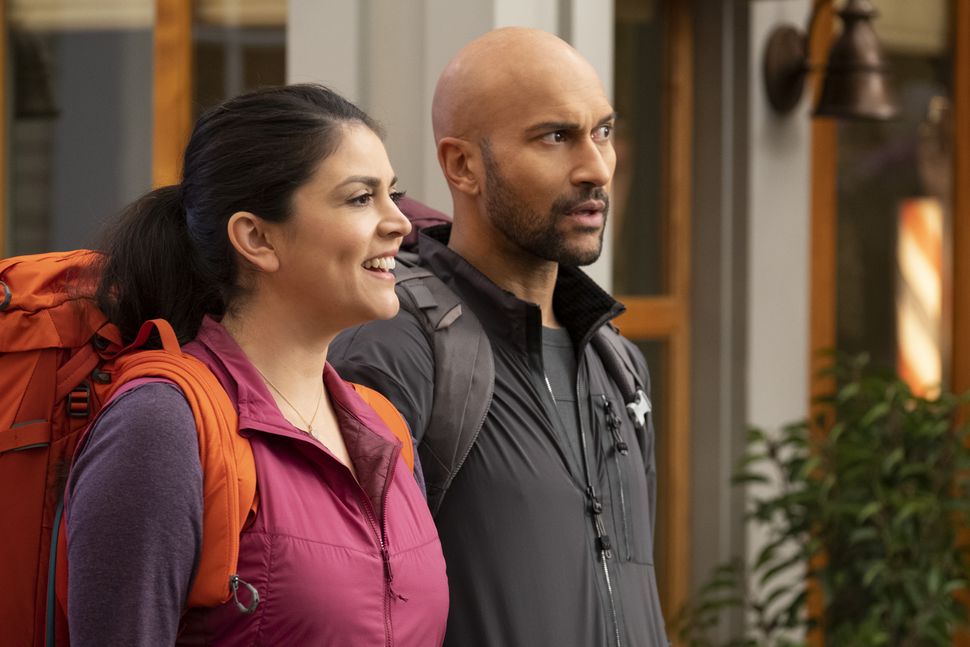 Melissa (Cecily Strong) and Josh (Kegan-Michael Key) believe they're in love. However, their relationship gets tested when they accidentally end up trapped in the magical town of Schmigadoon, where everything is a musical. Oh, and they cannot leave until they find true love. Cue lights, elaborate costumes and a lot of songs. The two try and navigate their strange surroundings together and apart in a bid to escape.
Schmigadoon! is charming and enjoyable, even if you don't love musicals. If you do, there are catchy songs, gloriously over-the-top characters and some great co-star performances. Hi, Kristin Chenoweth! The show doesn't take itself too seriously and its two seasons are a really fun find on Apple TV Plus.
Genre: Musical
Rotten Tomatoes: 93%
Stars: Cecily Strong, Keegan-Michael Key, Dove Cameron, Jaime Camil, Kristin Chenoweth
Stream on Apple TV Plus
Super League: The War for Football
Football is the world's most popular sport, but in April 2021 it was thrown into turmoil. Some of the biggest clubs, including Real Madrid from Spain, Juventus from Italy and all of the English Premier League's so-called Big Six announced they were forming a breakaway Super League, upending football's existing structures. Old friendships were shattered and unlikely new alliances formed as football's existing governing bodies tried to repel the idea and the Super League's founders fought back.
Super League: The War for Football is a slick documentary covering the four days in which the European Super League was announced and then abandoned. It shows the frantic work of UEFA president Aleksander Čeferin as he tries to keep the European game together and gives the breakaway league's proponents a chance to explain themselves. It makes for fascinating viewing.
Genre: Documentary
Executive producers: Jeff Zimbalist, Connor Schell
Stream on Apple TV Plus
Visible: Out on Television
Today we are used to seeing LGBT people, relationships and storylines on television. However, that is only a relatively recent development. Stars like Neil Patrick Harris, Asia Kate Dillon, Laverne Cox and, of course, Ellen De Generes cover topics like the grotesque depictions of LGBT in the early 70s, the Stonewall riots, the AIDS crisis and the impact of DeGeneres coming out publicly. It shattered her career for a while, but led the way for so many others.
This 2020 docuseries, one of the first things on Apple TV Plus, does a great job of explaining how LGBT representation on television moved things forward, and where we still need to go. The final episode, which features a host of current LGBT creators of all kinds, leaves the viewer with plenty of hope and appreciation for the progress made.
Genre: Documentary
Rotten Tomatoes: 100%
Executive producers: Wilson Cruz, Wanda Sykes, Jessica Hargrave, Ryan White
Stream on Apple TV Plus
More from Tom's Guide