I spend a lot of time listening to music from my iPhone or Android phone connected to whatever pair of wireless headphones or earbuds I'm trying out for Tom's Guide. For personal listening, though, I've found myself gravitating to wired headphones to keep me grounded to what high-quality audio sounds like through a pair of analog cans.
Although they're currently experiencing something of rebirth, wired headphones are a bit of a niche sector given the largely wireless world we inhabit. Some brands like Sennheiser, though, continue to offer a range of traditional wired headphones such as the new HD 660S2 open-back headphones aimed at audiophiles along with wireless varieties such as the incredible Sennheiser Momentum 4 Wireless.
Wired earbuds have also been on Sennheiser's release roster recently, from the uncompromising IE 600 in-ear monitors that launched in the summer 2022 to the entry-level Sennheiser IE 200 announced in January.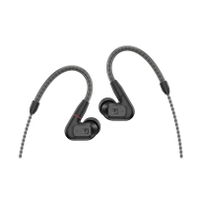 Sennheiser IE 200: $149 @ Amazon
The IE 200s are priced at $149 / £129 / AU$239, and they mark a new entry point to the company's respected wired in-ear monitor earbuds category. They feature 7mm drivers, and are designed to bring superbly balanced and realistic audio in an ultra-compact form factor for an affordable price.
How I improved my iPhone audio: DAC delight
Wired has always beaten wireless where out-and-out sound quality is concerned, but how do you connect a wired pair of headphones or earbuds to a smartphone when there's no headphone jack?
With almost serendipitous timing, I recently received the Astell & Kern HC3 DAC/headphone amplifier — a USB-C plug-in device that effectively boosts the audio quality from your mobile. I got straight to work connecting it to my iPhone's Lightning port (via the supplied USB-C-to-Lightning adapter) and plugged the braided cable of the IE 200 earbuds into the DAC's 3.5mm headphone jack to see how they sounded.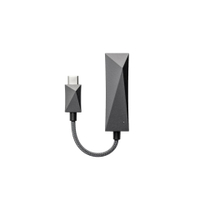 Astell & Kern AK HC3: $229 @ B&H
Priced at $229 / £199 / AU$299, the HC3 is a hi-fi-grade USB DAC with a reputation for high-quality audio and low power consumption. As well as better audio credentials than what's built in to most portable playback devices, it also has microphone connectivity, which means that it's compatible with online gaming setups and calls.
I've tried out different DACs with my iPhone before, but the AK HC3 is the most affordable. It's really neat, too, and the only thing I'd say to watch out for is that the USB-C-to-Lightning adapter can occasionally break contact with the iPhone port and halt playback. It's a fragile arrangement for sure, and I needed to place my iPhone and DAC on a flat surface so that connectivity was maintained, but the audio gains made it worthwhile.
Despite the affordable price tag of this arrangement compared with other portable DAC's and wired headphones I've experienced, the sound from the AK HC3 and Sennheiser IE 200 combo sounds a lot better than their combined $379 price tag might suggest. The stereo soundstage was perfectly balanced between my ears, and there was a great sense of acoustic space around instruments and delicate details subtly revealed wherever they are in the mix or frequency range.
I find some wireless earbuds have a tendency to present music that feels enhanced in some way, but the Sennheiser and Astell & Kern combo just go about the business of delivering the music in as natural a way as possible.
Listening to Daft Punk's / Hans Zimmer's "Outlands" from the movie Tron told me all I needed to know about the DAC and earbuds frequency range, while the guitar playing on "Cinema Paradiso (Main Theme)" by Pat Metheny showed me how the combo connects with my favorite music. It's not flawless, of course, and certain bass frequencies felt subdued on some tracks, but I'd wager that the combo outperforms many similarly priced over-ear headphones in terms of levels of hi-fi sound engagement.
While I felt that the combo improved the sound of compressed music streams from Spotify, throughout my listening sessions I found myself gravitating to lossless downloads via Tidal. There's just more depth and detail to the music I choose to listen to here, and tracks from my own carefully curated playlist got me closer to the high-quality studio sound I desire. And for less than I bargained for.
What is a DAC
Don't worry if you've never heard of a DAC; you're not alone. Simply put, a DAC is a 'digital-to-analog convertor,' which as the name suggests, means it takes a digital audio signal (from the likes of a music streaming service, say) and converts it to an analog one.
You see it's analog signals, not digital ones, that drive the speakers inside the audio device you're listening on. So some form of conversion has to happen between the audio signal served up by whatever digital music file you're playing and the analog-driven speakers that produce the sounds that arrive at your ears.
DACs are found in all kinds of audio playback devices, including the best phones, best laptops, and best tablets, but adding a standalone DAC will always help it sound better.
You may wonder how an add-on DAC can possibly better the audio performance of a digital device when surely the digital signal conversion is expertly taken care of by the DAC inside whatever playback device you have your headphones plugged into. The thing is, music doesn't always sound as good as it could through the built-in DAC on many devices, and adding a quality DAC like Astell & Kern's AK HC3 will result in a better audio experience for quality audio fans and music lovers alike.
More from Tom's Guide
Still considering going wireless? Here's a list of reasons to make you reconsider.
Many of the best audiophile headphones are (or can also be) wired for uncompromised sound quality.