Nvidia GeForce RTX Game On recap: All the big mobile RTX 30 news from CES 2021
Nvidia has revealed the GeForce RTX 3060 and a load of powerful laptop next-gen graphics cards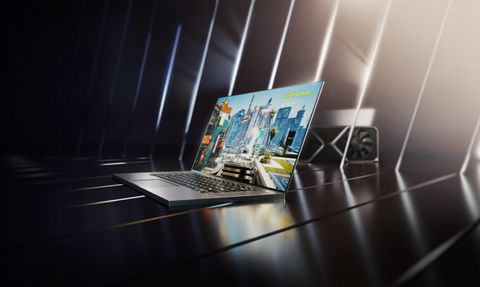 (Image: © Nvidia)
We knew Nvidia had some big laptop graphics news for CES 2021, but we didn't expect such a deluge of information, with some 70 GeForce RTX-equipped laptops coming this year.
At its "GeForce RTX: Game On" virtual event at CES, Nvidia also took the covers off the much-anticipated GeForce RTX 3060. Here are the highlights from the event:
GeForce RTX 3080 laptops: Leading the next-gen mobile graphics charge for Nvidia will be laptops equipped with a GeForce RTX 3080. Starting at $1,999, these laptops will be flagship machines and some of the fastest gaming laptops around, with up to 16GB of GDDR6 memory for their graphics cards. Expect machines from the likes of Asus and Alienware to target high frame rates at 1440p resolution at ultra quality settings.
GeForce RTX 3070 laptops: Starting at $1,299, laptops with a GeForce RTX 3070 will also target 1440p gaming only more around the 90 fps mark. Expect these machines to come with high refresh rate displays, likely 240Hz.
GeForce RTX 3060 laptops: Promising performance that's 1.3x as fast as a PS5, gaming laptops with a GeForce RTX 3060 will target 1080p gaming at blisteringly fast frame rates, as well as provide access to ray tracing and DLSS. Starting at $999, RTX 3060 laptops look set to be powerful mainstream portable gaming beasts.
GeForce RTX 3060: We've been waiting for the GeForce RTX 3060 to be revealed for a while now, especially given that Nvidia has the GeForce RTX 3060 Ti. Available late February for $329, this graphics card is definitely one for mainstream PC gamers who want a GPU that'll power ray tracing but not break the bank. We only hope Nvidia makes enough of them to go around.
Nvidia GeForce RTX: Game On live blog
Refresh
Read on for a beat-by-beat breakdown of all the news from the Nvidia GeForce RTX: Game On event at CES 2021.
We're expecting to see a whole load of gaming laptops come with whatever Nvidia is cooking up for its mobile GeForce RTX 3000-series GPUs. Gaming laptops from the likes of Asus, MSI, Acer, Razer, and Gigabyte are all sure to come with upgraded Nvidia graphics.
What do you want to see from the Nvidia GeForce RTX: Game On event? Let us know in the comments or tweet us @tomsguide.
So we're forecasting a GeForce RTX 3080, RTX 3080 Max-Q, and RTX 3060 for mainstream gaming laptops. And then perhaps a GeForce RTX 3070 for machines that want to run games at 4K and 60 frames per second, but not break the bank.
AMD is holding a CES 2021 showcase at 11 a.m. ET/4 p.m U.K. time. We might hear about potential mobile versions of its Radeon RX 6000 series, which could rival Nvidia's laptop GPUs. Keep it locked to Tom's Guide for the latest on that.
If you want something to read while you wait for the livestream, then check out our where to buy Nvidia GeForce RTX 3080 article, in case you get lucky and secure yourself a new high-end graphics card.
We are now only an hour away from the GeForce RTX: Game On event. Surprisingly, we've not seen any 11th hour leaks, so Nvidia seems to have managed to keep a good bit underwraps. Maybe we should prepare for a few surprises....
Are here we go, a bit of gaming context chat. Unsurprisingly, people are playing a lot of games and watching gaming content.
Nvidia has acknowledged that getting hold of the new GeForce RTX 3000-series graphics cards is a nightmare. Guess we'll have to keep waiting a bit longer.
Call of Duty: Warzone is going to get GeForce RTX DLSS support. Expect a boost performance at high-resolutions. So is the upcoming Square Enix game Outriders; it all looks rather bombastic.
And creepy mall-based horror game Five Nights at Freddy's is also getting ray tracing and DLSS support. It looks pretty slick, if something you'd not want to play with the lights off.
If you're just tuning in, the story here is a lot more games are getting Nvidia RTX ray tracing and deep learning supersampling (DLSS) support. This is all good stuff for people who like their games to look very nice indeed.
Nvidia's Reflex support, which helps analyze and reduce input latency is coming to Rainbow Six Siege and Overwatch. Plus a suite of new monitors are getting access to the tech.
More games need more power, which makes them unplayable on the GeForce GTX 1060. But the GeForce RTX 3060 is coming to replace it and deliver 2x the rasterization performance of the GTX 1060 and 10x as much ray tracing performance. And it supports DLSS for a starting price of $329 when it comes out in late February.
Now we're finally onto Ampere-based GeForce RTX GPUs for laptops. Starting with third-gen Max-Q graphics card variants, which promise more performance and efficiency thanks to AI tech.
The AI also works out the demands on the CPU and GPU and figures out how to keep a gaming laptop's fans quiet while delivering high performance. There's also some complicated but clever tech that allows more access to GPU memory and thus more performance.
And here's the GeForce RTX 3060 in laptop form. And it can outperform a GeForce RTX 2060 Super. It's also 1.3 times faster than a PS5. RTX 3060 laptops start at $999.
We're also set to get GeForce RTX 3070 and RTX 3080 laptops, targeting 1440p resolutions. RTX 3080 laptops start at $1,999, which isn't bad for machines that can run games at over 100 fps at 1440p.
70 new RTX laptops from "every OEM" are coming this year. The first should arrive January 26. And a load of them will have high refresh rate displays, offering 240Hz or even higher.
Looks like Nvidia is closing its CES 2019 showcase with ray tracing support for Microsoft Flight Simulator. We expect that to look very realistic.
And that's it! The latest in Nvidia RTX graphics are coming to laptops. And we can't wait to try them out.
Get the Tom's Guide newsletter!
Instant access to breaking news, the hottest reviews, great deals and helpful tips.
Thank you for signing up to Tom's Guide. You will receive a verification email shortly.
There was a problem. Please refresh the page and try again.