The current iPad Air was released in 2022, which for Apple's tablets means it's relatively new. Apple doesn't refresh its iPads as frequently as it does its iPhones. But there are murmurings that a 6th-generation iPad Air could arrive this year.
Given Apple now has the M2 chip, it would make sense for it to release a refreshed iPad Air that swaps the M1 chip for the upgraded slice of silicon. Equally, we could potentially see an M3 chip this fall, which could also make it a possible candidate for the next-gen iPad Air, but that's more likely for the iPad Pro.
As we head towards the fall, most Apple rumors tend to swirl around the iPhone 15, so there's not a lot on the iPad Air 6th generation. This could be indicative of a simple specs refresh rather than a big overhaul. Nevertheless, read on for everything we know so far about the iPad Air 6th generation.
iPad Air 6 release date speculation
The release cadence for iPads can be tricky to predict, given some get launched in the spring while others have launched in the fall following the reveal of new iPhones. The current iPad Air was released in March 2022, so from that we posit that the iPad Air 6th generation could arrive in October time, leaving a gap of some 18 months between it and its predecessor. Or it could be pushed back to spring next year.
On the latest MacRumors Show podcast, Bloomberg reporter Mark Gurman said that we won't see new iPad or Macs revealed during the September 12th event. Instead, there "will be another launch in October." But he's "not sure it's an event," as he isn't convinced the company will have enough to "drag people down to Cupertino."
Bloomberg's Mark Gurman says that "an iPad Air model that boosts its specifications" is in development and that iPads typically get refreshed in October, but he doesn't get more specific than that.
iPad Air 6 price speculation
Starting at $599 / £569 / AU$929 the iPad Air 2022 is priced between the standard iPad and iPad Pro models. We expect the iPad Air 6th generation to stick to the same pricing structure if not the same prices overall.
There's scope for Apple to ditch the 64GB entry-level model, given that's a miserly storage capacity for the standards of 2023. And if that does happen perhaps we could see a 128GB entry-level model for the same price, especially as Apple tablets are priced at a premium compared to Android rivals.
iPad Air 6 design and display
Don't be expecting a design change for the iPad Air 6 as it's very likely to stick with the aesthetic of its predecessor and the iPad Air 2020 models. That's no bad thing as those tablets are excellent, look good and are pretty versatile when combined with an Apple Pencil or Magic Keyboard.
There's scope for improvement in that the display bezels could be trimmed down, which could then take a 10.9-inch and make it a little larger, say 11.1 inches without making the overall footprint of the iPad Air any larger.
Speaking of screens, the current iPad Air has a display with a 60Hz refresh rate, which is feeling somewhat sluggish for 2023 standards. While the 120Hz mini-LED panel seen on the 12.9-inch iPad Pro 2022 is likely to remain a Pro feature, we'd like to see the Air's display get a bump up to 90Hz.
OLED panels have been tipped for iPads, but we don't expect to see them until 2024 at the earliest. And even then, we'd partially expect Apple to target them at iPad Pros first if it decides not to pursue mini-LED panels.
A boost in display brightness would be welcome for the iPad Air 6. But the strong colors and contrast of the current model's panel don't leave much to be desired beyond moving away from LCDs.
iPad Air 6 specs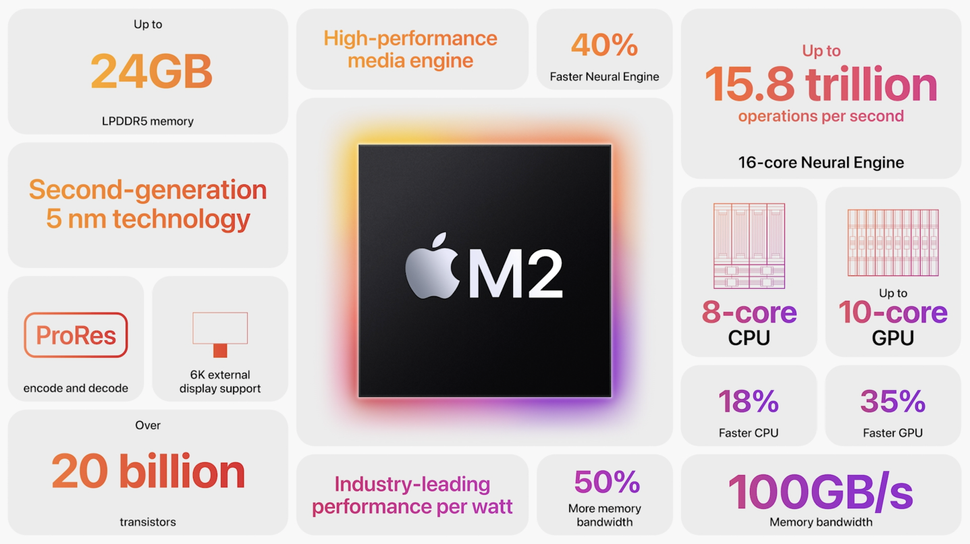 It's very likely that the biggest, and potentially only, specs boost the iPad Air 6th generation will have will be an upgrade to the Apple M2 chip. This would be an easy upgrade on the M1 chip in the current Air, and a desirable one since the chip can deliver impressive performance — in the MacBook Air M2 it's surprisingly capable at gaming even in non-optimized titles.
A move to the M2 chip should not only offer an uptick in performance but also efficiency. And we'd hope to see the next-gen iPad Air beat the current model's 10 hours 9 minutes of battery life. The Tom's Guide battery test involves surfing the web over Wi-Fi at 150 nits of screen brightness.
There's an outside chance an M3 chip could make it into the iPad Air 6, but the rumors so far point to the move to M3 happening in 2024 for iPads.
There's no word on other potential specs boosts. We can expect the camera array to consist of 12MP front and rear sensors, but perhaps with some improvements on the software side for image clarity and low-light performance. Apple's Center Stage feature may get a few tweaks to be more responsive, but we're not expecting big changes here.
A quad-speaker array, as seen on the iPad Pros, would be appreciated to add more depth to the sonic experience, but this is likely wishful thinking on our part.
iPad Air 6 outlook
From what we can tell so far, the iPad Air 6 will offer only incremental improvements over the iPad Air 2022. M2 power will be appreciated but it won't likely be an essential upgrade for people who already have the current iPad Air.
However, for people with older iPads or those looking for a tablet that has a laptop-grade chip and a lot of versatility, the iPad Air 6th generation could be the iPad for them.
We'll likely have to wait until at least the fall of this year before we officially hear anything from Apple. In the meantime, check out the best iPad deals to buy right now.