The best running watches will do far more than just count your steps — they'll give you live feedback on your run, track your heart rate and sleep, and even allow you to download a training plan at the click of a button. As a fitness editor and marathon runner, I review running watches for a living, so I know what I'm looking for when it comes to my tech. Whether you're training for a 5K or a marathon in 2023, if you're looking to invest in a running watch, here's the one I'd buy this January.
Among the host of watches that arrived on my desk in 2022, one stood out from the rest in terms of value for money. In the current climate, spending hundreds of dollars on a running watch isn't an option for most, but one little watch that's amazing value is the Garmin Forerunner 255 — the watch I named the best Garmin watch last year.
The Forerunner 255 is the updated version of the Forerunner 245, released in June 2022. The Forerunner 255 comes in two sizes — 42mm (the Garmin Forerunner 255S) and 46mm, and two variants — with music, and without. For the first time, it's also now got multisport profiles, upgrading the Forerunner 255 from a running watch to a watch that could get you through your training for a triathlon.
Shop the best deals on the Forerunner 255 and the Forerunner 255S below:
As with other Garmin watches, the Forerunner 255's entire data screen is customizable, and like Garmin's newer watches, you're now able to tweak everything from the Garmin Connect app, as well as on the watch.
Along with an accurate GPS, a long-lasting battery, and the ability to track many types of workouts, the watch features the same fitness metrics as Garmin's latest higher-end GPS watches: Training Status to track progress, Training Load to see workouts over a seven-day period, and Training Effect to measure anaerobic and aerobic. The watch also supports sleep, stress, blood oxygen saturation, and menstrual cycle tracking, and it has the same Elevate V4 sensor used in the Garmin Fenix 7 and Garmin Epix 2. For $399 (or $349 without music), you're getting a lot for your money here.
During testing, I swapped my Garmin Fenix 7 for the smaller Forerunner 255 (the 42mm version), and I loved how lightweight and petite it was on my wrist. It's far comfier to sleep in than some of the other running watches on the market. Compared to some of the monster watches released this year (hi, Apple Watch Ultra), the Forerunner 255 sits flush against the wrist, and doesn't make you feel like you're lugging a sports watch around.
The battery life is also impressive — the Forerunner 255 has a daily battery life of 14 days — double the Forerunner 245's seven-day battery life — and a GPS battery life of 30 hours (an improvement on the Forerunner 245's 25 hours).
During testing, I found these timings to be pretty accurate (I set Pulse Ox tracking to only be on at night and turned smartphone notifications off while testing), and the watch went from dead to fully charged in a couple of hours. That's a huge improvement on the likes of the similarly priced Apple Watch Series 8.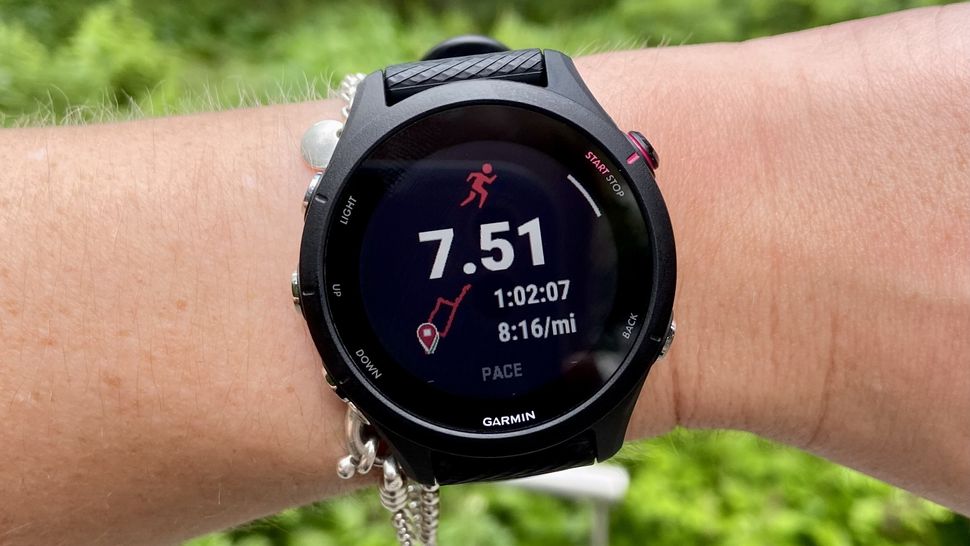 The Forerunner 255 is a fantastic running watch and a great buy for runners of all levels. It's a mid-range watch, with the advanced health features of the more expensive watches in Garmin's line. There's no reason why you couldn't train for a marathon, or an ultramarathon with this on your wrist, and for less than $400, it might not be the cheapest option, but it's definitely one of the best value watches on the market.
Still not convinced? Read my Garmin Forerunner 255 review to find out more, or check out my Garmin Forerunner 245 vs Garmin Forerunner 255 face-off.