As a fitness editor, I'm a sucker for an activewear trend and one I've been desperate to try is the Lululemon Everywhere Belt Bag. Made famous by TikTok (see #lululemonbeltbag) the fanny pack is, apparently, back in fashion, with Lululemon's $38/£38 belt bag gaining a cult following.
The small bag, worn around the waist or draped proudly across the body, was out of stock online for months and in a lot of stores, and still sells out quickly each time it restocks.
I managed to get my hands on one last month and decided to stash my belongings in the little Tardis-like bag and take it everywhere with me for a month. Would it live up to the hype? Or would it be one of these TikTok trends that made me feel old, and a little out of touch (Stanley sippy cup, I'm looking at you)? Read on to find out more.
Let's start by taking a look at the bag, which at the time of writing, is back in stock on the lululemon website in a number of different colors. Designed for carting your belongings from A to B, the bag is made from water-repellent fabric — perfect for sweaty hikes, and rainy days in the city. At the moment, the bag is in stock in all 11 shades, but it's unlikely to be for long.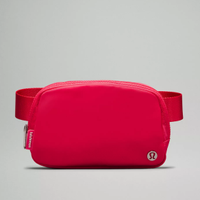 lululemon Everywhere Belt Bag 1L: $38 @ lululemon
The lululemon Everywhere Belt Bag has a one litre capacity, and is currently available in 11 different colorways on the lululemon website.
I got the Lululemon belt bag — here's what happened
It's spacious enough
I took a long time to decide between the one-liter and two-liter versions of the Everywhere Belt Bag, and I'm so glad I went for the smaller capacity. The bag is spacious enough for my iPhone 14, my sunglasses, a roll of dog poo bags (it's a glam life I lead), and my keys. I've even squished my fold-up coffee cup in there too on an early morning dog walk.
The bag measures 7.5 x 5 x 2 inches, so you definitely wouldn't be able to travel with just this bag, but it's roomy enough for most of your essentials when you're on the move. As the bag itself is fabric, it has a good amount of give in it, allowing it to stretch slightly when filled. It also has a wide zip, making it easy to access your belongings on the move.
The inside pockets are fantastic
Inside, there are three pockets — one on one side that's big enough to slot my iPhone in, and two on the other, which hold smaller essentials in place. There's also a large zipped pocket on the back of the bag, the side that sits against your body, which I found handy for my keys.
I did find that when using the bag on the move if I accidentally bent down to clip the dog's leash on or pick something up, if the bag wasn't zipped, the opening is big enough for things to fall out. While a two-way zipper would solve the issue, it might be harder to unzip on the move, and when my essentials were stowed in the pockets, even when bending down, everything stayed put.
I'm glad I shopped for a darker shade
I opted for the all-black version of the Everywhere Belt Bag, and after two weeks of wear, I'm so glad I did. Already there are a few scuffs and marks on the bag, which I have been able to spot clean, but if the bag had been in one of the lighter shades, I imagine it would be pretty well-worn.
It turns out that I'm not alone in this assessment, one shopper wrote, "I wouldn't buy a white one again. I own a black one and love it but wore the white one time and it shows the dirt and doesn't wipe clean." Lululemon says to spot-clean the bag — it can't be chucked in the washing machine with your gym kit, so if you're planning on using this bag on dusty trails, or for muddy dog walks, it might be best to shop for a darker color.
It might not be comfortable for shoppers of all sizes
I'm a US 4/UK 8 and at 5 feet, I'm not the tallest member of the Tom's Guide team. I had no issue with the bag slung around my chest, or around my waist, and found it comfortable to adjust the long strap, which is held in place by two plastic rings. That said, reading reviews of the bag has suggested for some shoppers, the strap just isn't long enough to be worn comfortably across the body.
One woman wrote, "For a curvy girl with a bit of a larger chest this is not a bag for you. Really disappointed in the length of the strap for this bag. Not very inclusive." If you are worried about the length of the strap, it's worth trying on the bag in your local lululemon store before buying.
Other users wished that lululemon had kept the older design of the belt bag, which had a physical buckle, rather than the two elastic bands to hold the strap in place, but I didn't have an issue with the back un-doing as I walked.
My verdict
My verdict after two weeks of testing? I wouldn't be without this wonderful little bag. It's become a wardrobe staple, and whether I'm popping to the shops, or walking the dog, my belt bag comes with me. I've even spotted my partner wearing it. This is one TikTok purchase that lives up to the hype — now to start using the hair Rosemary oil I've also been persuaded into buying…
More from Tom's Guide