If you want to maintain hardwood floors in your home, you can definitely benefit from knowing how to fix scratched wood floors. Whether it be from dragging heavy furniture, heeled shoes, children playing or pets, wood floors are prone to scratches over time. Sadly, these unsightly scratches easily show up on beautiful polished floors, ruining the overall aesthetic.
But before you consider ripping up the entire floor, (or hiding them under a huge rug), there are some DIY solutions to fix scratched floors. Of course, this will depend on the severity of the scratch, and the type of wood you have. The main types are residential solid hardwood (which is one piece of solid wood) or engineered wood floors made up from multiple layers. It's always important to assess the scratch first to know which is the best method to apply.
In any case, it's still far cheaper than buying new flooring! So if you want to restore your pristine floors, here's how to fix scratched wood floors to make them look like new.
How to fix scratched floors
Before you start any repair work, make sure you know how to clean hardwood floors without damaging them. Remove as much debris and dust from floors with one of the best vacuum cleaners, then mop the floor using a hard-floor cleaning solution, or specific brand recommended by your flooring manufacturer.
How to fix superficial scratches
These are scratches that have just affected the top finish of the wood floor, and generally easier to fix quickly.
1. First, clean the scratch with a microfiber cloth and floor cleaner to ensure the area is free from dust and dirt. Then, wipe away with another clean cloth until the area is completely dry.
2. Then, gently apply a coating to the scratch using either a wood wax stick or preferred protective coating until the scratch is entirely filled. If you don't have a wax stick, another option is to use a small amount of coconut oil, and rub it into the scratch so it absorbs into the wood.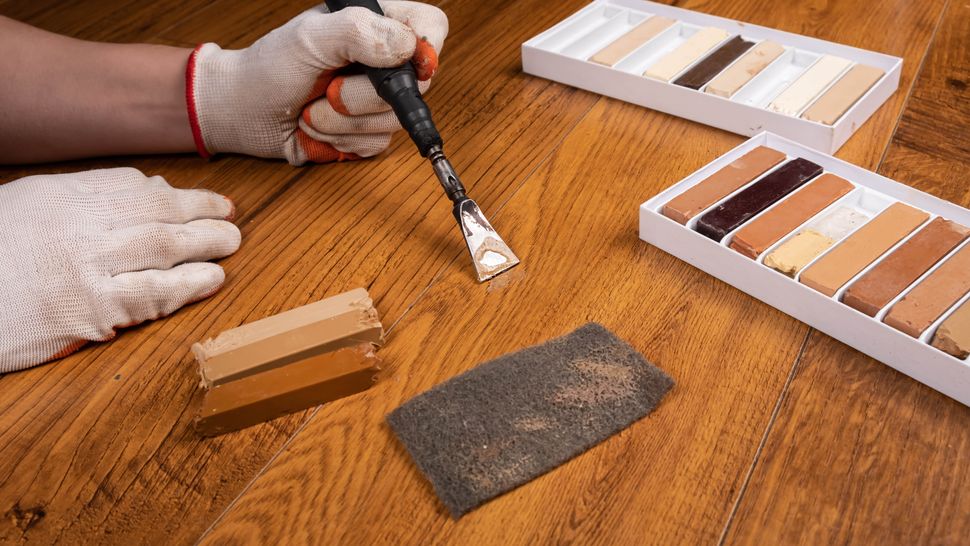 3. Wait a few minutes or until the coating has completely dried before gently buffing the area with a clean, soft microfiber cloth. This will smooth out the coating and give it a nice shine. Repeat steps again if necessary.
How to fix minor scratches
Minor scratches tend to penetrate the protective coating, damaging the wood underneath. These scratches are relatively easy to repair with several options.
1. Again, clean the scratch with a microfiber cloth and specific cleaner until the area is dirt and dust-free. Wipe the scratch dry with another clean, soft cloth.
2. If the scratches are small, try using a marker or blending pencil to cover the scratches, or rub a wood stain over the area before wiping clean.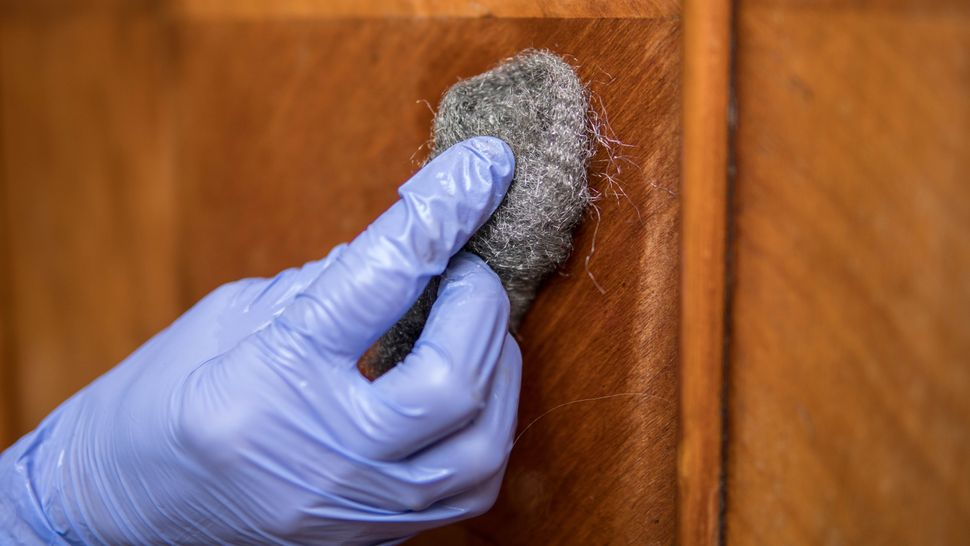 3. Alternatively, take a piece of steel wool and gently rub over the scratch. Always rub with the grain of the wood (in the same direction), not against, to prevent further damage.
4. Next, rub sandpaper to gently buff the edges of the scratch, so it will blend in smoothly with the rest of the floor. Then, apply the wax stick to the scratch and surrounding area. Leave to sit for around 10 minutes before buffing the area with a clean, soft/microfiber cloth.
How to fix major scratches
These scratches tend to penetrate the wood deeper, often resulting in gouges or holes in the flooring.
1. First, ensure the scratch and surrounding area is completely clean, before wiping dry with a clean, soft cloth.
2. Next, you can fill in the scratch or hole with a wood filler, and sand it down before using a stain/blending pen to match your wood color. Or you can fill in with colored wood putty using a plastic, putty knife.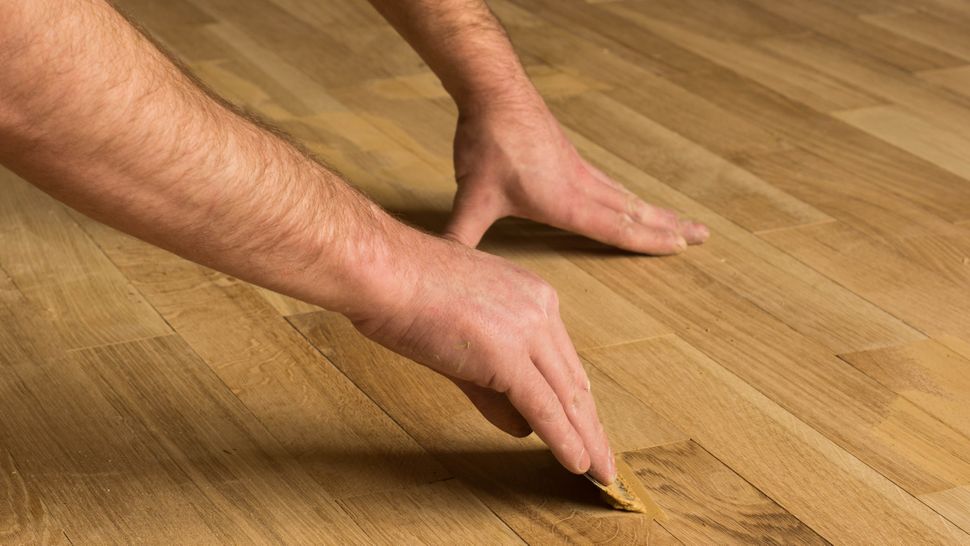 3. Once the scratch is filled in, wipe off excess putty with a clean cloth. Leave to dry before sanding lightly and buffing with a protective finishing coat.
Of course, if your floor is severely damaged from deep-set scratches, this may be a job for the professionals. It might be necessary to re-sand and refinish your entire floor using the right, heavy-duty equipment, which will make it look brand new again.
Tips on how to prevent scratches on wood floors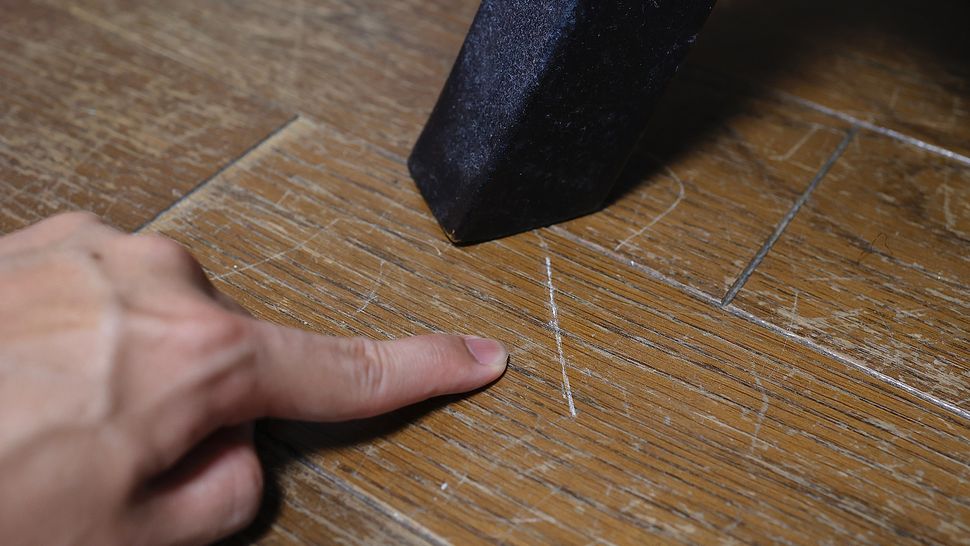 — Avoid dragging heavy furniture or chairs across the floor, and lift if necessary.
— Utilize rugs and mats in high-traffic areas to avoid general wear and tear of wood flooring.
— Remove outdoor shoes before walking on hardwood floors. Certain footwear, particular stiletto shoes, will scratch or gouge the surface.
— Add felt, protective pads under the base or legs of furniture to protect the surface of the floor when moved around.
---
As well as maintaining your hardwood floors, avoid making these 10 cleaning mistakes that will ruin your home, and beware of using a steam mop that could damage your floor.
If your carpets are looking worse for wear, here's how to clean carpets with or without a carpet cleaner. Or if you have rugs, check out how to clean a rug and make it look brand new.