We all want a great-smelling home, especially when you live in a busy household or have guests over. And the right fragrance can instantly mask lingering odors, make a room smell fresh and more inviting.
But while there are plenty of commercial air fresheners available, many contain harsh ingredients which can be harmful when inhaled. This is especially worrying if there are small children or pets in the home. Luckily, there are some natural hacks to make your home smell good without chemicals.
These simple alternatives are all natural, and would only need a few household ingredients you might already have in your kitchen. So if you want to banish odors, and refresh your rooms, check out these natural hacks to make your home smell good without chemicals.
1. Create a reed diffuser oil
Although reed diffuser oils are available in the stores, you can easily make your own. Simply add a few drops of your favorite essential oil to a small, narrow-necked glass bottle. Fill the rest with a carrier oil such as baby oil or almond oil before placing rattan diffuser sticks inside the bottle, much like these HOSSIAN 50pcs Reed Diffuser Sticks ($6, Amazon). Gently stir the mixture around before setting down on a countertop or table to instantly freshen the room.
There are plenty of essential oil scents, but lavender, tea tree or eucalyptus work well for making your home smell fresh. We can recommend oils such as SIPA 100% Pure Aromatherapy Essential Oils Set ($18, Amazon) that contains eight different fragrances. Just be sure to keep essential oils out of reach from small children and pets.
Another simple hack that made my bathroom smell fresh all week was putting a few drops of essential oil inside a toilet roll to give off a fresh smell each time it's used.
2. Make a lavender room spray
Lavender is known for its fresh scent and calming properties, so it makes the perfect room freshener. First, fill a small spray bottle with 1 oz. of distilled water and 1 oz. of rubbing alcohol before adding 10-20 drops of lavender essential oil. The strength of the mixture is totally up to you, and also depends on the size of the bottle. Then, shake the bottle well to ensure the oils evenly disperse into the mixture.
As well as being a great way to freshen up a room, you can also spray it on linen or on pillows to help you sleep well at night. Once the fragrance starts to fade, you can top up the lavender oil as and when needed.
3. Boil oranges and cinnamon
Another natural, aromatic air freshener is to simmer orange slices and cinnamon sticks. Simply take a small saucepan with water, and add orange slices along with a handful of cloves and cinnamon sticks. Bring the pot to the boil then turn the heat down to simmer for several hours.
This will release a relaxing aroma throughout the home, making it smell like fall! Plus, you can always drink the mixture as a refreshing tea afterwards.
4. Make herb sachets
Dried herbs or flowers can instantly spruce up the air. Simply get some small cotton or muslin bags and fill them with your favorite dried herbs, spices and flowers such as lavender. You could also add a few drops of essential oil to enhance the fragrance.
Then, either sew or tie the bag firmly with ribbon or string before placing it in a room. The fragrance should last for a week or two, but you can refresh your pouch by adding more drops of essential oil. In addition, herb sachets are ideal for placing inside drawers or closets to make your clothes smell nice and fresh.
5. Fresh flowers
There's nothing more fragrant than the scent of fresh flowers and indoor plants around the home. And if you buy or grow your own flowers, consider sweet-smelling florals including white jasmines, gardenia, orchids and scented geraniums. If you prefer a fresh, citrus scent, opt for houseplants such as eucalyptus and lemon balm. What's more, studies have shown that these 5 houseplants will help prevent mold in your home, which is a bonus!
To ensure your plants are well kept, you'll need to know how to care for an orchid and make it last all year, or try these 5 tips to save a dying plant before it's too late.
6. Make your own potpourri
If you prefer dried flowers, you can also make a homemade potpourri. Potpourri is a blend of dried petals, fragrant herbs, spices and essential oils that will fragrance any room.
The easiest method is to combine one cup of dried rose petals, ¼ cup of dried rosemary, and ½ cup of dried lavender into a container. Then, add 5 to 6 drops of your preferred essential oil to your dried flowers before sealing your container. Let it sit for around two weeks to allow the essential oils to soak into the flower petals, and enhance the fragrance.
Once it's ready to use, mix one teaspoon of orris root powder, which is a "fixative" to prevent your essential oils from evaporating. Finally, arrange your potpourri in an open glass jar or decorative container to make a beautiful and fragrant display.
7. Baking soda jars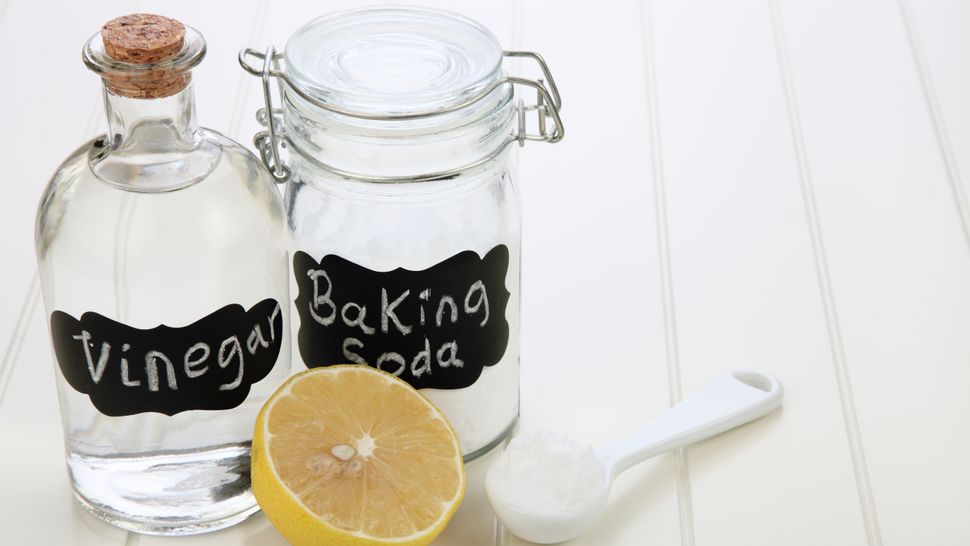 Baking soda is known for its deodorizing powers and ability to absorb odors, making it a great air freshener. If you want to banish smells, add ½ cup baking soda and six drops of essential oil inside a small mason jar. Then, carefully poke holes in the jar lid to make a vent before placing the jar anywhere in the home.
Not only will the baking soda banish any lingering smells, but the oils will make your home smell fresh. Once the scent fades, simply refresh every few weeks with six drops of essential oil.
If you want to know more about cleaning with baking soda, check out these 10 things you didn't know you could clean with baking soda. Just bear in mind these 7 things you should never clean with baking soda to avoid damage.
---
If you want to create a spa-like bathroom, these 5 easy hacks will make your bathroom smell good. Knowing how to make your own DIY cleaning products will save you money on your shopping bills.Plus, if you enjoy cleaning or other hacks to make your life easier, be sure to check out our own TikTok videos. Just be sure not to make any of these bathroom cleaning mistakes.