Gaming PCs are some of the most expensive computers on the market, in large part because the best gaming PCs are loaded with pricey high-end components to make even the most demanding games run buttery-smooth at 1080p or higher.
I know because I've been building and buying gaming PCs since I was a kid, and now I help oversee our coverage of all things computing here at Tom's Guide. Part of that work involves reviewing the latest gaming PC builds from major vendors like Acer, Alienware, Corsair, Dell, Maingear and more, so I've been lucky enough to go hands-on with a variety of different gaming PCs at prices ranging from under a thousand dollars to well over $5k.
Sometimes readers write in asking for help or advice on what PC to buy, and my response is typically to ask what they want to use it for and how much they can afford to spend. But recently someone wrote in with a trickier question about whether to buy a seemingly too-good-to-be-true gaming PC off Amazon from a vendor I don't recognize.
---
Ask us anything!
Do you have any questions you'd like to ask the experts at Tom's Guide? Please email us at helpme@tomsguide.com.
I just had a question about a PC and monitor I am considering purchasing. I was wondering if I can send you the Amazon links and you could take a look and let me know what you think, I would really appreciate it if you could help me out as I am new and do not know much about PCs and monitors.
This was the pc I was looking at, and I was looking at this monitor to go with it.
Do these look good? Or or do you have any other suggestions? My budget for these is $750 with the PC and monitor together.
---
If you'd rather not click through the links the reader shared (or if they no longer work by the time you read this) we're looking at a simple HP 27h 27-inch 75Hz 1080p monitor and a slightly customizable gaming PC from STGAubron.
At time of writing, the monitor is discounted down to $159 from its list price of $299, while the PC can be purchased in 10+ configurations ranging from $399 to upwards of $1,100. So obviously there's real appeal here for someone who'd rather not blow more than a thousand bucks on a new PC just to play games.
And since I personally haven't had a chance to go hands-on with either product, I can't say for sure that it would be a bad idea to buy this combo off Amazon. It's possible you could get years of fun out of this hardware. Certainly the monitor is good enough for 1080p gaming, and while it's probably not the brightest or most vivid display it at least supports AMD FreeSync, so you can count on variable refresh rate support regardless of whether you've got an AMD or Nvidia GPU.
But my experience tells me this STGAubron deal is too good to be true. If you're thinking of buying a cheap gaming PC off Amazon, I think there are a few things you want to look for before dropping hard-earned cash on a product you likely can't return.
In fact, that's the biggest and most glaring reason why I think buying a cheap gaming PC like this STGAubron off Amazon is a bad idea—you can't count on having reliable tech support or warranty coverage.
Amazon offers a basic 30-day return policy, but the PC needs to be either damaged/dead on arrival or in unopened boxes, so if you're unsatisfied with the way it runs games or you find it dies on you 2 months in, you're likely out of luck unless your PC vendor offers a warranty—and I can't even find a website for STGAubron, much less any details on what warranty (if any) they offer on their products.
Compare that to a known vendor like Acer, Dell or Maingear, who all offer at least 1-year limited warranties on their gaming PCs that you can easily find by just Googling them. These warranties typically cover the cost of returning or repairing the PC in the event a component like the hard drive or graphics card breaks, and they offer some peace of mind when you're spending this much money on a PC—especially if you're not comfortable repairing it yourself.
(Now, I can't vouch for whether these companies are easy to work with when returning products, or how well they honor their warranties, but at least they offer them!)
Even if you've been building PCs your whole life and the thought of having to crack into the case to diagnose what's wrong doesn't scare you, there are a couple warning signs that tell me a PC like this one is not a good investment.
First and foremost, the Amazon page for this PC makes it hard to understand what specific components are in each build. Knowing exactly what's in the PC your buying is critical to getting a good deal, so don't trust a vendor that obfuscates those details. Even if you don't know the difference between Intel Raptor Lake 13th gen CPUs and AMD's Ryzen 7000 series CPUs, you can at least punch the name of the components into Google and look up reviews and comparisons of how well they perform (our sister site Tom's Hardware is a great resource for this) before you buy.
But if a vendor like STGAubron doesn't tell you exactly what's in the PC you're buying, beware: Tomfoolery is afoot.
Second, the reviews of this PC are not great. You can't always trust user reviews on sites like Amazon since you never know if someone's being entirely honest, but in this case you just need to scroll through a few to see mixed messages about how reliable this PC is and whether it performs as advertised. Some customers seem happy with it, but even those who are often mention issues like failing Wi-Fi cards.
This is a common issue when looking for great deals on gaming PCs, and while it sometimes pays to seek out a cheaper, less well-known vendor when you're looking for deals, a gaming PC is not something you want to skimp on if you don't know how it works or how to fix it if it breaks.
Finally, I recommend you do a Google search of any PC before you buy to read reviews from multiple sources. We have our own catalog of gaming PC reviews I recommend you peruse, though we've never reviewed anything from STGAubron.
That's partly because they've never reached out to offer us one for review, and after Googling the brand I think I know why: STGAubron seems to come under a lot of criticism online, and while there are some positive reviews to be found there are also quite a number of negative ones.
Also, that quick search turned up a Reddit post from earlier this year in which a user describes how two clients of theirs had bad experiences purchasing STGAubron gaming PCs off Amazon which arrived containing used components. While such tales should be taken with a grain of salt since we can't confirm their veracity, the fact that the user clearly explains how both STGAubron gaming PCs arrived packing components that had clearly seen better days (including GPUs which may have been previously used to mine cryptocurrency, something so damaging it's known to void warranties) is another huge red flag.
The user goes on to claim that they did their own research and found STGAubron is in fact a shell company of a Chinese computer scrap recovery outfit, and that they may be building PCs out of used parts and reselling them. If that's true, it goes a long way towards explaining why this seemingly cheap gaming PC has very mixed user reviews and only vague details about what components are inside.
So while you could conceivably get one of these STGAubron gaming PCs and a cheap monitor like the HP 27h for less than $750, I think you'd be much better off waiting and saving up for a better gaming PC from a more reliable company.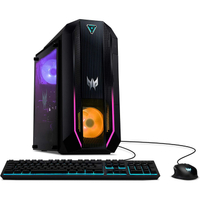 Acer Predator Orion 3000: $1,799 @ Acer.com
Acer's Predator Orion 3000 is a solid mid-range gaming PC that hits the sweet spot between price and 1080p performance, delivering 60+ FPS in games like Red Dead Redemption 2 and Assassin's Creed Valhalla despite its aging components.
For example, I like the Acer Predator Orion 3000 as a solid starter gaming PC because it's stylish, runs pretty quiet and can be had with components (including an Nvidia GeForce RTX 3070) good enough to run most games in 1080p at 30-60 frames per second for under $2,000.
Obviously that's still more than double the $750 budget our reader allocated for their gaming PC setup, and it's definitely not cheap. But it's a solid deal for a great gaming PC, and I can vouch that you will get what you pay for. Plus, you get the added security of a warranty and tech support from Acer, which is more than I can say for this cheap STGAubron gaming PC off Amazon.
More from Tom's Guide