The first day of Prime Day may be over, but there's still time left to take advantage of the deals that are still going on during this second day. Don't way too long because it'll be over before you know it.
Most people don't know that I actually love to cook — and by that — I mean a lot. Right now, my beloved Ninja Foodi Smart XL 6-in-1 indoor air frying grill has a $150 discount for Prime Day only. It normally costs $300, but it's made better with this Prime Day deal. That's because it effectively replaced three appliances I used at my home.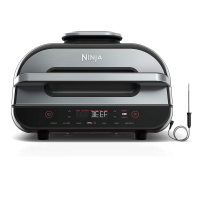 Ninja Foodi Smart XL 6-in-1 indoor air frying grill: was $299 now $149 @ Amazon
The Ninja Foodi Smart XL 6-in-1 indoor air frying grill is the ultimate small appliance for your home because it combines the functions of an air fryer, grill, and oven. It's also super easy to clean thanks to its ceramic-coated grills.
Check other retailers: $260 @ Target
One of the reasons why I love the Ninja Foodi Smart XL 6-in-1 indoor air frying grill is that everything I've cooked in it came out perfect. I'm talking about steaks cooked to the right temperature, crispy French fries like they came from fast food joints, and grilled veggies that retain their flavor.
When it comes to cooking meats, such as thick cut pork chops on the bone, the Ninja Foodi Smart XL 6-in-1 indoor air frying grill comes with a smart thermometer that monitors the temperature so that it cooks exactly to your preference. I found it extremely helpful, too, that it has programmable selections to choose what kind of meat you're cooking and your preferred doneness level. It'll even tell you to flip over the meat once it's halfway done to reach your preferred temperature.
Secondly, I love that it's also an air fryer to get chicken wings nice and crispy — but without the grease that you'd have with traditional deep frying. There's an air frying basket that helps contain everything, so that I'm able to spread things out for an even cook.
Even though it's meant to be used indoors, I've actually used it outdoors on several occasions to quickly cook a small meal. Plus, it doesn't stink up my house either with the foods I'm cooking. On a few occasions, I've actually used it to grill a bunch of hot dogs and hamburgers, rather than using my larger wood pellet grill. This brings me to my last point about why I love the Ninja's indoor air frying grill so much.
It's the easiest thing to clean up once I'm done cooking. Everything is contained by the drip pan, so all the grease and oil stays in one place. Traditional air fryers and countertop ovens have been a chore to clean after each use, but I've found the Ninja Foodi Smart XL to be much faster because of how it contains the mess and the ceramic-coating on the grill grate, drip pan, and air frying basket.