Run, don't walk to Amazon because Bose's excellent QuietComfort Earbuds II — which currently hold the #1 spot on our list of the best noise-cancelling earbuds — can be yours for the rather low price of AU$339. It's not quite the lowest we've ever seen them drop to (that was AU$337 back in March this year) but it's still a decent price for what is an excellent pair of wireless earbuds.
As is always the case with Amazon discounts, we can't be sure how long this low price will stick around for, so if you're looking to upgrade your music listening sessions, there's never been a better time to secure yourself this best-in-class set of buds.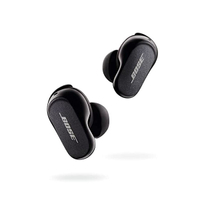 Bose QuietComfort Earbuds II: AU$337 (was AU$430) at Amazon AU
Bose's second-generation noise-cancelling earbuds are the current best-in-class, serving up unrivalled noise cancellation and much-improved sound quality over their predecessor. CustomTune technology calibrates the 'buds to deliver the best sound for your ears, which is assisted by some redesigned eartips offering a more secure fit. Battery life isn't technically the best compared to some other pairs, but it's a minor sacrifice we're prepared to live with.
Bose has always been an industry leader in the noise cancellation space and the company's latest earbuds take an already-winning formula and turn it up to 11. If you want to block out as much noise from the outside world as possible, you're not going to find another pair that will do it better.
In our in-depth Bose QuietComfort Earbuds II review, we spoke highly of the improved sound quality, surmising that the introduction of CustomTune — a feature that automatically adjusts the frequency profile to best suit your ears — was "positive, giving the QuietComfort Earbuds 2 a punchy, sharp soundstage."
A free software update released in February also brought in the ability to use either earbud independently, which can be useful for taking a quick phone call, for example.
The only real negative point we can make about the Bose 'buds relates to battery life. While it's not terrible at six hours of playback on a single charge, their closest competitors (from Apple and Sony) offer more. We also feel that an extra 24 hours of juice from a fully charged charging case is poor when compared to competitor offerings. But, if you're always going to be near a charging port, then this may not be a dealbreaker for you.
For us, while it is a little disappointing, it's something we can live with. When you factor in just how good the noise-cancellation is, coupled with superb sound, having to plug them in to charge every couple of days is no arduous task.
More from Tom's Guide