Whether you're training for your first race, or just hoping to get fitter this year, finding the best men's running shoes can be the difference between a good and a bad run. Of course, the best pair of running shoes for you will be the ones that fit your feet best, but we've tested some of the most popular running shoes on the market to help you decide which is best for your training needs.
For a lot of runners, one brand will fit their feet that little bit better than the others, so it's always a good idea to head along to your local running shop and try as many different pairs as you can. If that's not an option right now, don't panic, we've been running in some of the most popular men's running shoes on the market to help bring you some up-to-date reviews.
Read on to take a look at our top tried and tested picks for the best men's running shoes. We've run at least 50 miles in all of the shoes on the list below to help you find the best option for you, whatever distance you're running.
Quick list
View more products below...
Best for race day
Best for race day
The Nike Vaporfly Next% 3 is an extremely versatile race day shoe, that'll help you pick up the pace. It's fast, and more stable underfoot than the Alphafly.
Best Adidas
Best Adidas
The Ultraboost Light (or the Ultraboost 23) sees Adidas introduce a new midsole foam named Boost Light that is 30% lighter. It's a little snappier underfoot than previous versions.
Best men's running shoes overall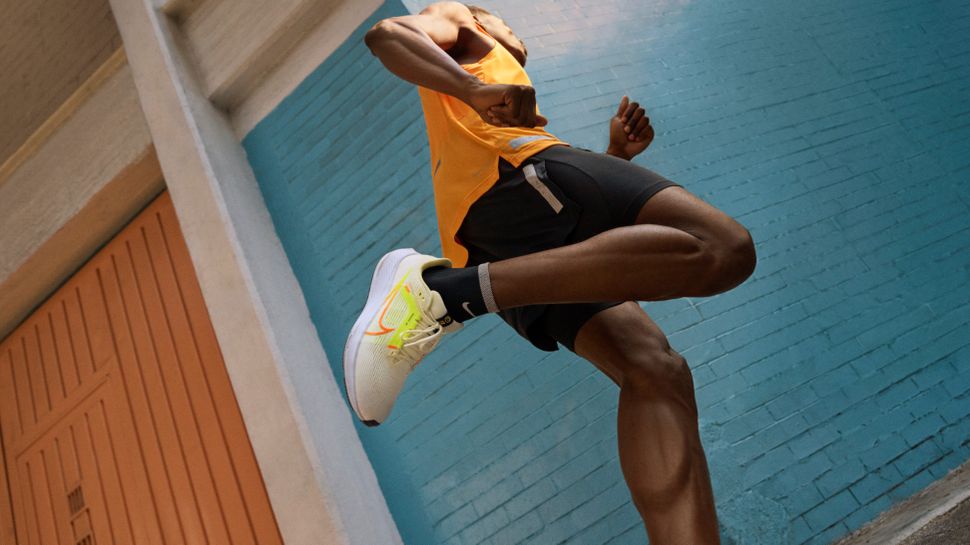 If you're a fan of the Swoosh, choosing a pair of the best Nike running shoes can be a tricky choice. That said, for a shoe to be on its 40th iteration, it must be doing something right. The Nike Pegasus is a workhorse of a running shoe — it's durable enough to last hundreds of miles, and the React foam is lightweight and responsive enough to cope with speedier miles when you need to pick up the pace. You can wear it for a marathon, your first 5K, and pretty much everything in between.
Runners return to the Pegasus year after year because it's reliable, and compared to the Nike Pegasus 39, the Pegasus 40 has some little tweaks to make it more comfortable. Nike says they've changed the design of the footbed to make the shoe more secure and supportive underfoot. They say they wanted the shoe to feel like a gentle hug, and it does. It still has all of the pop of the Pegasus, but it's the best-fitting Pegasus we've tested in the past few years.
The downside with the Pegasus is that it's not the most responsive if you are looking for a shoe to run fast in — we've found the best carbon-fiber running shoes for that. This is an excellent running shoe, and our favorite Pegasus in a long time.
Best Saucony men's running shoes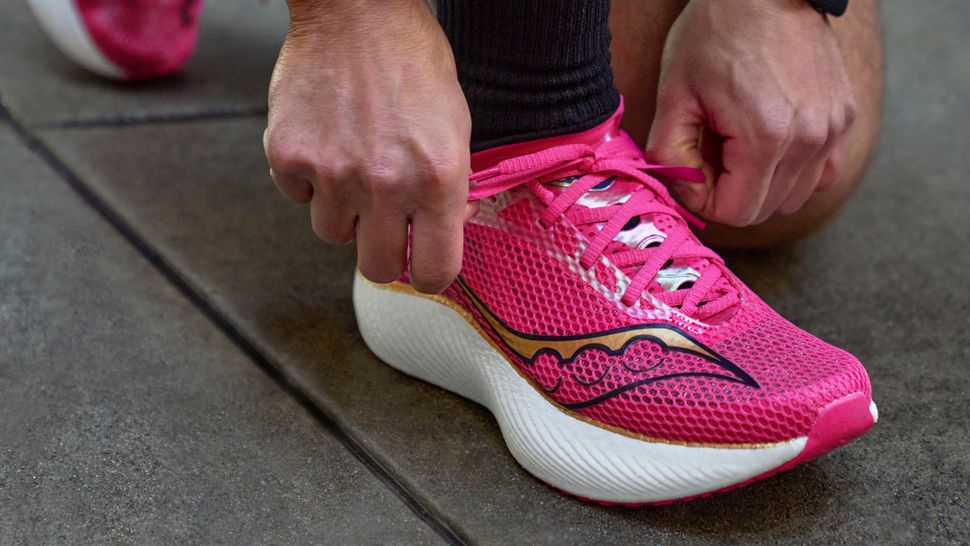 Saucony just officially entered the super shoe chat. The Endorphin Pro 3 sees Saucony completely overhaul its most popular carbon fiber road racing shoe. The brand has changed the upper, and added more PWRRUN PB foam underfoot to completely change the ride of the shoe — it's extremely fast, yet comfortable on the run.
Saucony has completely overhauled the design of the Endorphin Pro 3, which straight out of the box looks like a different shoe, not an updated version. The stack height has increased to 39.9mm, making it just legal in the World Athletics guidelines, and similar to the stack of the Nike ZoomX Alphafly Next% 2. The upper has also been overhauled to more of a mesh — it's pretty much see-through and during testing we found it to be one of the most breathable uppers on the market.
This is an excellent running shoe for a fast half marathon or marathon on the road. It's fast underfoot, has an excellent amount of cushioning and is an enjoyable ride on days where you really want to pick up the pace. It does come up a little short in the foot, so if you're between sizes, go up.
Read our full Saucony Endorphin Pro 3 review.
Best men's trail running shoes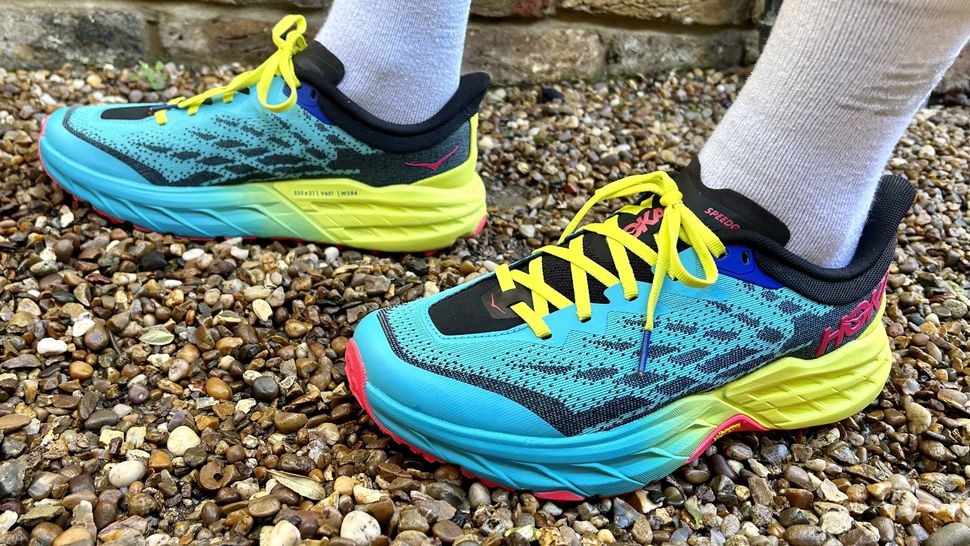 If you're looking for a comfortable shoe to take out on the trails this winter, we've been impressed with the Hoka Speedgoat 5. Designed to give you all of the cushioning you'd expect from Hoka, without feeling overly plush on soft ground, or overly heavy, the Speedgoat 5 is a stable shoe, with a good amount of grip.
Compared to some of the other best trail running shoes, like the Nike Pegasus Trail 3, these are definitely on the plusher side of trail running shoes, but they don't feel heavy underfoot. There's a reason why a lot of ultramarathon runners choose Hoka — they're designed to keep your feet comfy over long distances. Like other Hoka running shoes, the Speedgoat 5 has a roomy upper. There's also a protective layer around the toebox to prevent any stubbed toes when running over rocks or tree roots.
Overall, this is a fantastic running shoe for most trail runners. It has enough cushioning to take you from your door to the trails and provides a good amount of grip to allow you to pick up the pace when you get to the muddy patches.
Best men's New Balance running shoes
It goes without saying, you don't have to own multiple pairs of running shoes to be a runner. While some people might invest in multiple pairs for different sessions, if you're new to running or are on a budget, you'll still be able to build fitness and train for races with only one pair in your closet. Plus, if you're looking for that one pair, the New Balance Fresh Foam X 1080v13 is a brilliant shoe to invest in.
A seriously versatile shoe, the New Balance 1080v13 is soft and plush enough to keep you comfy on your long runs, but can also pick up the pace when you need it for faster tempo sessions. Compared to the New Balance 1080v12, the New Balance 1080v13 has more of the brand's Fresh Foam X midsole foam, and the stack height is larger, yet the shoe has gotten lighter.
The downside here is that the shoe is slightly more expensive than the previous iteration. That said, during testing, we were pleasantly surprised by the 1080v13 — it's a comfortable running shoe, that could easily be worn for anything from a 5K to a marathon. It's a brilliant example of what you'd expect from an everyday running shoe and a reminder that you don't need multiple running shoes in your closet to train well for a race.
Read our full New Balance 1080v13 review
Best men's running shoes for recovery runs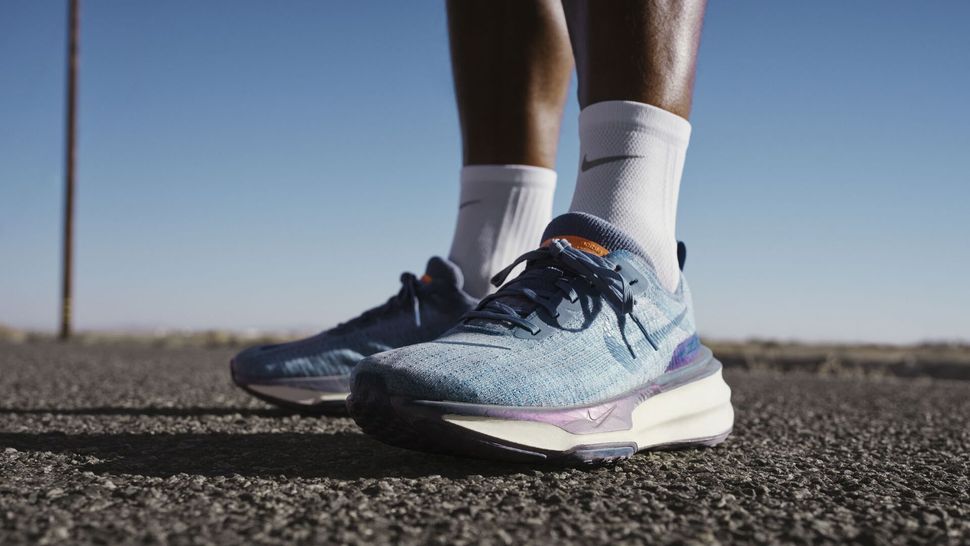 The Nike Zoom X Invincible Run 3 is one of the plushest shoes on the market. When Nike released the shoe, it said it was best suited for easy, marathon training miles, and it wasn't wrong — this is a super plush, super comfortable shoe for days when you just want to relax and not think about your run. The Zoom X foam, which is usually reserved for Nike's faster running shoes, is lightweight and responsive but also helps take the load off tired legs — something every runner needs during a marathon training cycle.
The third iteration of the shoe has a few key changes — it's a little more supportive, and a little more grown up from the past two versions, which I've always described as thick rubber rings of foam around your feet. It's higher, wider, and heavier than ever before, and the changes between the Nike Invincible Run 2 and the Invincible Run 3 are definitely more noticeable underfoot.
While it's still a wonderfully comfortable shoe, if you didn't struggle with the lack of support in the previous two versions, now might be a good time to save your money and invest in the older shoe. That said, if you do find you overpronate in the final miles of your long run, it doesn't get more max-cushioned than this.
Read our full Nike Invincible 3 review here.
Best Brooks men's running shoes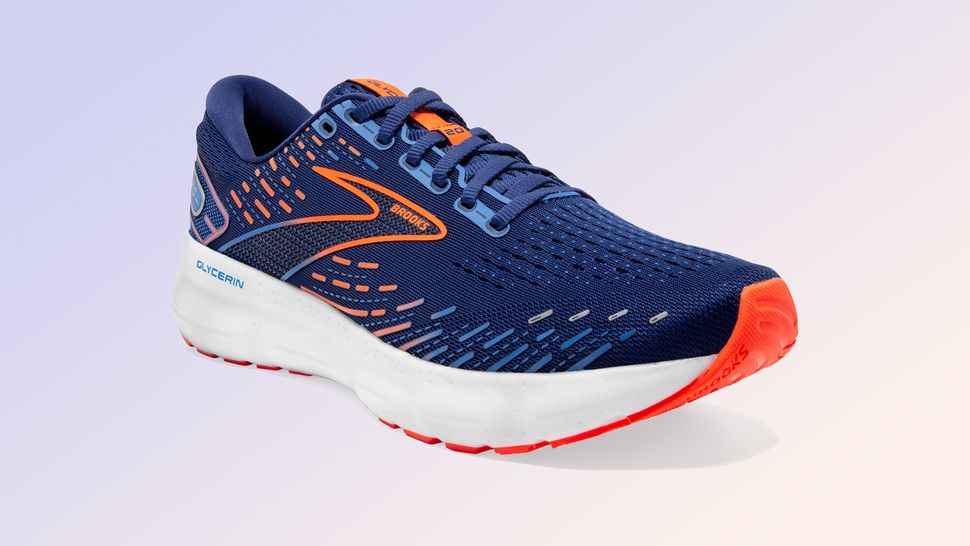 Known as being Brooks' 'softest shoe', the Glycerin is one of the most popular running shoes around, and for good reason. The Glycerin 20 is our favorite version of the shoe yet — Brooks has replaced the DNA Loft midsole foam with the DNA Loft V3, a lighter, poppier, nitrogen-infused midsole foam that Brooks first brought to market last year in the Aurora-BL.
While it's definitely best suited for long, easy miles, the Glycerin 20 can still pick up the pace when you need it to. Available in a number of different sizes, the shoe also comes in the three different widths — medium (which is the standard), wide, and narrow, and a support version, which Brooks has named 'GTS'.
The main downside here is that the Glycerin isn't the cheapest everyday running shoe on this list, especially when it's not the most versatile. That said, if your goal is to get going, or get around the course, you'd be hard-pressed to find a more comfortable shoe to do this in.
Read our full Brooks Glycerin 20 review.
Best men's running shoes for race day
If you're looking for a shoe that'll propel you round your next marathon, it doesn't get better than the Nike Vaporfly Next% 3 on race day. There's a reason why you'll see this shoe a LOT at every major road marathon — they are one of the most popular racing shoes around, and it's easy to see why.
The ZoomX foam — the lightest and most responsive midsole Nike makes, plus there's a full-length carbon fibre plate which helps for a faster toe-off. The shoe feels fast, it's incredibly lightweight and fits true to size. During testing, these helped us PR over 10K and the marathon distance. It's designed to fit comfortably out the box, and keep you running on tired legs.
The drawback here, of course, is the price — these shoes are definitely an investment and one that might not actually last you for too many miles. While Nike doesn't give an exact figure, as a race day shoe, it's often thought that you won't get all that many miles out of these, so we wouldn't recommend them for your training miles. That said, if you can afford them and you're looking for a PR, you won't be disappointed.
If you're looking for a bargain, now is a good time to invest in the Nike Vaporfly Next% 2, which is likely to be on sale now the Vaporfly Next% 3 has been released. The differences between the shoes are minimal, but you can read more in our Nike Vaporfly Next% 2 vs Nike Vaporfly Next% 3 face-off here.
Read our Nike Vaporfly Next% 3 review
Best Adidas men's running shoe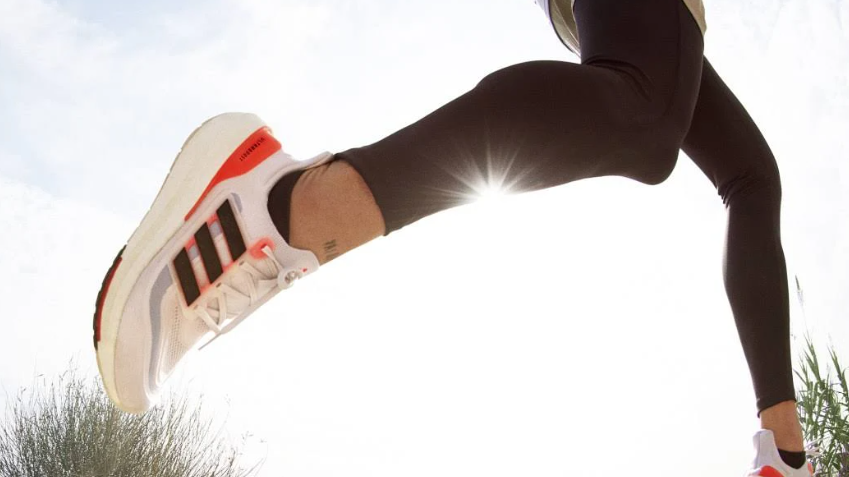 While the Adidas Ultraboost 22, and now the Adidas Ultraboost Light, have been re-designed to better fit women's feet, there's no reason why men can't run in them. They are still an excellent everyday running shoe, with a decent amount of foam cushioning, and responsiveness underfoot.
Now on its 23rd iteration, Adidas has released the Ultraboost Light running shoe, made with a 'new generation' of Boost foam that's 30% lighter than previous iterations. The Ultraboost 22, for example, weighed in at 11.7oz for a men's US 9. The Ultraboost Light is 10.3oz. There's also the same Linear Energy Push (LEP) system — this is a fancy name for the plastic insert Adidas added to the outsole, designed to give runners 15% more torsional rigidity, allowing you to use the shoe to pick up the pace when you need it.
That said, this is by no means a lightweight running shoe, it's just lighter than older versions of the Ultraboost. It's important to point out that despite having a thick wedge of foam between your foot and the ground, there's not an awful lot of sink-in comfort here. This isn't a plush foam, and compared to the likes of the Nike Invincible 3, the Asics Gel Nimbus 25 and the New Balance 1080v12, this is definitely on the firmer side of the market. This isn't necessarily a bad thing — the firmer foam has a little more versatility on the run, but don't expect this shoe to be overly plush.
Bottom line: if you're an Ultraboost fan, it's likely that you'll love the lighter feel of the shoe, which does feel a little faster and a tad more responsive on the run.
Read our Adidas Ultraboost Light review here
How to choose the best men's running shoes
When you're looking for the best men's running shoe for you, there are a few things to consider. First, how do you run? It's always a good idea to head to your local running store to have your gait checked before investing in a pair of running shoes to ensure you're not overpronating, as you might need a support shoe or insole. Not sure what this means? Check our guide on how to buy running shoes.
Next, you'll need to think about the kind of miles you plan on running. If you're looking for a fast shoe for your next road marathon, you'll probably want to look at something lightweight, which has a responsive foam to propel you to your next PR. That said, if you're a complete beginner, you'll probably want to look at a more stable shoe that'll keep you comfortable as you run and walk.
Finally, have a think about the surfaces you plan on running on. If you're a trail runner at heart, you'll need a shoe with a good amount of grip on the outsole to keep you from slipping on uneven terrains. On the other hand, if you do most of your miles on hard concrete, you'll want a little more cushioning to keep you comfortable.
How we test the best men's running shoes
We test the best running shoes on the market by running in them. We've run at least 50 miles in each of these shoes, on a number of different terrains, and in different weather conditions.
When testing running shoes, we're looking for a number of different factors to help us make up our minds. Obviously, how comfortable they are underfoot and how well they fit are primary concerns. However, we also look at how responsive they are at different paces during different sessions, and how well they perform on a wet sidewalk or a muddy path.
Other factors we consider when testing the best men's running shoes include such basics as how easy they are to lace, as well as extras like carbon-fiber plates, or ultra-lightweight midsole foams. Last, we also take the price of the shoe into consideration for our final rating, relative to other shoes in its class.
FAQs
Can I use running shoes for regular use?
While there's no reason why you can't wear your running shoes on a dog walk or in the gym, this will shorten the life of your shoe. Some running shoes, such as those with a carbon fiber plate, are designed for racing, so we wouldn't recommend heading out for a walk in those.
How long do running shoes last?
The answer here depends on the type of running shoe you bought, and what you're using the running shoe for. For example, a carbon fiber running shoe won't last anywhere near as long as a cushioned running shoe, which is designed to be more durable.
At the same time, going out every single day, or doing a lot of trail running means you're likely to wear through your shoes quicker than someone doing a couple of runs a week. You'll also wear your shoes out faster if you wear them to the office, walking the dog, or in the gym.
As a ball-park figure, experts reckon shoes should last between 300-500 miles. If the midsole doesn't feel as cushioned as it once did, or there's visible wearing to the sole or upper, it's time to upgrade your shoes.