Microsoft Live Essentials Beta: 14 New Features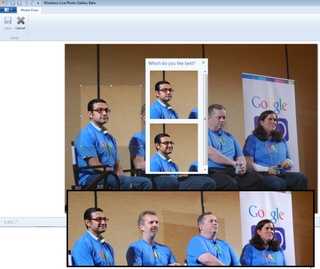 Fix Group Shots with Photo Fuse
The public beta of what's likely to be called Windows Live Essentials 2011 is now available for you to try out here. Here's why we think you'll want at least some of the new apps – especially the updated version of Windows Live Photo Gallery.
Back in 2007 Bill Gates showed off a potential Vista Ultimate Extra that would let you take the best bits from two photos and combine them. For example, if you had one shot where you're blinking and one shot where your wife has her head turned, you could still get a great shot of you together at the party (or one really embarrassing shot of both of you, if you're so inclined). Three years later, Photo Fuse finally arrives in Windows Live Photo Gallery. It was worth waiting for. In certain images, if people haven't moved too much you can seamlessly blend heads from different photos to make everyone smile at once (if they have moved you can end up with necks that don't fit). If you want to change more than one face you'll need to combine the photos twice, which is what we did to produce the image on this page). It doesn't only work on faces; just drag the outline to whatever you want to replace. This is a feature good enough to pay for.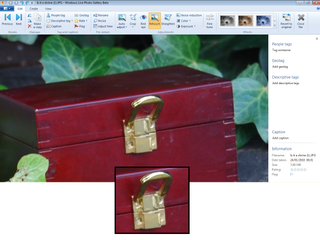 Retouch Photos – In Small Areas
If you were a fan of the Smart Erase feature in Microsoft's Digital Image Suite, don't get your hopes up; compared to that feature, the new Retouch option is minor. You can't remove power lines or random strangers on the beach the way you could with Smart Erase, but you can get rid of blemishes, small scratches, smears and anything else small enough for the bounding box you draw over the unwanted area (for some reason this box is constrained to a very small maximum size). In this image, we've removed a smudge next to the latch of the box and the result is perfect and almost invisible. But, if you can't select an entire object you can't remove its pieces, so it's nowhere near as powerful as the content-aware fill in Photoshop CS5.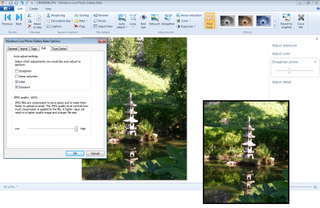 Auto Adjust
Photo Gallery has always featured the ability to make good automatic adjustments, but the new version is even more flexible. Straightening photos--such as this one of a crooked pagoda--gives you a better image (the original off-kilter phone in the inset looks less professional), but you don't always want to straighten an image Photo Gallery thinks is tilted because straightening can remove some of the crisp detail in a photo. The options let you choose exactly which corrections you want to make automatically when you choose Auto adjust; . This feature is a small option that makes a huge difference to working with Photo Essentials. You can also pick all the automatic adjustments individually from the ribbon, one at a time, and there are useful presets for Color and Exposure so you have another option before you turn to the manual sliders.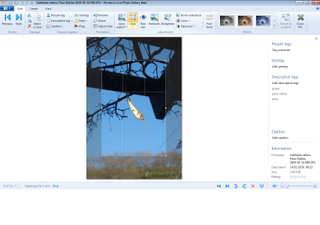 Make Your Images Stand Out
When you crop a photo in the new Photo Gallery, the selection is divided into a three-by-three grid to help you place the most interesting features in the image into one the areas where it will show to best advantage. Dividing the image up like this is called the rule of thirds and it's so useful that Adobe has just added it to Photoshop CS5.
The geotgagging in Photo Gallery is simple (and basic); you can type in a place name, a street address or a ZIP code. We'd like to see the option to refine the geotag for your image by popping up Bing Maps to let you place it more precisely – or to tag photos when you don't know the name photo's location.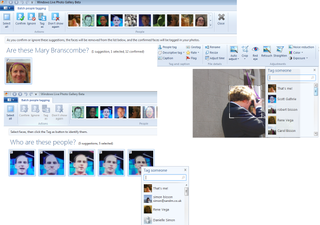 Tag People Without Hard Work
The current version of Photo Gallery lets you tag photos with specific people; the new version finds people for you and determines who they are (similar to iPhoto and Picasa). It isn't perfect. It doesn't find every face, and as you can see from the ribbon, it does finds faces in cartoons, on statues and in random patterns of light and shade in landscapes. But, in a collection of 30,000 photos, more than three quarters of the faces suggested were real people. Recognizing people depends on your ability to give Photo Gallery some examples to work with, but if you've used the people tags in the current version, the beta version of Photo Gallery will suggest some names right away. Here we're confirming a suggestion, supplying a name for detected faces and pointing out a face the software hasn't spotted. If you choose, images you upload to Facebook take their people tags with them; and if your friends tag more people in your images those tags sync back to Photo Gallery.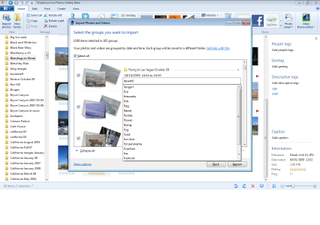 No More Duplicate Tags
Take the time to tag your photos and it becomes much easier to find them. However, in earlier versions of Photo Gallery it was far too easy to type in duplicate tags (flower and flowers) or misspell the tags because when you imported photos you couldn't see what tags you'd used in the past. In the new version, every time you type in a tag you get a drop-down list of the tags that are in your existing photos so you can be consistent. There's a new dialog for renaming and deleting existing tags and an option to delete unused tags, so you can get rid of the duplicates and misspellings quickly. Again, this is one of those minor irritations that made earlier version of Photo Galleries frustrating.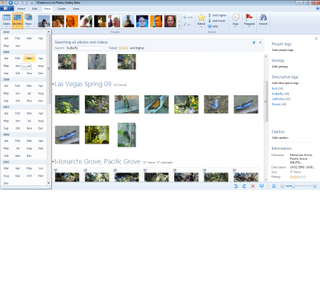 Find Photos Easily
Tags aren't the only way to search. The new Find tag gives you multiple options. You can narrow down a search by years, months or specific dates, type in a search term (which looks in titles, captions and folder names as well as tags), pick the rating you want and pick faces from the People tags. When you pick People tags you can look for photos with several specific people in or photos that have your brother or your sister by using the And and Or buttons. There's a new option to flag photos if you want to make panoramas or put them in an album or upload them. It would be useful to have more than one flag and we'd like to be able to name the flag types, but it's still useful to be able to flag images and view the flagged images in multiple folders. Put it together and these are hugely useful tools for tracking down images.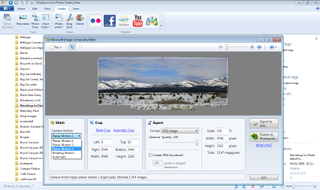 Image Composite Editor
As well as the existing panorama stitching, Photo Gallery now comes with the Image Composite Editor from Microsoft Research. This will still join images into a panorama automatically but you get extra controls including camera motion. The perspective of your original images depends on whether you stood in the same place and moved the camera or turned sideways to get the next shot. If the automatic stitch doesn't give you the effect you want, you can choose between four different camera motion options to see if you get better results. If you have panorama pieces that horizontally as well as vertically, you can make a "structured panorama" and tell the software in what order to piece the images together. You can export your panorama as a Photosynth that you can zoom in and out of seamlessly. ICE is a very powerful, yet surprisingly easy to use tool that rivals the priciest professional stitching tools--the best part is that it is free.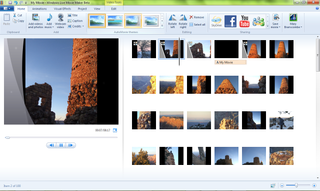 Easy Sharing, Movie Making
You can upload photos and videos to Flickr, Facebook, YouTube, Windows Live and SkyDrive straight from Photo Gallery, or create a Live Mail photo message that is similar to the new Hotmail photo album feature (which also links straight from Photo Gallery), or you can take a selection of photos (and videos) and turn them into a Movie Maker video. When you click the Movie button Movie Maker creates a slideshow from the images and uses the default AutoMovie theme which lays them out on the thumbnail timeline and adds transitions, titles and captions (taken from any captions you've added in Photo Gallery). You can pick one of the other five themes – hover over one in the ribbon to get a live preview of it – and as soon as you do, Movie Maker prompts you to add a soundtrack. If you want to drag images and video clips onto the timeline and set up transitions and animations yourself, the controls are simple, or you can use AutoMovie to turn your images into a slideshow video that can be compressed and ready to upload in about a minute.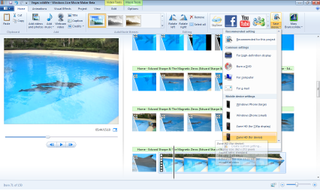 Sharing To Specific Formats and Devices
If you just hit Save, Movie Maker will pick the settings that match the resolution of the video and photos you've used, but if you know you want to make a DVD of your file or play it on a smartphone (or a Zune HD) you can pick the more appropriate setting from the Save Movie drop-down, which includes both 720p and 1080p HD. Converting video to these different encodings is hardware accelerated by your GPU, so it should be quite a lot faster than the previous version on most PCs. And if the device you want to use isn't on the list but you know the screen size and other technical details, you can create your own custom setting. Microsoft is promising "iPod and iPhone playback" although the options for these popular devices aren't in this beta.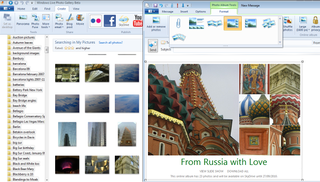 Live Mail Photo Albums
The Live Mail software doubles up on a lot of the new Hotmail features, including photo albums. Instead of attaching photos that might be too big for your friends' inboxes, you pick the images you want and Live Mail lays out the thumbnails in the email and uploads the photos to your SkyDrive. You can try out six different layouts with all or just a selection of the images, but you can't place individual photos (you can shuffle to see a new selection). Your friends get the email with the thumbnail album and they can click to see the images in a slideshow from SkyDrive or to download them as a ZIP file all at once. Unlike Hotmail, you can't choose how long the slideshow is available for (it's set at 30 days) but you can choose who can see it before you send the message.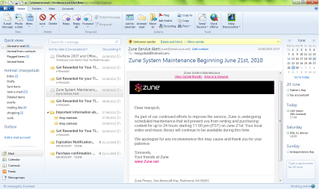 See Mail and More
Other Hotmail-like features in Live Mail give you a threaded "conversation view"; and "quick views" of up to eleven different types of mail (unread, flagged, mail from people in your address book and so on). As well as including some newsgroup features it inherited from Outlook Express, Live Mail is also an RSS reader (it takes the list of news feeds from Internet Explorer but you can add your own) and you can start a blog post in Live Writer directly from a news story.
Live Mail only shares and subscribes to calendars through the Windows Live Calendar service, but perhaps the most useful feature is the slim calendar view down the side of the inbox. It's a great way to stay on top of your appointments. You can even type in quick "to do list" reminders.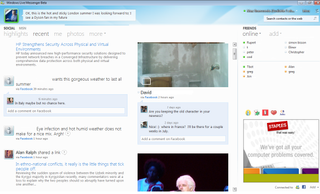 Connect Other Social Networks To Messenger
The people you talk to in Windows Messenger are usually the same friends you keep track of on Facebook and MySpace, but instead of the irritating MSN Today page, the new Messenger gives you the news you care about, ie--what your friends are doing. You can connect your Facebook, Flickr, and MySpace (and soon LinkedIn) accounts to see updates (plus comments), shared photos, videos and links– and add your own comments. When you update your Messenger status, that can be spread your other social networks as well.
There are a hundred and one ways to integrate social networks, but, apart from omitting Twitter (Microsoft blames changes to Twitter's policy) and offering a fraction of the more than 70 social networks you can see from the Windows Live Web page (which will change), this is a great way to do it. You get excellent privacy controls so you know exactly where your updates and comments are going, you can prioritize close friends or mark someone as an acquaintance who only gets your public updates. This makes Live one of the only social tools that knows the difference between real friends and online friends.
Messenger also finally gets tabbed conversations and full screen HD video calls.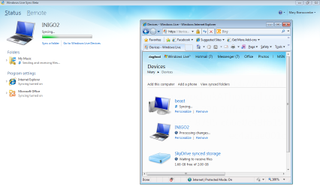 Sync Your Settings and Get Remote Control
After years in beta, Microsoft's Mesh service has turned into Live Sync (most of it, that is--there's no support for smartphones yet). It has also become a lot simpler. If you have two PCs, you can use Live Sync to give you the same browser favorites on both machines, and it can also copy settings from Office, such as your Outlook signatures and your custom templates. You don't need to change any settings in Office or Internet Explorer – just put Sync on all the PCs you want to keep synchronized.
You can also use Live Sync to get remote access to your PC from any other PC; that means if you've left a file behind, as long as your PC is turned on you can connect to it and copy the file across. You can even run programs on the other PC. This does take a little more set-up time, but it's not too complex.
If you often need to copy files, you can mark a folder specifically for keeping the same files on different PCs (or even on a Mac and a PC) and Sync will copy any changes and any new files across automatically. If the folder is less than 2GB in size, it will keep an additional backup copy on SkyDrive.