9 Reasons the iPhone 7 Beats the Galaxy S8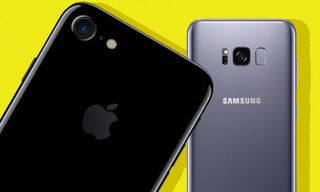 Why Apple's phone still stands tall
We've gotten our hands on the Galaxy S8 and S8+, and Samsung's latest phones impress. In fact, the S8 and S8+ are both the Tom's Guide pick for top smartphones. But that doesn't mean anyone holding on to the latest iPhone should collapse in envious despair. While the Galaxy S8 is certainly an impressive-looking phone that raises the bar for Apple and other smartphone makers, my iPhone's touch screen isn't exactly stained with tears. That's because the iPhone 7 and 7 Plus still hold their own against Samsung's latest flagships in a number of ways.
Illustration: Tom's Guide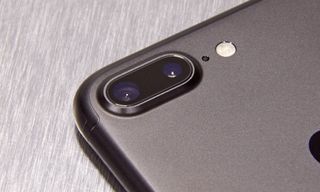 Dual camera lens on the iPhone 7 Plus
The Galaxy S8 has the same 12-megapixel camera you'll find on the Galaxy S7. That's not a tragedy — we rated the S7's shooter as a top-flight camera phone, and Samsung even made software tweaks to improve the camera's image processing. But dual rear cameras allow you to do so much more, as anyone who's ever played around with the optical zoom and depth-of-focus effects on an iPhone 7 Plus will tell you.
We'll see how the new Galaxy phone measures up to the iPhone 7 Plus during our inevitable photo showdown, but even with the improved image processing on the S8, I'm willing to bet the iPhone's two cameras can hold their own.
Photo: Jeremy Lips/Tom's Guide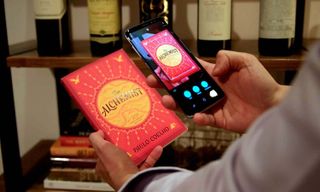 Siri beats Bixby (at least for now)
One of the marquee features of the Bixby digital assistant that's built into the Galaxy S8 is that it lets you use your voice to control functions on your phone that might otherwise take a few too many taps (for example, forwarding a photo to someone or adjusting settings). It sounds pretty great — once Bixby actually lets you do that. Samsung said that functionality won't be available at launch; instead, it will be added later on via a software update. And when my colleague Mark Spoonauer reviewed Bixby Vision, he found the feature's ability to identify objects using the S8's camera pretty hit and miss.
I'm not the biggest Siri fan in the world — "I SAID 'SET A TIMER,' SIRI!" — but at least Apple's voice-powered assistant can do all of the things Apple advertises, from letting me order a Lyft to finding photos in my library.
Photo: Sam Rutherford/Tom's Guide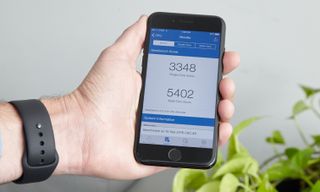 The iPhone excels at single-core performance
The Snapdragon 835 powering the Galaxy S8 contains a very powerful mobile processor — I've seen it in action firsthand and our benchmark tests confirm Samsung's new phone is a powerhouse. After all, its 6,295 score in the Geekbench 4 general performance benchmark outpaced the iPhone 7 Plus's 5,392 result. Ah, but that's the multicore score. In single-core testing, the iPhone 7 Plus scored a 3,533 to the Galaxy S8's 1,846. The iPhone 7 Plus also topped the Galaxy S8 when we ran the Jetstream 1.1 Javascript test for web browsing. The bottom line: Apple's current smartphones handle unitasking awfully well, thank you very much.
Photo: Jeremy Lips/Tom's Guide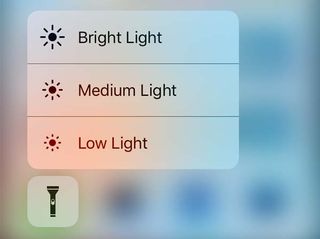 3D Touch
The Galaxy S8's new virtual home button provides haptic feedback when you press it — certainly a handy feature. But it's still far behind what Apple's offered since the iPhone 6s with the 3D Touch feature that responds to different levels of pressure when you push on your phone's display. Apple continues to fine-tune the feature, adding great shortcuts, such as the ability to summon a weather report in the Maps app by pressing on the temperature or adjusting the intensity of your phone's flashlight feature from a pop-up menu. It's a very useful feature I'm hoping more iOS app makers adapt as Apple sells more 3D Touch-capable devices.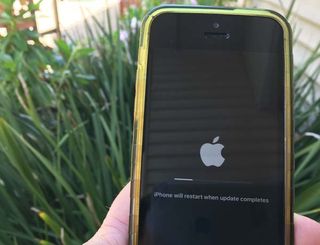 Faster OS updates
It's a good thing that Android Nougat is such a feature-rich operating system, because it's going to be on the Galaxy S8 for a while. Consider that the Galaxy S7, which came out last March, just got Nougat this March--one year later. As for my iPhone, it's running the latest version of iOS, since Apple makes its updates available to everyone at the same time. If you've got an iPhone 7, you'll be able to download iOS 11 when that becomes available later this year, letting you take advantage of the new features that the OS update introduces.
Photo: Philip Michaels/Tom's Guide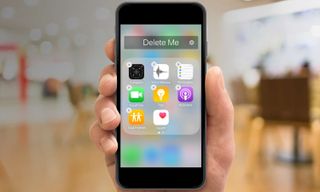 No bloat on my iPhone
Immediate access to iOS updates isn't the only way my iPhone is freed from the tyranny of wireless carriers. Though I bought my iPhone through Verizon, it had zero carrier-installed apps when I took it out of the box. Indeed, the only software that comes on your iPhone are the built-in apps Apple puts there. And starting with iOS 10, you can even remove all but a handful of those apps if you prefer, replacing them with any third-party alternatives that catch your eye. I'll be thinking of you, Galaxy S8 owners, while you're sorting through the apps that come preinstalled on your new phone as you separate the wheat from the chaff.
Illustration: Tom's Guide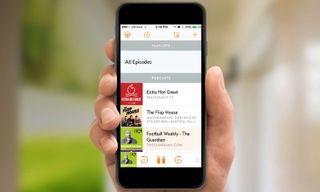 iOS app exclusives
The app gap that was one of the major advantages the iPhone enjoyed over its Android counterparts has closed considerably. But although the gap in quantity is much smaller than it used to be, it's still there in terms of quality. You won't be able to run terrific apps such as the Tweetbot Twitter client, Clear to-do list manager and Overcast podcast manager (pictured) on your Galaxy S8 the way I can on my iPhone. And when major apps make their mobile debut, like Super Mario Run did last year, they tend to show up on iOS first.
Illustration: Tom's Guide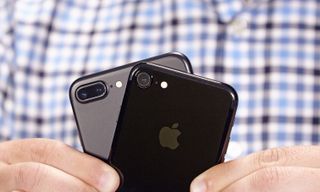 Better variety of sizes
Some people really like big phones, and probably squealed with delight when they saw the 5.8-inch Galaxy S8 and the 6.2-inch S8+. But I like small phones and I cannot lie, and you other brothers can't deny that the 4.7-inch iPhone 7 and the 4-inch iPhone SE are more comfortably compact than the monster-size phones available these days. You want a bigger screen? The 5.5-inch iPhone 7 Plus should meet your demands. Those three different sizes of iPhones certainly offer greater choice than the really big and exceptionally big options Samsung now provides.
Photo: Jeremy Lips/Tom's Guide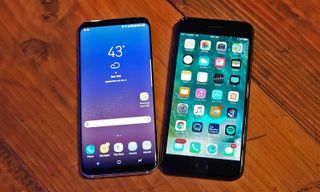 The iPhone costs less... for now
At $769, the iPhone 7 Plus has the highest starting price of any phone Apple has ever sold. And it's only $19 more than the typical starting price of the Galaxy S8, which will cost you $750 at most retailers. (You can get the S8 for $720 at Verizon as of this writing.) Be prepared to dig even deeper into the piggy bank if you want a Galaxy S8+, as that phone will set you back $850. Given rumors about the iPhone 8's steep price tag, this likely isn't an advantage Apple will be able to claim much longer, but right now, the iPhone is a little easier on your wallet.
Photo: Sam Rutherford/Tom's Guide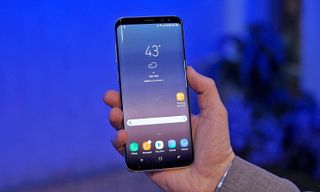 Galaxy S8 features to envy
iPhone users still might feel a little twinge of covetousness when they glance at a Galaxy S8. Samsung's AMOLED panels remain the envy of the smartphone world, so I hope the rumors that Apple will switch from LCD to OLED screens with the iPhone 8 turn out to be true. And the power management features included with the Snapdragon 835 chip help the Galaxy S8 and S8+ deliver better battery life compared to Apple's phones. In fact, the S8+'s 11 hour, 4 minute result on our Tom's Guide battery test puts that device on our list of long-lasting smartphones, which is currently lacking any Apple-built entries.
Photo: Sam Rutherford/Tom's Guide