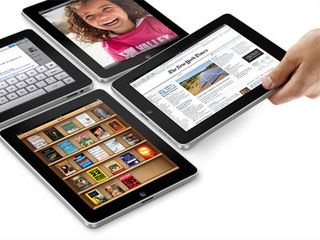 Thursday brought rumors yanked straight from Hollywood and Foxconn that Apple's next iPad will support glasses-free 3D content. The news arrives after rumors surfaced a few months ago that glasses-free 3D support was coming to the iPod Touch, and the more recent report that Apple was granted a patent for a "three-dimensional display system."
According to an unnamed source in Hollywood, big film studios are currently running around like "blue-arsed flies" trying to gear up to release plenty of 3D content in time for Apple's next launch. "The fact that the iPad 3 is 3D is a dead cert," the Hollywood insider claims, adding that the iPad 3's screen will be "the real magic."
Previous rumors of the iPad 3 sprouted back in February before the iPad 2 was even officially announced. Inside sources reported that Apple would release one version-- the iPad 2-- in the coming months, and then release an even better, feature-packed iPad 3 in the fall (aka the fall surprise). But component suppliers quickly smashed those rumors by reporting that the third iPad wouldn't reach the market until 2012. As of April, Apple hadn't placed any orders for parts for the supposed third-generation tablet.
But what makes the latest 3D iPad 3 rumor worth noting is its alleged tie with Foxconn. According to the unnamed source, Taiwan-based Foxconn-- accused of being "leakier than a holy bucket"-- has already disclosed Apple's 3D intentions to numerous industry sources. And given that semi-rival Nintendo has already entered the market with a 3D platform, a 3D-capable iPad isn't quite a far-fetched idea.
What's unlikely for the supposed iPad 3 is a fall 2011 launch date. As we've seen over the last two years, Apple is sticking with an annual release plan, launching the original iPad tablet on April 3, 2010 and the iPad 2 tablet on March 11, 2011. Consumers will likely begin to hear more solid info about the next iPad later this year as Apple fine-tunes the actual specs and Foxconn conveniently leaks the info to the worldwide press.
Should the latest 3D rumor be taken with a grain of salt? Probably, as it's likely Hollywood studios are running around like "blue-arsed flies" getting 3D content to consumers anyway, whether Apple is working on a 3D iPad or not. After all, the 3DS, the PlayStation 3, Blu-ray players and even Nvidia 3D Vision-equipped PCs are ready for 3D gaming and video.