CTIA 2012 Favorites
CTIA has come and gone, and the annual North American mobile confab was home to some truly impressive hardware this time around. We already did the rundown on what was new at CTIA this year, but there are two pieces of hardware – one we talked about, and one we didn't – that are worth a second look.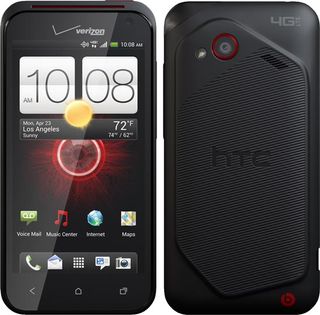 I have (and love) a Samsung Galaxy Nexus on Verizon. It's a great phone, without a doubt, but it's 4.65-inch display does make it unwieldy compared to smaller devices like the iPhone 4S. What I really want is an Android phone packed with all the features you'd find on one of 2012's superphones (like the Galaxy Nexus or incoming Samsung Galaxy S III), but in a smaller size. That's where the new HTC Droid Incredible 4G LTE comes in. I haven't gone hands-on with the phone yet, but its 4-inch display makes the new Droid Incredible almost diminutive next to newer phones with 4.6-, 4.7- or 4.8-inch displays.
That small form factor hides some fantastic hardware specs, including one of the new dual-core Snapdragon S4 processors. It's a touch slower (1.2 GHz) than the CPU found in the North American version of the HTC One X (1.5 GHz), which is being called the Android phone to own in the US for the time being. Android 4.0, a Super LCD-based 960x540 qHD display (which some might prefer over an AMOLED display), 8 GB of storage and an 8 MP camera round out the device, which should be available on Verizon very shortly. While it's not the most powerful phone currently available, the Droid Incredible 4G LTE is going to be the best Android device with a display size of four inches or smaller, without a doubt.
The next bit of tech isn't a phone at all, but a highly specialized case for the iPhone. The iCache Geodewon multiple awards at CTIA this year, and it's no surprise to Tom's, frankly. The Geode effectively takes all of your credit card and savings card data, stores it on your iPhone, and allows you to use one generic card instead of carrying around a wallet and keychain loaded with them. A pop-out "Universal GeoCard" is programmed with the credit card info of your choice at the touch of a button, and the barcode on the back can be scanned when the cashier needs your CVS Rewards Card information. A fingerprint scanner bars unwanted entry and usage of your cards, too.
What began as a Kickstarter project is now one of the hottest iPhone accessories in recent memory, and it foreshadows where consumer-focused financial technology is going over the next several years. If anything, it's a happy medium between carrying around all of those credit cards in your wallet, and the mobile payment systems being peddled by Google, MasterCard, and others. --Devin Connors