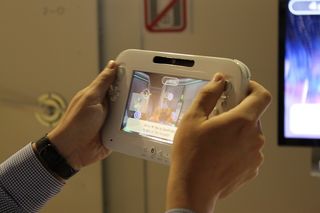 Nintendo officially unveiled the Wii U at E3 2011, but though the company was more than happy to show off the next iteration of its console, it didn't give us much of a release date to go on. All we knew was that it would launch in the latter half of 2012. While we're barely a month into 2012, Nintendo this week decided to put us out of our misery and give us a more specific release date. However, those hoping for a Wii U in time for the summer's end (or a release date specific enough to name a month) will likely be disappointed.
The company today discussed its financial report for the nine months ended December 2011 and revealed that the Wii U will arrive in time for the Holiday 2012 season. Nintendo says the console will be ready in time for the holiday season but the company has not offered anything on pricing for the Wii U.
Nintendo is still struggling with the 3DS, its glasses-free 3D console, which launched last year. The company boldly slashed the price just a few months after launch in an effort to shift more units, but it seems this drastic move was not as successful as Nintendo had hoped. According to the Associated Press, Nintendo today revealed that it now expects to sell 14 million 3DS units for the fiscal year ending March 2012. This is down from its earlier target of 16 million units, which it was still committed to hitting just three months ago. Forecast for Wii sales were also cut, reduced from 13 million to 10 million units for the year ending in March.
The company posted a loss of ¥48.3 billion (almost $623 million) for the nine months ended in December. This is compared to a profit of ¥49.6 billion (just over $639 million) in the same period the year previously. Nintendo said it expects to post a loss of ¥65 billion ($837 million) by March. This is compared to ¥77.62 billion ($1 billion) profit the previous fiscal year.
Expect finalized specs for the Wii U, something more on a release date (hopefully), and possibly pricing information at E3 2012.