The best washing machines will deliver clean laundry quickly and quietly, without spending too much energy. A good washing machine will also have a user-friendly design and be responsive as well as intuitive to use. It should also rinse your clothes effectively, so there's no residual detergent once the cycle finishes.
Washing machines are used to sanitize laundry as well and they're effective at killing viruses such as COVID-19. The CDC still recommends washing clothes at the hottest temperature possible according to the care label to kill any remaining germs. There's so many washing machines on the market and so much to consider when choosing one, that it can be difficult to reach a decision. That's why we've done the research for you to find the best washing machines.
What are the best washing machines?
After conducting extensive research, we've found the best washing machine to be the Electrolux EFLS627UTT. As a front-loading washer, this model is power-efficient, features a sizeable capacity and comes with nine useful wash cycles which are customizable, including a 15- minute "fast wash". A 10-year motor warranty and lifetime warranty on the tub itself are also included. It's available in two colours; white and titanium, so you can choose what best suits your laundry room.
If you'd prefer a top-loading washer, then we would recommend the GE GTW685BSLWS. As well as offering an exceptional cleaning performance, this model can be connected to your smartphone, so you can monitor and control it remotely.
Front-loading washers tend to be better performers than top-loaders, however many consumers are hesitant to swap to them. This is because front-loaders can easily build up mold and residue in the gasket, resulting in a smelly machine. If that's the case, then GE's new UltraFresh Front Load washer is worth looking into. It features a wider gasket with an antimicrobial coating as well as a venting system in the door.
The best washing machines you can buy today
The best washing machine overall, the Electrolux EFLS627UTT is all about the wash. Priced at just under $1,000, this front-load washer aced the tests of multiple reviewers, earning top cleaning points at from several publications. It has a 4.4-cubic-foot drum that can hold a large wash, and it features nine wash cycles, including a 15-minute fast wash. That's fewer than some washers, but each cycle can be tweaked for temperature and soil level, so you can easily customize the wash.
The EFL627UTT also has a dedicated pod detergent dispenser. Some washers struggle with prepacked pod detergents as they can sometimes clog or not release the detergent properly, but the Adaptive Dispenser of this washer pre-mixes the detergent with water in the dispenser, then releases it to make sure it is dispensed properly.
One thing it doesn't have is an app. While many washing machines are embracing the smart home by adding apps for remote monitoring and control, the EFSL627UTT has no accompanying app. That doesn't make it a dumb appliance, though: this Electrolux has sophisticated, easy-to-use controls that can be easily customized.
Front-loading washing machines are generally the most efficient, but some people prefer the old-school top-loader type. They are easier to load and can be more reliable, so if you prefer this type, the GE GTW685BSLWS is the best washing machine for you.
It can hold a huge number of clothes in its 4.5-cubic-foot drum, and the central agitator ensures that all of the clothes in large loads get moved around. It's also somewhat noisy, which may not be an issue if it is located in a basement or laundry room, but could be a problem in smaller homes.
The GTW685BLSWS also uses a fair amount of electricity: nearly 50 per cent more than our front-loader top picks. Although it is cheaper, this could make it more expensive over time. It also lacks a water heater, meaning that the sanitize cycle will be only as hot as the hot water supply of your house. If your hot- water heater isn't that good, that cycle may not be effective.
The GTW685BSLWS doesn't come with smart-home features, but these can be added for just $49 with the GE ConnectPlus WiFi Module, which fits inside the machine. This adds Alexa, Google Assistant and IFTTT support, so you can find out how long the cycle has to run with Amazon or Google voice commands.
If you want a reliable washing machine, but don't want to spend the big bucks, look no further than the LG WM3400CW. While it comes with a small price tag, it offers a decent capacity of 4.5 cu. ft. as well as eight wash cycles to choose from. At 100 kWh/year, it's one of the cheaper machines to run as well and it's Energy Star Certified.
Useful features include the SpeedWash cycle, which takes just 15 minutes to run, and the TubClean cycle, which helps keep it clean and fresh. It also features LG's 6Motion technology — this will vary the wash motions depending on the cycle you select, protecting your clothes from damage while giving them the most efficient wash.
The only programs you might miss are a steam cycle and smart connectivity. So, if you're after a washing machine which can sanitize, this isn't the one. But, if you're not bothered about having all the bells and whistles, this washing machine would make a fine addition to your laundry room.
If you've got a big family, then you need a washing machine with a larger capacity to accommodate. The LG WM8100HVA comes with a huge 5.2 cu. ft. capacity behind an attractive square-shaped door. It offers 14 washing cycles and an abundance of settings on top, including Steam, Prewash and Extra Rinse.
It's a quiet operator, so you don't need to worry about disturbing the neighbours at night, and it will look great in your laundry room too. True, it's a steep price and doesn't come with Wi-Fi connectivity, but it will get the job done, which is what most want above all. Some noticed that a lot of residual water can sit in the gasket after running though, so be prepared to leave the door open between uses to dry it out.
LG's WM4200HWA is a great choice if you want a quiet washing machine. Even on its top spin speed, it's much less noisy than you would expect. For this reason, it would be ideal if you need to run your laundry through the night or if you can't be disturbed during the day. It features a decent capacity as well of 5 cu. ft. which means you can fit a family load into the drum. Most importantly, it's a good performer too — users raved about how clean their laundry emerged.
Unlike some other LG models, there's no internal light however. Some also found that, because the spin is so effective, laundry can end up balled at the back of the drum and you need to reach quite far in to remove it. Having said that, it's a cheerful machine to have around, singing to you at the end of each cycle. It's also app-controlled, so you can monitor it from your smartphone.
The Samsung WF45R6300AW is an anything but basic front-load washer that's well priced. In addition to doing an excellent job of washing your clothes, it offers quite a few fancy features. And its EnergyStar rated which means it won't be tough on your electric bill.
Using steam wash, it does a great job of removing stains and reviewers have found that it's easy on your clothes so they'll last longer before becoming threadbare. It has a sanitize cycle which can kill almost all germs to give you peace of mind in a difficult time. The Samsung can be connected to your smartphone so when a load is ready to be moved to the dryer you can get a beep while you're in the yard gardening. If you have a small laundry room, you can stack a dryer on top of this washer.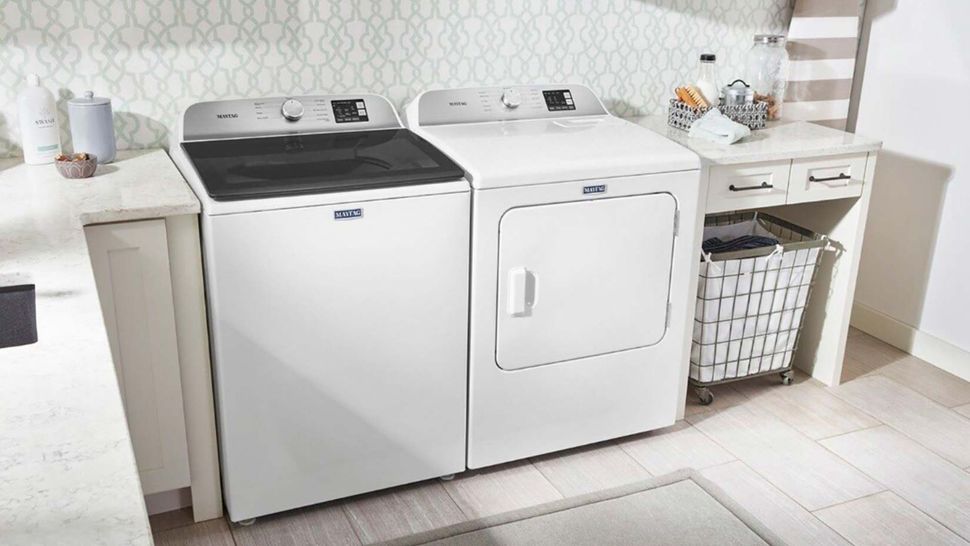 Although it's not fancy, the brand new Maytag MVW6200KW has lots of features to help you get great cleaning results and comes at an affordable price. It has a capacity that Maytag claims is large enough to wash 19 towels at one time. You have the option of varying the amount of water in the tub so you can get extra water with a lot of agitation when you have a ton of messy clothes with items like soccer uniforms and gardening pants in the load.
Water is mixed with the detergent in the dispenser drawer to make sure whether you're using a liquid or a powder it gets well dispersed for effective cleaning. When you need your favorite blouse washed for a night out, you can run a quick 30 minute cycle. What you don't get at this price is the ability to check on and control your wash from your phone.
How to choose the best washing machine for you
Before you decide which washing machine is right for you, you need to consider the following. Do you want a front-load design, or a top-load? Will your existing power and water connections be compatible? And lastly, will in fit?
Top- or front-loader?
Top-loader: Simply put, clothes are loaded through a door in the the top of these machines. Some use agitators; a pillar in the center which rotates, while others feature a rotating plate on the base. The latter is a better design as it's less likely to damage the clothes.
Front-loader: On these machines, clothes are loaded via a door in the front; they wash by rotating the drum to agitate the clothes. Typically, this design uses less water and electricity than top-loaders as the drum requires less water. The door will lock during the wash cycle though, so you can't add a rogue sock once you start.
Combination: If you struggle for space, then a combination washer/dryer might be best. These machines function as both washers and dryers, meaning you can wash and dry clothes in the same drum. While the design makes sense, we've found that these hybrid machines generally struggle in performance; they take much longer than a standalone dryer.
Power and water connections
All washing machines will require three things: power, water and a drain. For power, you will need a 110V socket on its own circuit. For water, all will require a cold-water connection, and most will also need a hot-water connection. There are some exceptions, such as those which feature a built-in water heater, but these will still need hot water. Finally, you need a drain for excess water. Don't be tempted to put the drain line into a sink, it will likely leak into the room.
Will it fit?
Make sure you measure out your space before investing in a new washing machine. Most front-loaders are designed to fit under a worktop, but you should never assume. Before you stack any appliances, also check that they're designed to do that in the manual.
When to replace a washing machine
Most brands offer a one-year warranty on washers, but according to the National Association of Home Builders, a washing machine has a lifespan of about 10 years. We recommend skipping an extended warranty as on average, repairs within the lifetime of the appliance won't be greater than the cost of the warranty itself.
When the cost of a repair is fifty percent or more than the price of a new washer, it's time to consider replacing rather than repairing. If your machine needs a new part like a belt, pulley, or seal, it can be replaced fairly inexpensively. However, breakdowns that could indicate a washing machine isn't worth fixing include failure to spin, leaks, grinding or squealing noises, and a cracked tub.
There are definite advantages to investing in one of the newest models. Any machine that is Energy Star certified uses 25% less energy and 33% less water than ones that aren't. In addition to being less expensive to operate, your new washer will be better for the environment.
Features to look out for
Modern washing machines come with settings to suit more specific loads, such as sportswear and bedding. Bespoke settings are also available to give you more control over the cycle, such as soil level and a wider selection of temperature settings. Delicate settings are also more widely available and prevent the need to hand wash items such as lingerie. Larger capacities are becoming more popular, with some machines offering over 5 cu. ft.
Wi-Fi connectivity is lately a more common feature in washing machines. With this, you can connect your phone to the appliance to monitor and control it handsfree. In doing this, some brands give you the option of downloading additional cycles too, giving you an even greater range of wash cycles. Some smart washing machines can even self-diagnose faults and alert the manufacturer's service center.
Washing machine safety tips
If you have a front-loading washing machine or dryer, Consumer Reports has a list of safety tips for families with young children and pets.
Lock the door to your laundry room
Keep the washing machine's door shut
Engage the washing machine's child-lock feature
Turn off water to the washing machine when not in use
Following these simple tips can go a long way toward maintaining your peace of mind.
Check out more of our appliance coverage:
Best refrigerators | Best gas ranges | Best electric ranges | Best dishwashers | Best clothes dryers| Best vacuum cleaners | Best microwaves | Best grills | Best bread machines | Best blenders | Best stand mixers | Best coffee makers | Best espresso machines | Best food processors | Best juicers | Best air fryers | Best Cuisinart coffee makers | Best patio heaters | Best solar lights | Best coolers | Best inflatable hot tubs