HyperX Cloud Alpha Wireless: Specs
Compatibility: PC, PS4, PS5
Drivers: 50mm
Frequency Response: 15 Hz – 21 kHz
Wireless: Yes
Weight: 11.8 ounces
The HyperX Cloud Alpha Wireless makes an extraordinary claim, and follows through on it. Back at CES 2022, HyperX introduced the Cloud Alpha Wireless, and promised something unprecedented: a wireless gaming headset with 300 hours of battery life. To put this in context, most wireless gaming headsets get somewhere between 10 and 30 hours, including the inventive HyperX Cloud Flight S.
What's remarkable about the Cloud Alpha Wireless is that its battery really does last for hundreds of hours. What's even more remarkable is that the battery life is only one standout feature among many. The sound quality is excellent, the fit is solid and the wireless connectivity is seamless. The Cloud Alpha Wireless would be one of the best gaming headsets, even without its record-setting battery.
I wish the HyperX Ngenuity software worked a bit better, and that the Cloud Alpha Wireless could connect to a wider variety of gaming systems. Otherwise, though, HyperX has produced an impressive piece of hardware, and sets a high bar for other gaming headset manufacturers to reach. Read on for our full HyperX Cloud Alpha Wireless review.
HyperX Cloud Alpha Wireless review: Design
As its name suggests, the HyperX Cloud Alpha Wireless resembles nothing so much as the HyperX Cloud Alpha. Like its wired counterpart, the Cloud Alpha Wireless has a striking black-and-red chassis, with a padded steel headband, large foam earcups, a removable mic and some elegant stitching to hold it all together. While the red-and-black "gamer" palette feels a little dated, the peripheral looks good otherwise.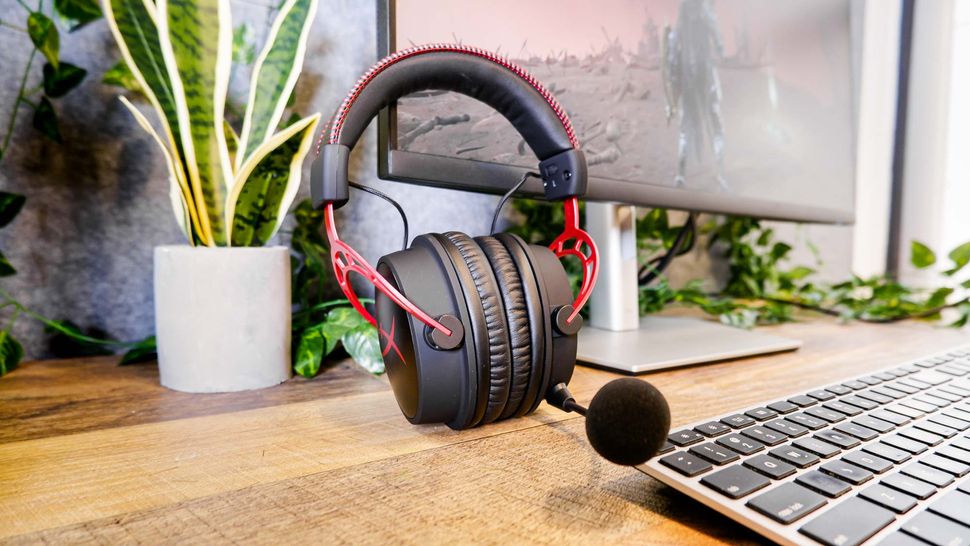 The device is also simple to control. On the left earcup, you'll find a concave power button, a convex mic mute button, a USB-C charging port and a 3.5 mm audio port for the microphone. On the right earcup, you'll find a volume dial. Neither side feels too cramped, and the ridges on the volume dial make it easy to control with a quick gesture.
You can connect the Cloud Alpha Wireless to a PC, PS4 or PS5 via a USB-A dongle. It's not quite as forward-looking as a USB-C dongle, but it gets the job done.
HyperX Cloud Alpha Wireless review: Comfort
Like its wired counterpart, the HyperX Cloud Alpha Wireless is comfortable to wear for hours on end. It has a steel headband with discrete notches on the inside. This makes it easy to both find a fit and recreate it after you hand the headset off to someone else. The foam earcups create a satisfying seal around the ears, but don't press down too tightly, even if you wear glasses.
Admittedly, it might have been interesting to see HyperX innovate on a five-year-old design, perhaps with an elastic headband, or at least numbered notches. But the design worked well back in 2017, and it still works well now.
HyperX Cloud Alpha Wireless review: Performance
When news about the HyperX Cloud Alpha Wireless first surfaced, I assumed that it would sell itself almost exclusively on the battery life and potentially skimp on the audio quality. My fears were unfounded. Not only does the Cloud Alpha Wireless sound great; it actually sounds better than some comparably priced gaming headsets.
With powerful 50mm drivers and an unusually wide frequency response (15 Hz to 21 kHZ; compare and contrast to the 20-Hz-to-20-kHz responses that most gaming headsets offer), the Cloud Alpha Wireless produces rich, vibrant sound across a variety of media and game genres.
I was especially impressed with how the headset handled percussive gunshots and explosions in first-person shooter Doom Eternal. However, the Cloud Alpha Wireless also did an excellent job of balancing music, voicework and sound effects in Age of Empires IV, Cyberpunk 2077 and Final Fantasy XIV. The default soundscape provides just enough bass to make a statement, and just enough treble to keep melodies and voices at the forefront.
While most gaming headsets don't handle music particularly well, the Cloud Alpha Wireless does. I listened to tracks from Flogging Molly, Old Crow Medicine Show, The Rolling Stones and G.F. Handel, and found the results impressive across the board. As with games, the headset provided a nuanced and immediate soundscape. In theory, this headset could replace your daily music earphones — but in practice, it's missing a few features that would make that possible.
HyperX Cloud Alpha Wireless review: Features
Although the HyperX Cloud Alpha Wireless excels in design and audio quality, there are a few nagging issues that I couldn't quite get past. First off, it works with computers, PlayStation consoles and not much else. There's no easy way to connect it to smartphones, Xbox consoles, TVs or other sound-producing gadgets. It's not uncommon for headsets in the $200 range to have Bluetooth, or at least a headphone jack, but the Cloud Alpha Wireless keeps its compatibility list pretty short.
Furthermore, the HyperX Ngenuity Software has always been a bit of a mixed bag, and it doesn't work especially well with the Cloud Alpha Wireless. Downloading the software directly from HyperX's website gets you an outdated version; downloading via the Microsoft Store is a cumbersome process. Setting up new profiles is a confusing and imprecise process, while trying to create or switch equalization profiles often had no effect whatsoever. HyperX may iron out some of these issues over time, but compared to the intuitive, comprehensive software options from Logitech, Corsair, Razer and SteelSeries, Ngenuity feels decidedly behind the times.
HyperX Cloud Alpha Wireless review: Battery life
The real draw of the Cloud Alpha Wireless is its battery life. HyperX advertises that the headset can last up to 300 hours between charges. I couldn't test this claim directly, but only because I couldn't actually run the battery down after a week of constant use. After using the Cloud Alpha Wireless for 8-10 hours each day for a week, there was still enough power left to go another week, or more. What's more, HyperX somehow accomplished this without installing a gigantic battery, or raising the price to exorbitant levels. However the company pulled it off, it's an impressive feat.
HyperX Cloud Alpha Wireless review: Verdict
The HyperX Cloud Alpha Wireless costs a lot, but it works hard to earn its asking price. The battery life alone warrants a recommendation, but the excellent sound quality and comfortable fit push the device over the top. While it's impossible to overlook the malfunctioning software, it's also not enough of a reason to avoid the device.
In the same price range, consider the SteelSeries Arctis 7P+ if you want better compatibility, or the Logitech G Pro X Wireless if sound quality is your top concern. Otherwise, the Cloud Alpha Wireless is one of the better $200 headsets you can buy, particularly when you think of all the time you'll save between charges.