Emma Sleep has been making mattresses for the European and US markets for a while now, with three models available locally in Australia. While the names might match in different markets, the materials and the foam layers used in the Aussie products are slightly different.
In Australia, Emma sells the Comfort, Diamond Hybrid and the premium Zero Gravity mattresses. You can read our in-depth Emma Zero Gravity Mattress review to find out more about whether it's worth buying, but how does the Diamond Hybrid stack up against it? Our expectations from the Diamond Hybrid were high, especially since we liked the Zero Gravity mattress and the Emma Sofa Bed a lot.
Emma Sleep also sent us a new bed base to try out the Diamond Hybrid. It's one of the few mattress-in-a-box brands to offer under-bed storage with some of its bed frames which, for people living in small apartments, is a necessity. However, the drawers aren't too deep (the bed isn't very high) and the volume you're able to store in each (you can have up to four drawers) isn't a lot. Still, if space is at a premium, Emma Sleep's beds could be a good option.
The good news is that there are chances you could score a free bed base with your mattress purchase. For example, at the time of writing this review, the Emma Wooden Bed Base is available for free with the purchase of the Diamond Hybrid. While this offer isn't always going to be around, it's worth keeping an eye out for if you want to maximise your savings.
Emma Diamond Hybrid Mattress review in brief
Firm mattress
Removable and washable cover
Dampens motion transfer well
Are you a side sleeper? Or do you sleep on your stomach or back? Do you suffer from backache? These are questions you need to answer before you invest in a new mattress as they will determine what kind of mattress is best for you. And if you answered yes to the last question, then you might want to consider a supportive, firm mattress, like the Emma Diamond Hybrid.
Emma Diamond Hybrid Mattress specs
Type: Foam + pocket springs
Materials: Foam (various types), steel, polyester
Firmness: 5.46/10 (Emma Sleep rating)
Height: 25cm
Trial period: 100 nights
Warranty: 10 years
RRP: AU$2,950 - AU$4,250
According to the Emma Sleep website, the Diamond Hybrid is rated as a medium-soft mattress (5.4 out of 10), but we would disagree. After having slept on it for over six weeks, we'd rate its firmness at 8.5 out of 10 (with 10 being very firm). It hardly sinks if you lie down on it, but you will ever so slightly if you're sitting up in bed.
Its firmness is not a bad thing at all — while it won't suit everyone, it would be an ideal pick for anyone waking up with skeleto-muscular aches and pains. That said, the Diamond Hybrid takes a little getting used to if you haven't ever slept on a firm mattress before. It's possible that you could wake up with an ache around the shoulders if you are a side sleeper, but once the foam is broken into, those pains disappear.
So it's a good thing that Emma Sleep allows you to try its mattresses for 100 nights risk-free and we would recommend that you use the full trial period to test out the mattress. That's a little over three months for you to sleep on it, and most mattresses get 'broken into' in about a month.
If you can be patient and would prefer a firm mattress, we think the Emma Diamond Hybrid is a great choice. It's well made, comes with four fabric handles stitched to the sides of the mattress and its cover is easily removable and washable. Its motion isolation is quite impressive as well.
What it lacks is edge support, which means if you sit on the edge of the mattress to get your slippers on in the morning, you'll find yourself either sinking too much into the foam or slipping right off. It also means that the total sleep area reduces. Its temperature regulation isn't as good as some of its competitors despite Emma using a unique graphite foam on the top layer that promises to prevent heat buildup but doesn't quite deliver. These are features we'd expect from a mattress at its rather premium price point — it might be Emma Sleep's mid-range offering, but it is still expensive.
Emma Diamond Hybrid Mattress review: price and deals
Mid-range mattress but premium price point
Regular discounts from Emma Sleep available through the year
100-night trial and 10-year warranty
As mentioned earlier, Emma Sleep has three mattresses in its Australian range, with the Diamond Hybrid being the middle child. The cheapest option is called the Emma Comfort and you can read more about the premium offering in our in-depth Emma Zero Gravity Mattress review.
Despite being the mid-tier option, the Diamond Hybrid prices start at AU$2,950 for the single size. That's quite steep considering the Koala Calm As Mattress, which is also a mid-range offering, is available from AU$1,000 for the single. Of course, bigger the size, the more you pay — for example, you're looking at shelling out AU$3,940 at full price for the Emma Diamond Hybrid queen-sized mattress as compared to AU$1,700 for the same-sized Koala Calm As.
To be fair, the Koala is not a hybrid mattress — it is all-foam — and hybrid mattresses are typically more expensive. However, there are hybrid mattresses from other mattress-in-a-box brands that are a lot more affordable in comparison. For example, the Origin Hybrid queen-sized mattress is just AU$1,165, while the Ecosa Pure in the same size is AU$2,225. Considering we're talking firm mattresses here, another hybrid comparison would be with the Ecosa Align Firm Mattress that's available for AU$1,025 for the queen size.
If you've got the cash to spare and you're looking for a really supportive Emma Sleep mattress, then the Zero Gravity might be a better option – despite the prices starting at AU$3,539 for the single (AU$4,349 for queen), we couldn't find too much to fault it with. It has better edge support than the Diamond Hybrid and is also a lot more breathable, keeping you cool in summer. It's a monster mattress, though, and a heavy one if you opt for a larger size.
If you do have your heart set on the Diamond Hybrid, we'd recommend picking it up during one of Emma Sleep's many sales. There are discounts available at different times of the year, and you could see prices drop by up to 55%. At that lower price, we'd recommend the Diamond Hybrid easily enough.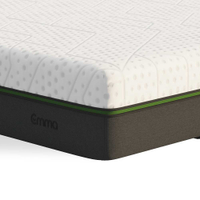 Emma Diamond Hybrid Mattress | 50% off + free Emma Wooden Bed Base
If you purchase an Emma Diamond Hybrid Mattress right now in any size, you'll score yourself a free bed base. It's a basic frame but built for Emma's mattresses and, depending on the size you buy, can cost up to AU$2,100 (king size). That in itself is a massive saving! However, there's also 50% off the mattress itself, so don't sleep on this offer.
Importantly, Emma Sleep gives you a 100-night trial to test the mattress for yourself in your own home. That's over three months to sleep on it and decide if it's worth your money. If you decide it's not for you, you can get in touch with Emma Sleep's customer service and organise a free pick-up and get a full refund. You also get a 10-year warranty for the mattress, which covers sags and dips of more than 2.5cm that occur if you've been using the mattress correctly (meaning you rotate it regularly to avoid said sagging).
Emma Diamond Hybrid review: Materials
Features four layers, plus a cover
Hybrid design with foam and pocket springs
Washable, fast-drying cover
Considering the Emma Diamond Hybrid is, well, a hybrid mattress, there are a few different types of materials that have gone into its making. For example, there's some metal in here that has gone into the pocket springs. The good thing is you won't feel the metal, not for a very long time. Not only are the individual steel springs encased in fabric and foam, there are foam layers on the top and bottom too.
These two layers are of HRX (High Resiliency Extra) foam which promises firmness along with good support for the entire body. In the Diamond Hybrid, the HRX foam does exactly what it promises. As we've said previously, this mattress is quite firm but it's also what makes it very supportive, holding up shoulders and hips no matter what kind of sleeper you are.
The topmost layer is what Emma Sleep calls Diamond Degree foam. While the price might indicate there might just be diamonds in the mattress, it's actually graphite-infused to help regulate temperature by preventing heat buildup while you sleep. While it does help with some temperature regulation, it isn't as good as what we experienced with the Koala Calm As or the Emma Zero Gravity.
These four layers are then encased in a cover that comes in two parts – the top is a slightly thick and soft layer made from 99% polyester and 1% elastane, which is zipped to a base made from 87% polyester and 13% polypropylene. While you can remove the entire cover (in two pieces) and wash them both, we'd advise not taking out the bottom layer as it's hard to put it back under the mattress if you don't have help at home. The good news is that despite being a slightly thick top cover, it dries quite quickly, even in the colder winter months — during our testing, we washed the cover late morning during Sydney's early August weather and it dried by late afternoon. That said, it did get some direct sunlight.
The bottom part of the cover has convenient handles made from the same material. There are two on each side and they're really handy if you need to move the mattress.
What we weren't too enthusiastic about was refitting the two halves of the cover together as it's not quite easy to slip the end of the zipper into the tag to get it to close. There's not a lot of surface area to grip when you start pulling the tag and the ends keep coming apart. Koala's mattresses, on the other hand, have a clip that locks the two ends together so you can zip it up easily.
Emma Diamond Hybrid Mattress review: Firmness and comfort
Tom's Guide firmness rating of 8.5 out of 10
Takes time getting used to, but very supportive and comfortable
Firmness level not for everyone
Emma Sleep says its Diamond Hybrid is a medium-soft mattress, rated at 5.46 on the firmness scale. As we've explained before, the HRX foam definitely isn't soft. We'd say the Diamond Hybrid is a firm mattress and rate it at 8.5 out of 10, and that's a good thing for sleepers who need the extra support while they sleep.
The fact that you're not sinking into the mattress, especially around the heavier hips area when you sleep on your side, means your spine is better aligned. This could be very good for your back in the long term. For those who sleep on their backs or stomachs, there's more body surface area on the mattress, meaning you barely sink at all. Again, your entire body is supported through the night.
If you've never slept on a firm mattress before, you may not find the Diamond Hybrid mattress comfortable. This is especially true in the early days of using it. This reviewer went from sleeping on the Koala Calm As to the Emma Diamond Hybrid and it took over two weeks to get used to the extra firmness. I initially didn't like the Diamond Hybrid as I was waking up with an ache in my neck and shoulder but, strangely, lower back discomfort that I've felt on some mattresses disappeared over time. I was told by my physiotherapist that the shoulder issue was because the mattress wasn't moulding around my body and to give it a little time. A couple of weeks later the pain disappeared.
Like we've said earlier in this review, if you can be patient with this mattress, it might be really good for your back. And while I love the Diamond Hybrid for being supremely supportive, I wouldn't go so far as to call it 'comfortable' as, for me, comfort is a summation of how it performs in other areas. Moreover, 'comfort' is subjective and some sleepers who prefer a firmer mattress will likely find the Diamond Hybrid very comfortable indeed.
Emma Diamond Hybrid Mattress review: Performance
Excellent spine alignment and support
Minimal motion transfer but disappointing temperature regulation
Lacks edge support
There aren't too many metrics that determine how good a mattress is — after all, how we sleep is as individual as we are and no specific feature will measure the same for each user. For example, we can tell you whether a mattress will keep you cool during summer nights, but we can't measure that in precise terms; we can tell you whether a mattress is good at dampening motion transfer, but if you are a light sleeper, you might still feel some movement. However, we can try and describe some aspects of a mattress to help you make an informed decision when choosing your next one.
While assessing how well the Diamond Hybrid performs, it's important to keep in mind that it's a hybrid mattress, so it wouldn't be quite the same as all-foam mattresses. For example, hybrid mattresses usually offer better edge support than foam mattresses and can be bouncier too because of the pocket springs. The latter means hybrid mattresses don't make good on zero-disturbance promises. They're also supposed to have better temperature regulation, but the Diamond Hybrid doesn't follow the rules here.
We would recommend testing the mattress out for yourself for at least eight weeks, if not longer, to see if its performance matches your expectations. We found that certain aspects of a mattress' comfort aspects take a while to become apparent.
Setup
Score: 4.5 / 5
If you've never tried the mattress-in-a-box experience before, you'd be surprised at how easy it is to get one of these set up. They come vacuum-sealed and shrink-wrapped in a cardboard box that's usually easy to handle by a single person, but they can be heavy and large, depending on the size of mattress you purchase. The Emma Diamond Hybrid is no different.
Ordering is easy via the Emma Sleep website (although you will need to deal with some unnecessary pop-ups first) and you can have the mattress delivered the next day if you live in metropolitan areas. The courier that Emma Sleep uses in some metro areas, however, has instructions to not enter an apartment building, so they will leave your box in the lobby or wherever your building allows packages to be left for later pick-up. This can be an issue as the box can weigh upwards of 40kg if you've ordered the double or queen mattress.
Once you've got your box at home, just open it up and pull the rolled-up mattress out, which is easy enough for a single person to do if you've got the double. The queen or king-sized mattress might require two people to set up. Place the roll on your bed base and cut away the plastic wrapping. The mattress immediately begins to unfurl on its own.
You can use the side handles to adjust its placement on the bed base as necessary and it takes less than an hour to get to its full size. However, it's recommended that you leave it uncovered on your bed frame for a few hours in a well-ventilated room to allow for off-gassing to take place.
Off-gassing
Score: 5 / 5
This is where Emma impressed us the most. Most mattresses that we've tested previously have all had a distinct plasticky smell for a few hours. The Emma Diamond Hybrid, however, has a slightly more pleasant odour than plastic, which disappears quite soon in a well-ventilated room.
This process of off-gassing allows any volatile gases to be released and it begins as soon as you remove it from its plastic wrapping. That little odour in our test mattress disappeared in about four hours and you could only smell it if you stuck your nose into the fabric, literally. We used a mattress protector for the first night and couldn't smell anything and when we took a sniff the next day after removing the protector, there was absolutely no smell.
The only certification Emma Sleep lists for the Diamond Hybrid is the OKEO-TEX Standard 100 - Class 1 certificate. Gaining this certification means the product meets the strictest standards that's usually applied to items made for babies. It certifies that every component of the mattress — from the fabric to the thread used — has been tested for up to 350 toxins and has passed.
Pressure relief
Score: 4.5 / 5
You might be forgiven for thinking that a firm mattress won't quite help with pressure relief as it doesn't quite mould to the body correctly. Not so with the Emma Diamond Hybrid mattress — it's excellent at keeping your body well aligned and supported, relieving pressure where it matters the most (hips and shoulders).
Admittedly it takes a little while to soften enough to do this, but your body will thank you for sticking with it. If, however, you don't have any skeleto-muscular issues, you may not need this degree of firmness and support, and you may actually find the mattress uncomfortably hard.
Our test mattress was used by three different reviewers with different body types, each with varying degrees of back issues. Two of them — both side sleepers — loved its firmness. In fact, one tester said that she was feeling tingles down her arm when waking up after using a medium-firm mattress, which disappeared after swapping over to the Diamond Hybrid. The third reviewer — a stomach sleeper — needed about three weeks to get used to the firmness of the mattress, but after that, it felt comfortable, and almost eradicated lower back and neck pain that was felt on waking up on another mattress.
Temperature regulation
Score: 3.5 / 5
Although Emma Sleep says the Diamond Hybrid is good at regulating temperature during warm nights, thanks to the graphite infused into the cover and top foam layer, we found this to not be as effective. We usually expect this from all-foam mattresses, not hybrid, but even on cool nights we felt heat accumulating under the covers.
We tested this with and without a mattress protector, using different types of sheets (cotton and satin) and with using a thinner blanket — none made a huge difference. Only when it was cold outdoors did the mattress feel comfortable, but as the weather started to change from winter to spring in Sydney (where the mattress was tested), heat buildup was quite noticeable.
If you are a warm sleeper or suffer from night sweats, you might want to consider another mattress, like the Emma Zero Gravity that scored a full 5 out of 5 for temperature regulation.
Motion transfer
Score: 4 / 5
While all-foam mattresses are known to be better at reducing motion transfer, the Emma Diamond Hybrid comes really close. Despite the pocket springs transferring a little motion, it's significantly dampened. If you aren't a very light sleeper, you should be fine beside a restless partner. The cover of the Diamond Hybrid itself fits well and doesn't move when a sleeper is tossing and turning, which helps with reducing a little more of that disturbance.
If you are a really light sleeper, though, nothing can be done about the sheet or blanket moving, and you may feel a little bit of the motion beside you. This can be exacerbated by the fact that the sleep area on the mattress is reduced as it barely has any edge support, so you're lying closer to your partner as compared to a mattress with good edge support.
Edge support
Score: 3 / 5
As we've just mentioned, the Diamond Hybrid barely has any edge support, which is something we expect from foam mattresses, not hybrids. While it doesn't sink as much as a foam mattress without edge support — as in you won't slip off the edge when slipping on your slippers in the morning — it does mean that the actual sleep area of the mattress reduces. So, for example, if you have a double bed, your sleeping area will be a little larger than a king single; a queen-sized mattress would feel more like a double.
The lack of edge support is a shame considering the price you pay for the Emma Diamond Hybrid.
Durability
Score: 4 / 5
It's hard to judge a mattress for durability without using it for a few years first. Our testing, however, lasts a little over a month. Still, we can say how well the mattress will perform over the next year or so at the very least, and we can confidently say that the Diamond Hybrid looks to be able to go beyond just a couple of years.
Firstly it's firm enough to resist sagging for a few years and the springs will help keep that from happening. To extend the life of any mattress, it's best to rotate it periodically. If the sagging still occurs, your 10-year warranty will cover you.
The cover, too, we found to be better made than the one used on the more expensive Emma Zero Gravity mattress. The handles on our sample were well stitched and we used them a few times to shift the mattress, but it's hard to say how long the stitching will last without using it long term.
The zipper used on the cover also seems of good quality but, again, it's hard to judge whether it will stand the test of time after being in the wash a few times. We washed our mattress cover twice during our testing period and, so far, we can't see any sign of tearing or rusting on the zip. The good news is that the cover is also included in the 10-year warranty, so if the stitching around the handles or the zipper comes undone, you can request a new cover to be sent to you. Emma Sleep, however, does mention on its site that it reserves the right to determine whether your claim is due to faulty manufacturing or not. Still, we saw no sign that there would be issues with the durability of the mattress for a few years yet.
Emma Diamond Hybrid Mattress: User reviews
Unlike the Zero Gravity, the Emma Diamond Hybrid mattress has been around long enough for people to buy it and use it in their own homes. And the user reviews are glowing! There are a bunch of 5-star reviews displayed on the Emma Sleep website specific to the Diamond Hybrid, but surely the company would be filtering what it advertises on its own site.
For a less biassed outlook, we checked Product Review, Australia's most prevalent consumer opinion site. At the time of writing, there are 1,767 user reviews, with a staggering 1,415 of them a full five stars! While we disagree with the 4.7 user rating for value for money — we think it's overpriced — we agree with most of the other aspects the users rated. For example, there are 1,582 reviews that say the mattress didn't cause any discomfort and 1,380 users say it took only days to get used to it. 252 users, however, needed weeks to adjust. Over a thousand users had pre-existing neck and back issues, and 900 of them gave this mattress a full score. Most of the users leaving the reviews seem to be side sleepers, but we think it will suit most people who prefer firm mattresses.
Should I buy the Emma Diamond Hybrid Mattress?
If you need a firm mattress, the simple answer to whether you should buy the Emma Diamond Hybrid would be 'yes'. There is no doubt that it's very supportive, something you don't usually expect from a mattress with pocket springs in it, and it can alleviate some aches and pains. It also goes against the grain for a hybrid in reducing motion transfer quite effectively, although not as well as some foam mattresses out there. And we think it will last a good while before you will need to think about changing it out for another one.
However, considering it hardly has any edge support and its temperature regulation isn't as good as its more expensive sibling (the Zero Gravity), makes it a little hard to justify the price. There are other hybrid mattresses that cost a lot less, so if your budget won't stretch too far, you'll need to look elsewhere for an alternative.