The Emma Sofa Bed is the first convertible couch from the German company better known for its mattress-in-a-box products. The sofa bed can be pre-ordered right now in Australia directly from the maker and also comes with a significant discount. Read our in-depth review below to find out whether it's worth the money.
Emma Sofa Bed: review in brief
We've tried a few sofa beds in our time, from Ikea to Koala, and we can honestly say that the Emma Sofa Bed is by far the best we've used to date. We'll be upfront about the fact that the seat/mattress is a firm one and that may not be to everyone's tastes, but we found it to be remarkably comfortable — so much so that it could even be the main bed if you happen to live in a small studio apartment.
At a glance: Emma Sofa Bed
Type: Foam sofa bed
Firmness: 6.5/10
Materials: Fabric (made from 90% recycled material), foam, wood
Dimensions: non-expanded 153 x 97 x 63 cm (LxWxH); expanded 153 x 224 x 63 cm (LxWxH)
Weight: 62.5kg
Size: 3-seater sofa; queen bed
Trial: 100 nights
It's easy to put together, although the individual pieces are heavy and you will need another person to help share the burden and hold the main piece steady while you slip the armrests in. And it converts into a bed or back to a couch in seconds.
What we really like is the thoughtful inclusion of a little storage space. Without an ottoman attachment, the storage is inside the armrests which, despite being hollow, are actually really sturdy. There's enough space to squeeze a couple of pillows, a blanket and a sheet inside — exactly what you'd need for an overnight guest.
Speaking of sturdiness, the entire construction seems to be excellent, with a thoughtful design that makes the sofa bed look quite good. That said, the couch is available in only a single dark-grey colour as a three-seater at the time of writing, which may not quite be right if you're trying to colour-match with your existing living room furniture. We have no word yet on whether Emma will offer the sofa bed in other colour and size options, but here's hoping.
We just have one tiny nitpicky complaint with this sofa bed — you can only use a flat sheet to lay down on it, unlike the Koala sofa beds that can take a fitted sheet when expanded as the foam is stuck on via velcro (and easy to lift up from any corner) and not stitched into the frame along the edges.
While the design is excellent, the build is robust and it's supremely comfortable any way you use it, the Emma Sofa Bed has been priced exorbitantly and we just have to deduct marks for its extremely premium price point.
Emma Sofa Bed review: price and deals
Australian RRP of AU$3,999
Available to pre-order now in one colour and one size
Includes 5-year guarantee and 100-day trial
Price is where Emma managed to shock us, with the sofa bed set for an RRP of AU$3,999. This includes two waist (or lumbar) pillows included in the box.
However, since it was announced late in 2022, it's been discounted down to AU$1,999.50 (or 50% off) which is a far better price tag and quite worth it considering it's a lot more comfortable than the Koala Sofa Bed costing AU$1,599 (as tested by our colleagues at T3).
The good news is that, for a limited time only, Emma Sleep is offering 55% off its sofa bed pre-orders during its Summer Sale, bringing the price down to a more competitive AU$1,799.55.
If you are after a quality sofa bed, we couldn't recommend the Emma option at its discounted price highly enough!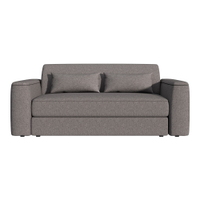 Emma Sofa Bed | AU$3,999 AU$1,799.55 at Emma Sleep (save AU$2,199.45)
Available in just a single colour and one size (three seater), the Emma Sofa Bed is worth its discounted price. Easy setup, excellent build and supreme comfort as both a couch and a bed makes it one of the best sofa beds available today and a great buy at 55% off.
The sofa bed also has a full 5-year guarantee and, like its mattresses, Emma lets you try the piece of furniture at home for a 100-day risk-free trial. If you don't like the sofa bed, Emma will organise to pick it up from your door and issue you a full refund within that trial period.
At the time of writing, the Emma Sofa Bed just comes as a three-seater in only a dark-grey fabric.
Emma Sofa Bed review: Design and materials
Made from sustainably-sourced fabrics and wood
Thoughtful design with storage
Easy setup
This reviewer tried out the original Koala Sofa Bed for our sister site T3 and thought its setup was excellent, like putting together a jigsaw puzzle without needing any tools. She's been proven wrong by the Emma Sofa Bed, which comes in only three pieces — the main couch with its folded 'mattress' is one rather heavy section, and two armrests. You just slide the armrests into the side of the main couch, simple. You could do it by yourself, but we think it's easier with someone holding the large piece in place so it doesn't move around while you're trying to slide the armrests in place. Also, the large piece is quite heavy, so having someone else to share the weight when taking it out of the box would be ideal.
You notice the metal niches on both sides of the main piece (two on each side) where the armrests fit in as soon as you've unpacked it, so you just align and slide – how accurate you can be will determine how long it takes you to set up the sofa bed. In our case, three people together took about 5 minutes because we just couldn't get the sliders to match up. Others could get this done in a minute or two.
You'll also find that the armrest tops have hinges peeking out on the top outer edge — aka, the upholstered tops open up to reveal the storage spaces on either side that we've previously mentioned. The space is pretty narrow, but goes all the way down, nearly reaching the floor and, surprisingly fits quite a bit. We managed to stuff two pillows and a heavy winter blanket into one armrest, then sheets, towels and pillow cases into the other.
We initially thought the metal hinges visible on the outside of the armrests marred the general appeal of the couch's exterior, but quickly realised that having the lids face inwards meant you can reach for things while you're sitting or lying on the sofa bed rather than reaching over to have a dig.
Emma Sleep has managed to do all this for a three-seater sofa that's actually smaller (and sleeker) than the original model of the 2.5-seater Koala Sofa Bed that's still available to buy.
We also like the fact that the couch comes with two waist/lumbar cushions. Even though they're upholstered in the same dark grey fabric (removable and washable covers), they do add a little 'texture' to the drab look of the couch, and also provide a little lower back support if you or your guests should need it.
Converting it into a bed takes seconds — you just fold the backrest forward, hook your fingers into the flap you see, then unfold. There are two folds in the mattress and you'll notice a zip across the lower fold. Closing the zipper tightens the gap that forms when you open up the mattress, with the two pieces of foam (making up the seat of the couch) held together by a strip of the upholstery fabric.
This strip (pictured below) is important as when you convert the bed back into a couch, it ensures the backrest and seat are flush against the frame again and there's no sagging of the foam in the front. So zip it up when you're lying on the bed, then unzip before you fold it back up. We can tell you from experience that if you don't unzip, the seat's front will hang slightly off the frame in the front when it's in couch form.
It's also good to know that the materials used are sustainably sourced. The fabric covering the sofa bed is made of 90% recycled materials, while the foam is CertiPUR-US certified, which means there's no harmful chemicals used. And what little wood has been used has been certified by the Forest Stewardship Council (FSC) as well, so you know it's all well managed.
Emma Sofa Bed review: Comfort
Firm seat and mattress
Very comfortable
Easy to convert
Sofa beds have a nasty reputation for being really uncomfortable, particularly when used to sleep on. Large gaps, prodding slats and framework, bad mattresses… there's a lot that this convertible piece of furniture gets wrong. Koala tried to change that and, while the Aussie company did decently well with its sofa beds, Emma has exceeded expectations.
We need to admit right away that comfort is relative — while some people love to sink into a couch or bed, others prefer a firmer surface to sit or sleep on. And this reviewer is of the latter mindset and the Emma Sofa Bed delivers that firmness in spades. Honestly, it's the best sofa bed we've tried to date.
As a couch, you don't find yourself sinking into the seat, even on the edges beside the armrests (something the Koala Sofa Bed suffered from) and, as a bed, it's really like sleeping on a proper firm foam mattress. Even though there are fabric flaps and folds, you feel none of them under a thin sheet and it's a good night's sleep that you can look forward to.
We slept on the Emma Sofa Bed every night for two weeks straight and it felt like sleeping on a supportive mattress. It's important to note that this isn't a zero-disturbance mattress, but the foam used does seem to absorb some of that kinetic energy and it's possible even light sleepers won't be disturbed too much when sleeping beside a restless partner on the Emma Sofa Bed. Again, this is relative and depends on how light a sleeper you really are, but we found it very comfortable to sleep and sit on overall.
Should I buy the Emma Sofa Bed?
We love the Emma Sofa Bed and could easily say you should buy it if you're in need of a convertible couch. However, at AU$3,999 apiece, it really is hard to recommend, particularly since it only comes in one size and a single colour option… at least at the time of writing. However, Emma Sleep announced its first-ever sofa bed for Australia only very late in 2022, so it's still new. Perhaps more variations in size and colour will come in the future.
That said, Emma has offered a massive discount since the sofa bed launched and, at AU$1,999, it's well worth a consideration. It's well-built and sturdy, easy to set up (and take apart if you need to move house), gives you a little bit of additional storage at home, is so very comfortable to sit and sleep on, and looks quite good too. We have only good things to say about the sofa bed… except for the price, for which it loses points.