Breville Super Q Blender: Specs
Dimensions: 8.2 x 10.6 x 18.1 inches
Weight: 17.8 pounds
Capacity: 68-ounce
Settings: 12 speed settings, 5 on touch program settings
Accessories: Recipe book, tamper, spatula, personal 24-ounce blender cup
Output: 1,800 watts
Warranty: 10-Year Limited Product Warranty
A versatile all-around performer with intuitive controls, the Breville Super Q Blender is the best blender for making excellent smoothies and a wide range of other recipes. It includes a tamper and spatula to help keep ingredients moving, alongside a smaller 24 ounce blending cup optimally sized for making and then taking smoothies on-the-go.
The Breville Super Q Blender's powerful motor and blade arrangement handles whatever you throw into it with confidence — crushing ice cubes, turning frozen fruit and fresh vegetables into smoothies and preparing nut and grain milk with ease. Everything we tested came out with a consistent and palatable texture, and did so while operating more quietly than other blenders we tested. It's also backed by a 10-year motor warranty. This makes it the best blender we've tested, but if you want to find out more, read on for our full Beville Super Q Blender review.
Breville Super Q Blender: Price and availability
The Breville Super Q Blender's price lands in the higher end of blenders we tested, but it justifies this with its versatile performance and excellent build quality that seems likely to exceed its 10 year warranty. The Breville Super Q Blender is available from Williams-Sonoma and Breville for $549.95, available in stainless steel, white, black, champagne, gray and blue (the last color an exclusive to William Sonoma).
Breville Super Q Blender: Design
Measuring 8.2 x 10.6 x 18.1 inches and weighing 17.8 pounds, we'd recommend setting aside a dedicated space on the counter for this solidly built machine. It's not so heavy you can't move it when you need to, but it does tip on the heavy side of the scale. On the bright side, thanks to its weight and shape, you'll never have to worry about it accidentally tipping over or shuffling across surfaces in use. The Super Q's widened base and bottom-heavy design offers secure footing while preparing ingredients — even when dialed up to full blast — but, thankfully not at the cost of requiring an excessive amount of space.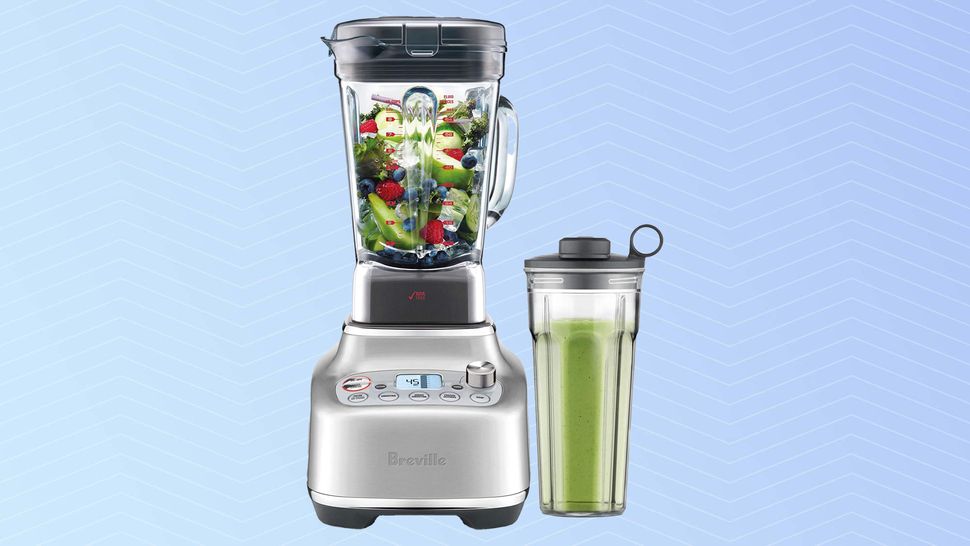 Breville's catalog of kitchen appliances all share a contemporary and unfussy aesthetic you won't hesitate to leave out on display, and The Super Q Blender is no exception. We especially appreciate Breville's decision to equip the blender with a physical metal dial for manual speed adjustment; this complements the control panel nicely. Turning the dial offers a satisfying tactile click with every increment when you want to dial things up a notch or two.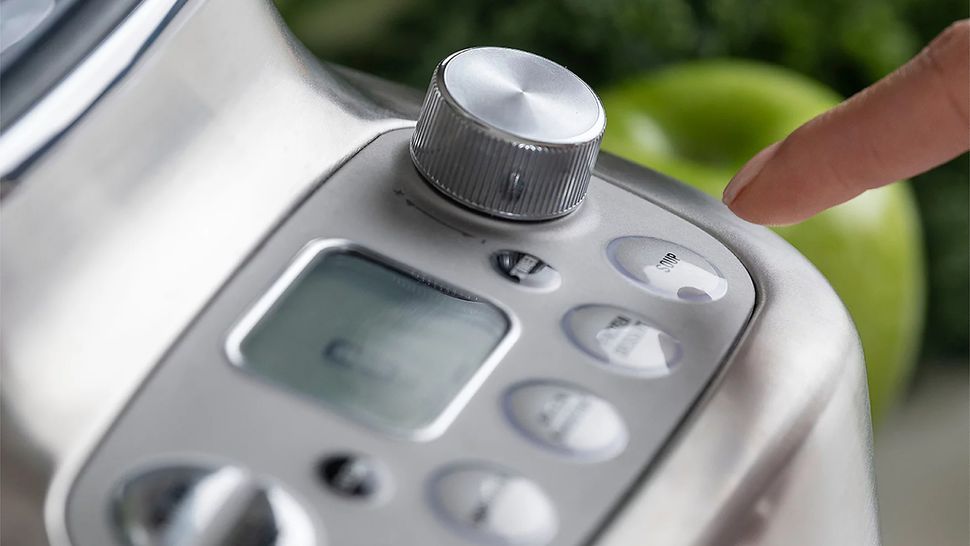 Originally released in Breville's signature brushed stainless steel, the brand has since added five additional color options, including white, black, champagne, two grays and a handsome shade of blue exclusive to William Sonoma. The blender comes with a 68-ounce jug with a secure sealing lid, as well as a plastic tamper, spatula scraper, 24-ounce portable jug and a recipe book.
Breville Super Q Blender: Performance
The Breville Super Q Blender is aimed at home chefs seeking a commercial grade performance. It's a multi-purpose blender more than capable for handling a wide variety of recipes. Equipped with a 1,800-watt motor and an integrated 4-blade array, the Super Q produced some of the tastiest and most smooth smoothies with the touch of a single button.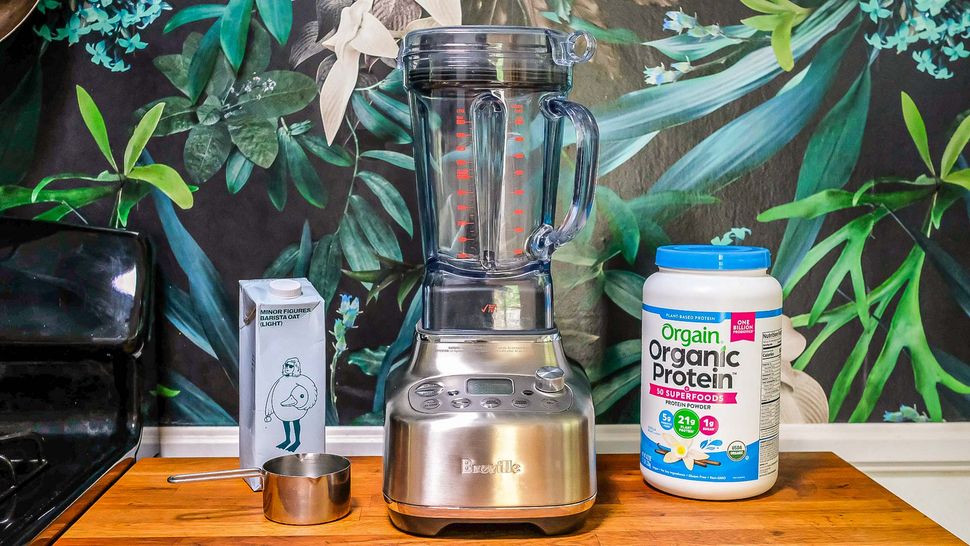 For testing, we used a recipe of protein powder, oat milk, frozen bananas and a combination of frozen blueberries and strawberries. We found the Super Q's blade design was particularly adept at voraciously pulverizing ingredients in seconds, perpetually pulling pieces from the top toward the bottom with a mesmerizing vortex effect. Additionally, its intermittent "2 seconds fast, 10 seconds fast" timed tempo is more effective at ensuring ingredients are fully blended together versus cranking it up to full speed. We made smoothies using both the full size jug and smaller portable container, but personally preferred using the prior because the wider opening made it easier to chuck in ingredients. Both were equally delicious and palatable.
When it came to making hummus, the Super Q produced what we believe is the closest approximation to store-bought dip on test. It turned out a smooth texture that had us returning with crackers for more (for the sake of accuracy, of course!). Only a very slight chalky consistency kept the Super Q from rating as our favorite when blending chickpeas, tahini, garlic, spices and olive oil into hummus. The Super Q's pulse makes quick work of large chunks of garlic and olive oil, without splattering excessively, but we did notice some of the added dry spices didn't always incorporate until more ingredients were added. The Super Q continued to impress in other tests too, crushing ice cubes into fluffy snow in just a minute, and transforming rolled oats and water into a sweet creamy non-dairy milk. The latter had a creamy consistency close to real 2% dairy milk; it was an oat milk superior to anything we've bought from the store and it tasted great whether poured over cereal, added to smoothies or enjoyed straight up.
With just nine buttons and a single speed dial, the Super Q is easy and intuitive to use. Five buttons along the bottom control layout are clearly marked, one sharing a pulse and ice cream speed, with the four other buttons dedicated to smoothie, green smoothie (vegetables), frozen dessert and soup, respectively. The 1800 watt motor is capable of accelerating the Super Q's blades up to 186 mph — fast enough to turn butternut squash pieces or potatoes and leeks into steaming hot soup.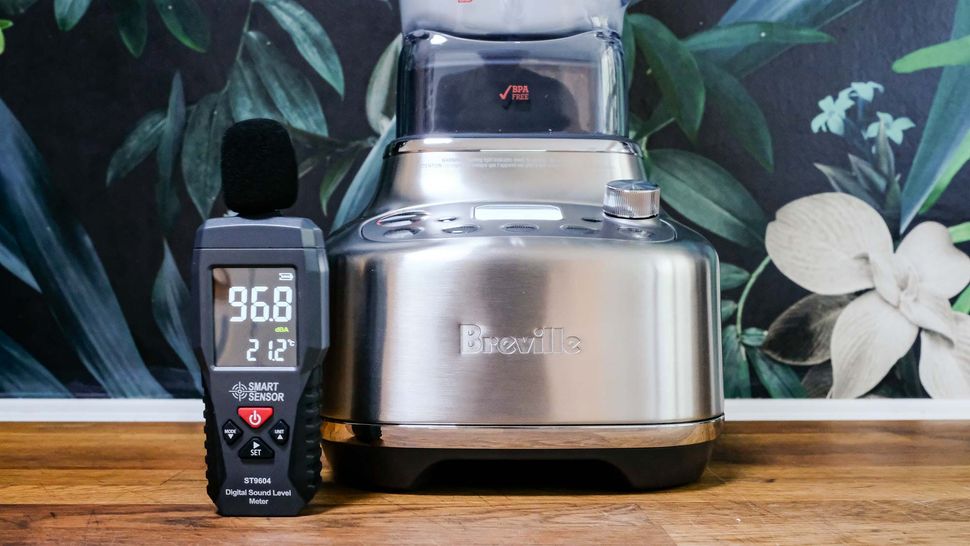 One of the reasons we rated the Super Q as the best overall blender for home use was its quiet operation, regardless of what it was loaded up with. Filled with 4-cups of water, set to its highest speed and measured from a foot away using a portable sound meter, the Breville blender clocked 93.7 dBA of noise, the quietest of all models tested. The sound diminished noticeably when loaded with other non-liquid ingredients and set to lower speeds, and we never found it annoying, even when set for extended periods of use.
Breville Super Q Blender review: Ease of use and cleaning
The Breville Super Q Blender is very intuitive to use. Its five preset buttons are pretty self explanatory and when you want to veer from programmed speeds, there's always the option to take manual control via the speed dial. All controls are clearly labeled, and the small blue backlit LCD screen is legible from across the kitchen, giving users a dependable way to keep track of time.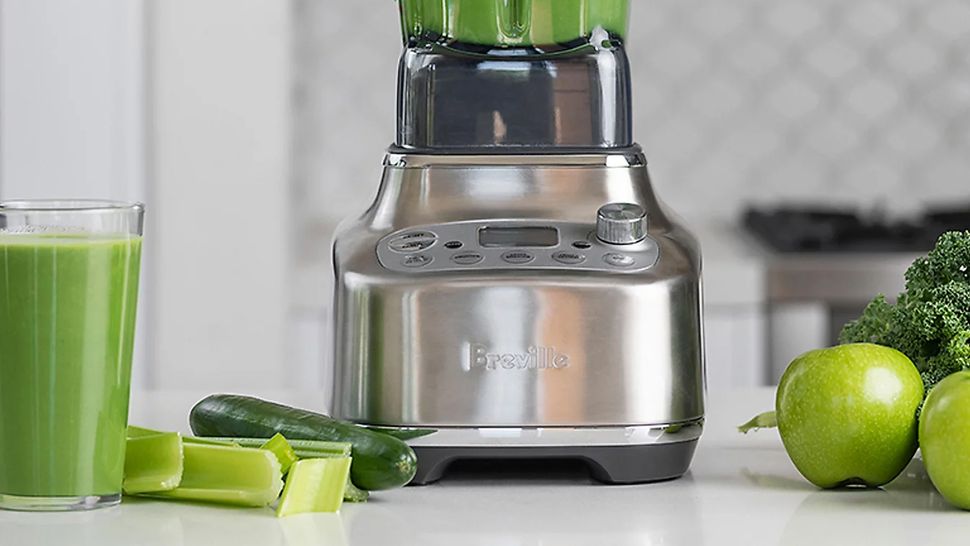 The thick-walled 68 ounce jug is made of BPA plastic with red measurements printed across two sides of the container. The jug features a fairly pronounced spout which makes pouring easy and accurate, especially for smoothies and soup. But, the spout is also prone to collect liquid and can drip unintentionally before pouring. On one hand, we appreciated the tight and secure seal Breville has given the Super Q; the lid snaps and locks with a confident click. But, because certain ingredients will occasionally splash and coat the inside of the lid during blending, we'd sometimes find a few drops of smoothie hitting the counter before pouring. In short, removing the lid can make a mess. Thankfully, cleaning the Breville Super Q Blender rated amongst the best of those tested. The auto-clean cycle button is very effective at using a modest amount of water to wash off remnants splattered across the sides and bottom of the jug, alongside the nooks and crannies situated on the underside of the lid and spout. For thicker consistency recipes like hummus, the included spatula scraper made it easier to empty the jug entirely before using the clean cycle. But, most of the time it was nearly as easy to hand wash the blender jug with a little soap, water and a sponge, especially after preparing more liquidy recipes, like fruit smoothies.
Another laudable detail that sets the Breville Super Q apart from the competition is its thoughtfully designed integrated power cord management. There's nothing more annoying than having an excess of cord snaking out from a kitchen appliance that has to sit on display. Breville designed its blender with a 32.5-inch long power cord that can be pushed back into the blender base, down to just 7-inches in length when fully retracted. It's not as easy as the press button retractable power cord of a canister-style vacuum cleaner, but nevertheless, the cord is fairly simple to push back into the base and even easier to pull back out when you need more length to reach an outlet.
Breville Super Q Blender: Verdict
The Breville Super Q Blender rates as our top choice for the best blenders. Its motor is unobtrusively quiet and yet powerful enough to handle a wide range of ingredients for making iced drinks, smoothies, soups, dips, non-dairy milks, and other recipes. The additional to-go container is a welcome bonus for anyone who needs to prepare a smoothie to-go in the morning while keeping the main jug available for others to use. The inclusion of the tamper and spatula are handy additions that not all other blenders offer.
The Super Q Blender's $549 price tag makes it a premium option, but it's a worthy investment for anyone who requires the service of a blender regularly. And being backed by a 10-year motor warranty, that provides the confidence it won't need to be replaced for a long time. If you're looking for a similar amount of power with an even larger capacity, and at about $150 less, then consider the Blendtec Total Blender Classic. This scored well across the board except in noise and included accessories.