The Nintendo Switch OLED is my favorite handheld of all time. I love everything about it. I adore that 7-inch OLED screen. I'm all about that slimmed down bezel. And I'm head over heels for that sturdy kickstand.
But the Switch OLED still has one key design flaw that bugs me: the placement of its charging port.
As was the case with the 2017 launch model machine, the Switch OLED continues to house this particular port in an irritating place. Perched directly beneath the screen, it can make playing the handheld hybrid with a USB-C cable attached awkward.
I'll get to the product that has since solved my slight charging woes shortly. Spoiler: it's the HORI Switch Compact Playstand. Man, I would make such a bad poker player.
The only reason this accessory exists in the first place is because of Nintendo's decision to place that charging port on the rear of its system, rather than on its side. As someone who doesn't like to physically hold his Switch while playing games, that's a problem for me.
Get porty
My preferred way to play is to place my OLED model on my coffee table, kick its little stand out, then enjoy messing up Bobokins with Link in The Legend of Zelda: Tears of the Kingdom from several feet away.
Using the excellent Nintendo Switch Pro Controller, I enjoy playing the best Switch games from a sprawled out position on my couch, safe in the knowledge that kickstand will keep my little console upright — the first iteration on the launch Switch was laughably bad by contrast.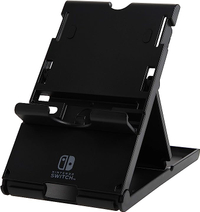 HORI Compact Playstand for Nintendo Switch: was $21 now $12 @ Amazon
This officially licensed stand is the most useful Switch accessory I've ever owned. By elevating Nintendo's console on a small flip-out perch, it gives you plenty of room to plug a USB-C cable into the Switch's awkwardly placed charging port; allowing you to play and charge at the same time.
There's a slight problem with this scenario, though. Every time I play this way my Switch is losing battery. Even though the handheld is miles better than the Steam Deck in this regard, Nintendo's machine can still run out of juice pretty quickly.
As much as I appreciate the revamped kickstand on the OLED version, you have to place the console in some downright precarious positions if you hope to get a charging cable in there with the Switch (juuuust about) sitting upright.
Stand and deliver
That's where HORI's previously mentioned accessory swoops in to solve my minor charging cable conundrum.
The Hori Switch Compact Playstand is good value and is sturdily built. I like the fact you can set it to multiple positions, and it even has little slots to partially conceal your charging cables.
With my Switch OLED happily slotted in it, there's plenty of room to slide in an USB-C cable when I'm playing my favorite games, which means I don't need to worry about running out of juice anymore. This rock-solid piece of kit has been brilliant for train journeys down the years.
It's a great accessory that has solved a specific tech issue I needed to address, and I didn't need to break the bank for it. I must have used the PlayStand for at least 70 hours during my current Tears of the Kingdom playthrough. Not bad for $20, right?
More from Tom's Guide