I use my iPad Pro (2021) more than any other piece of tech I own. As someone who's plagued by a hideously distractible attention span, I've always got it on in the background doing something. Whether it's listening to podcasts while playing the best PS5 games or taking the iPad to bed and using the best sleep apps to get 40 winks, Apple's tablet enriches my life on a daily basis.
Up until recently, I didn't think it was possible to squeeze any more enjoyment out of my iPad Pro. Then I paired it with the best wireless mouse I've ever used — and hoo-boy am I loving my tablet even more now.
The credit for this revelation belongs to Tony Polanco. My fellow computing colleague showed me some photos of his awesome PC setup recently, and I asked him what mouse he was using. Said peripheral was the Logitech MX Master 3.
After a bit of research, I decided to go for its close relative, the Logitech MX Master 3S. It's slightly cheaper than Tony's mouse, and it also has a higher DPI (Dots Per Inch) range, maxxing out at 8,000 DPI compared to the 4,000 of the Master 3. In layman's terms, that allows for faster cursor movement than its Logi sibling. It's also a doddle to pair with my iPad via Bluetooth.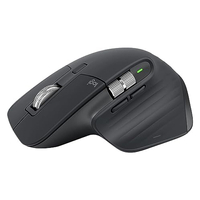 Logitech MX Master 3S: was $110 now $92 @ Amazon
Like Logitech's MX Master 3, this is a super comfortable mouse that is great for multi-purpose productivity. While the sensor of the MX Master 3S can reach 8,000 DPI, it's limited to a mere 1,000 DPI on first use. To increase the DPI range, use Logitech's Options Plus app.
My favorite things about using a mouse with my iPad Pro? For one thing, it means I no longer have to gunk up my tablet's screen with my greasy digits. I've also found highlighting sentences while editing articles in Google Docs is a good deal easier with a mouse than it is a touchpad. Granted, that's hardly a piece of Columbo-worthy detective work.
The best iPads give you a decent array of options to tinker with a mouse, too. If you go to Settings > Accessibility > Touch and then enable AssistiveTouch, it helps your tablet detect your mouse more easily after periods of inactivity.
Going to General > Mouse and Trackpad in the settings menu also lets you invert your mouse's wheel if you turn off Natural Scrolling.
While the touchpad on my iPad Pro Magic Keyboard is perfectly responsive, it turns out you just can't beat a good pointer. Not only does the MX Master 3S give me more accuracy while web browsing and navigating through my Home Screen, it comes close to turning my iPad Pro into a fully functioning laptop.
Of mouse and men
I'll admit using a tablet to replace a laptop is never going to give you an experience on par with using the likes of the Apple MacBook Air 15-inch M2. Yet now that I'm rocking an iPad setup with a responsive keyboard and a super accurate mouse, I don't feel like I'm a million miles away from getting a MacBook-like experience.
Using my Master MX 3S obviously isn't practical for every situation. It's great for messing around with my iPad on my coffee table, and I dig using it with a vaguely silly laptop tray I recently picked up when I want to work from my couch. On the flipside, I'm not exactly going to use a mouse with my iPad Pro in bed, am I?
Still, pairing my beloved Apple tablet with a wireless mouse has proven to be a great decision; one that gives me greater control and flexibility when interacting with my iPad Pro.
If you're an iPad owner and happen to have a spare wireless mouse sitting around your home, I'd definitely suggest giving it a go with your tablet.
More from Tom's Guide