If there's one feature in foldable phones that has proven to be meaningful to me, it's the way they handle multitasking. This is an area where the iPhone has struggled in, and quite frankly, it's downright embarrassing when you consider how Android offered multitasking as far back as 2016 with the release of Android Nougat. Before an iPhone Flip is announced, Apple desperately needs to fix the multitasking problem with iOS.
You might be led to believe that it's something that the iPhone offers, but Apple's interpretation works more like app switching rather than true multitasking — like being able to run two apps at the same time, side-by-side to one another. What's even scarier is that Apple hasn't really changed this function since it unveiled app switching with iOS 4. I remember this because I shot a video showing off this feature with an iPhone 3GS. Before that, you had to annoyingly go back to the home screen to launch another app.
So yeah, it's long overdue for a makeover if Apple intends on convincing consumers that foldables are the future. Whether the company goes after flip style foldables like the Motorola Razr+, or perhaps mini-tablet sized foldables like the recent Samsung Galaxy Z Fold 5, Apple will need to once and for all bring true multitasking to iOS.
Apple's been using the same implementation since iOS 4
Apple already introduced iOS 17, and now that the public beta has been out, it's shown us how the mobile platform continues to mature with each iteration. Don't get me wrong, I love using features like StandBy Mode and Live Stickers, but I'm stumped as to why multitasking remains unchanged.
Aside from the visual improvements, there hasn't been a change functionally to multitasking from iOS 4 to iOS17 — you simply just move from one app to another. That's it! Even though I've been accustomed to this process for quite a while now, it needs to be changed in a drastic way for Apple to even consider bringing an iPhone Flip to market.
It makes sense for the iPad, it should as well for an iPhone Flip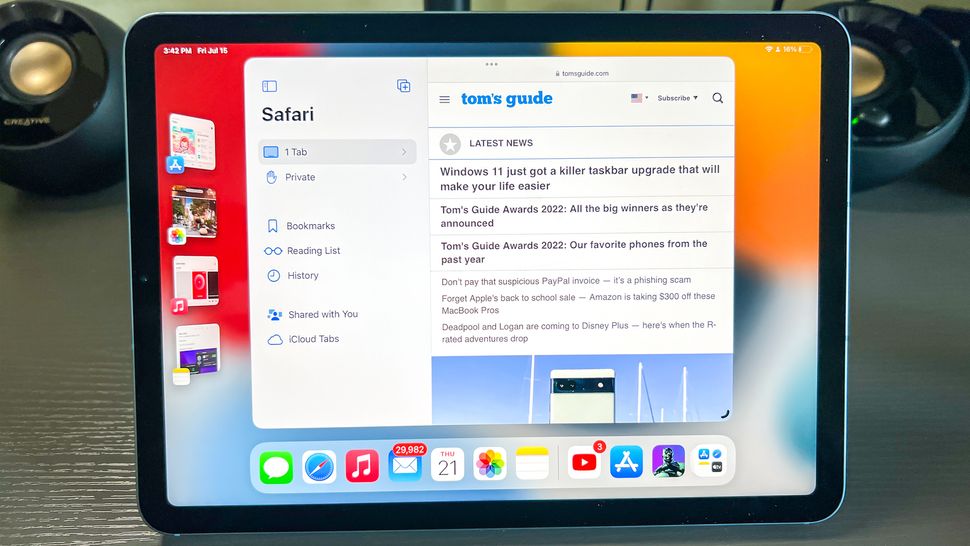 Interestingly enough, there's real multitasking with iPadOS. It's called Stage Manager and you can get up to three apps running simultaneously, which is conducive for a device with a much larger screen than any iPhone. People who've ditched their laptops in favor of a hybrid setup with the iPad know how effective this feature is with their workflow — so it would make sense for real multitasking on an iPhone Flip.
I can't tell you how effective I am using the various multitasking features on my Galaxy Z Fold 4, so if Apple ends up making a similar foldable, it's necessary to match what its rivals are offering right now. Apple could essentially bring the same multitasking features in iPadOS to iOS, which would be more than what's available now, but there are two critical specifications that an iPhone Flip needs to have in order for this to all pan out smoothly.
More processing power and RAM
When you're trying to juggle multiple apps simultaneously, an iPhone Flip would require a lot of processing power and RAM to effectively handle multitasking. Apple takes pride in the intuitiveness of iOS, so in order for this fundamental principle to remain, a faster processor and more RAM would be necessary.
You probably experienced at one point or another on your iPhone how a web page in Safari will sometimes have to reload from scratch when you briefly switch to another app. More RAM would enable a foldable iPhone to store an app's state in memory longer, so it wouldn't have to relaunch it if you do something else.
Of course, running two apps at the same time on screen can be taxing on the processor, but the rumored A17 Bionic chip would be a worthy candidate to test out this new method of multitasking. The 3-nanometer manufacturing process that Apple's rumored to be using would be able to deliver true multitasking, especially if we're to see a similar Super Retina XDR OLED display with a 120Hz refresh rate.
iPhone Flip multitasking outlook
There's no denying the impact Apple could make in the world of foldables. New features previewed in the iOS 17 public beta allude to how Apple may be retooling multitasking in iOS. For example, SharePlay in iOS 17 lets you share a movie you're watching with someone on FaceTime. And given how Dynamic Island offers some 'light' multitasking capabilities, it's still far from the true side-by-side apps multitasking I've experienced on Android.
With rumors painting a 2024 potential release for Apple's iPhone Flip, it could be a feature that could perhaps be ready for iOS 18. There's still time for Apple to work out its implementation, but it would be disappointing if multitasking doesn't get its long overdue upgrade for an iPhone Flip.
More from Tom's Guide