The first gaming keyboard I ever reviewed for Tom's Guide was the Corsair K70 Vengeance back in 2014. I called the device a "rhapsody in red," citing its cool backlighting and comfortable key switches. Since then, I've reviewed dozens of keyboards from Corsair, HyperX, Logitech, Razer, Roccat, SteelSeries and more. Most keyboards we've reviewed have been pretty good — although every once in a while, we come across one that's genuinely excellent.
If you've gone through all the trouble of building or buying a gaming PC, I highly recommend a gaming keyboard to go along with it. Not only are gaming keyboards generally more comfortable and efficient than their productivity counterparts, but they often possess more striking aesthetics as well. From brushed metal chassis design to full RGB lighting, a good gaming keyboard can complement your overall desk setup.
With that in mind, I've narrowed down my gaming keyboard recommendations to three different prices: less than $80, less than $170 and less than $250. To simplify things even further, I highly recommend you buy the $170 model (the Corsair K70 RGB Pro) if you can afford it. Based on my testing, it's the gaming keyboard that will probably suit the vast majority of users, offering every feature they need and eschewing some more expensive ones that they don't.
Less than $80
Despite searching high and low, I can't find a sub-$50 gaming keyboard that I'd recommend wholeheartedly. The only keyboards from major brands that I've reviewed in this price range are membrane models, and I wholeheartedly believe that mechanical key switches are worth investing in, particularly for gamers.
As such, the least expensive model I can vouch for is the Logitech G413 SE. This bare-bones peripheral goes for $80, and has almost nothing in the way of extra features. It's a full-size keyboard with mechanical switches, and it comes from a reliable gaming brand. That's about as good as you're going to get.

Logitech G413 SE: $79 @ Amazon
The Logitech G413 SE is a no-frills mechanical gaming keyboard from a major manufacturer. There's not much to say about it beyond that. The design should look good on most desks, and the white backlighting is unobtrusive. The key switches are also comfortable enough, at least for the price.
There's also a TKL variant, if you prefer to live life without a numpad. Beyond that, if you absolutely, positively have to have RGB lighting and media keys, the Razer Cynosa V2 has what you're looking for. But if all you want is a membrane keyboard, there are much cheaper models out there, and the "gamer" aesthetic won't improve the feel of the keys.
Less than $170
It's rare to find a product that's essentially perfect, but we've given the last three iterations of the Corsair K70 RGB Pro a full five out of five stars in our reviews. That's because the Corsair K70 RGB Pro (and its predecessors, which you may still be able to find at discounted prices) uses top-of-the-line Cherry MX key switches in an elegant design. The K70 RGB Pro has all the keys you need, none of the keys you don't, and robust software with subtle RGB lighting to tie the whole package together.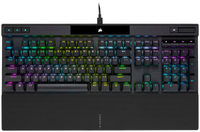 Corsair K70 RGB Pro: $169 @ Amazon
The Corsair K70 RGB Pro is one of the best gaming keyboards on the market, bar none. With authentic Cherry MX key switches, a comfortable key layout, beautiful RGB lighting, a powerful software package and a supportive wrist rest, the K70 RGB Pro offers everything that most players need in a gaming keyboard, and nothing that they don't.
Granted, if you're willing to spend this much on a gaming keyboard, there are plenty of options between the $80 G413 SE and the $170 K70 RGB Pro. The SteelSeries Apex 7, for example, offers similar functionality at a much lower price, as does the HyperX Alloy Origins. But if you go for the Corsair model, you'll get what you pay for.
Less than $250
If you're willing to dish out an arguably exorbitant amount of money for a gaming keyboard, then you'll want to go with a wireless mechanical model. This is a relatively new category, at least from major manufacturers, and full-size mechanical gaming keyboards are still relatively hard to come by.
While I love at least three different selections in this price range, the Razer DeathStalker V2 Pro is probably the easiest one to recommend widely. That's because Razer's scorpion-inspired peripheral essentially just looks like a regular keyboard. There's no wasted space, and only a handful of extra media keys. The low-profile keycaps and matte chassis give the whole device an understated look, but its excellent performance and comfortable layout are really what make it work.

Razer DeathStalker V2 Pro: $249 @ Amazon
The Razer DeathStalker V2 Pro is one of the most expensive gaming keyboards you can buy from a major manufacturer, but it justifies its high price with excellent performance and a stylish design. The device features comfortable Razer key switches, as well as multiple types of wireless connectivity, with anywhere between 26 and 214 hours of battery life.
A few caveats
A few weeks ago, I wrote a similar piece about gaming mice, in which I recommended models I'd tested at three different price points. The piece caused some intense negative reactions, and we have approached this article differently in order to assuage reader concerns. The most important thing to keep in mind is that this piece is my opinion, presented in a conversational manner. Our dedicated reviews offer deeper analyses and broader viewpoints.
Gaming Keyboard Disclaimers
1. This piece is not a review or a buying guide
2. This piece represents my opinions alone, not those of Tom's Guide
3. This piece is intended for a general audience
4. This piece is a starting point for readers to decide for themselves
5. This piece is limited to models we have tested
Bear in mind that while Tom's Guide attracts both lay and enthusiast readers, we are a generalist tech publication. That means we review a broad array of technology for a wide audience, many of whom are not immersed in the gaming peripheral community. If you already know a great deal about gaming keyboards, this piece may not be tremendously useful to you.
Above all else, please remember that the keyboards in this piece are not the only ones worth considering in each price range. Many other models are just as good, and may in fact be better for your particular setup. Each one represents a solid, go-to recommendation for most use cases. But more research is always better than less, and the more you do before buying a gaming keyboard, the happier you'll be. And if there's another model that you feel we should review, please let us know, and we'll be happy to research it.
Beyond that, I hope that one of these keyboards can act as at least a starting point on your quest to find the perfect gaming keyboard. Somewhere out there, there's a nearly perfect model for your desk, and all you have to do is find it.