Microsoft has been a big part of ChatGPT and its massive growth. They are a key investor in the chatbot AI as well as the OpenAI team behind it, and have already been using the new GPT-4 language model in the new Bing with ChatGPT.
But Microsoft's latest innovation could totally reshape how you use productivity apps like PowerPoint, Word, Outlook and more.
At an event on March 16, the company announced Microsoft 365 Copilot, a new AI chatbot that will integrate with Microsoft's entire offering of 365 applications. This means Word, Excel, PowerPoint, OneNote, Outlook, Teams and more will all be getting a chatbot AI to help automate tasks and generate new content with just a prompt or the click of a button.
Yes, Copilot can follow a meeting as if you were there
The feature that really impresses me is the ability of the Copilot to follow a meeting as if you were there.
Say you had a conflict, like a work meeting that happens at the same time Microsoft announces a brand-new AI. With Copilot, you find the Teams meeting in your Outlook calendar and instead of selecting that you can't attend, you can instead "follow" that meeting with Copilot.
Once you're following the meeting, Copilot will sit in the background of the meeting and attend it for you. It won't start speaking on your behalf, but it will generate notes, meeting summaries and even create follow-up action items for you to complete based on what was discussed.
Forget complaining about meetings that could have been an email, because now your AI assistant can handle both for you.
Interconnectivity is the key to unlocking Copilot
After having seen Copilot in action personally, it is clear that interconnectivity is the reason this will be such a revolutionary step forward. The generative AI functionality itself is impressive, but we've seen the ability to write an email with the click of a button from other generative AI from Google and Grammarly.
But we haven't seen taking your notes from one app and turning them into another document in another app in just a few clicks. Or create an entire PowerPoint slideshow using your existing data and images in seconds. Or pulling a data set from Excel and transforming it into graphs and tables while also analyzing the data set and providing you with key insights.
Yes, this Copilot feature is enterprise-focused for now, and the average user may not see it for a while. But after what I saw today, it's clear how anyone could simplify their daily tasks with Copilot 365 and that is truly revolutionary.
Microsoft 365 Copilot: When can I get access?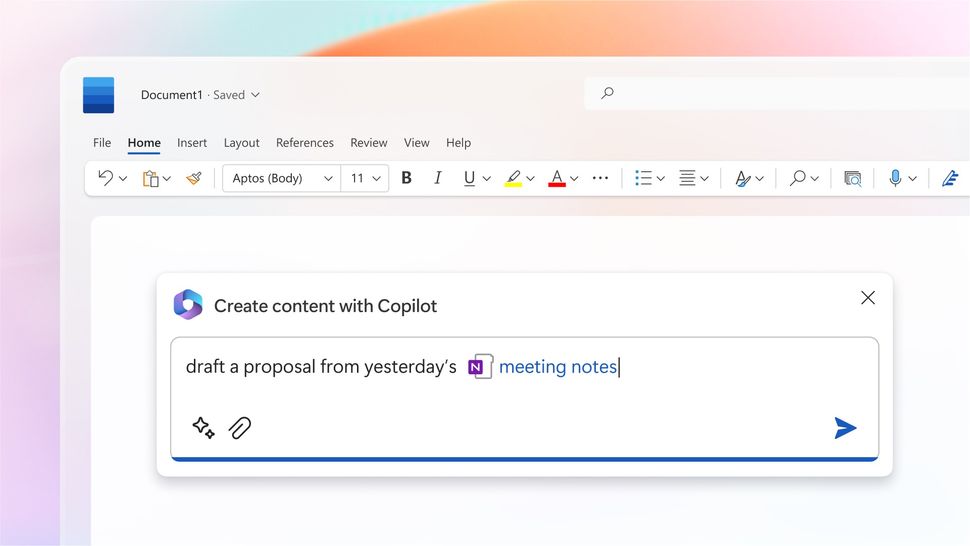 Copilot will not be available to everyone at first — Microsoft is rolling it out only to select enterprise customers to start. In fact, Microsoft took special care to point out the potential flaws with AI and concerns over privacy and safety throughout the event.
The company seems to be taking the allegations of its Bing chatbot going off the deep end seriously, and while the company doesn't go as far as adding digital health warnings like some AI experts have suggested, it is taking some steps.
The biggest step? Grounding the AI in your data. While Copilot 365 is still trained on a large language model (likely GPT-4 or some variant), the data it pulls is your existing system data in your Microsoft Graph — an API that combines your Microsoft 365 business data into a usable data set for AI models to utilize.
This means you won't be using a simple prompt to have Copilot write your entire term paper in Word just yet. Again, unless you're part of a select group of enterprise clients, you can't use Microsoft 365 Copilot at all. But after seeing it in action, I'm convinced that Copilot will eventually come to the consumer version of Microsoft 365 and change how we use productivity apps forever.
More from Tom's Guide