There is something wonderful about a romantic comedy. Unlike real life, things typically work out in the end for the characters. Whatever drama exists is generally light-hearted and the plotline stays away from the violence and gore you see in other genres. Plus, even if the situation is unrealistic, the predictability of the storyline is soothing. A romantic comedy is one of the best movie types to watch if you are in need of a stress-free escape.
Prime Video has quite a few selections of rom-coms available. It's difficult to narrow down the selection to just a few choices, but we've identified the best Prime Video romantic comedies you can watch right now. So curl up on the couch, close the curtains, and grab your favorite beverage. It's time to ignore the world outside and watch a little bit of happily ever after play on your favorite streaming device.
Notting Hill
We kick off the list with a rom-com classic: Notting Hill. It's about William Thacker, played by Hugh Grant, who is a bookstore owner in Notting Hill, a real-life location in London. One day, he happens to meet one of the most popular women in the world: the famous Anna Scott, played by Julia Roberts. When he begins to fall in love, Thacker doesn't realize how hard it is to have a romance with a celebrity.
This movie is a perfect balance of romance and comedy, capturing the essence of what we love about the genre. Grant and Roberts pair together perfectly and manage to enhance each other's strengths in the film. Meanwhile, Director Roger Michell displays the warmth of Thacker's family, all of whom are an essential part of what makes this movie one of the best romantic comedies.
Watch on Prime Video
10 Things I Hate About You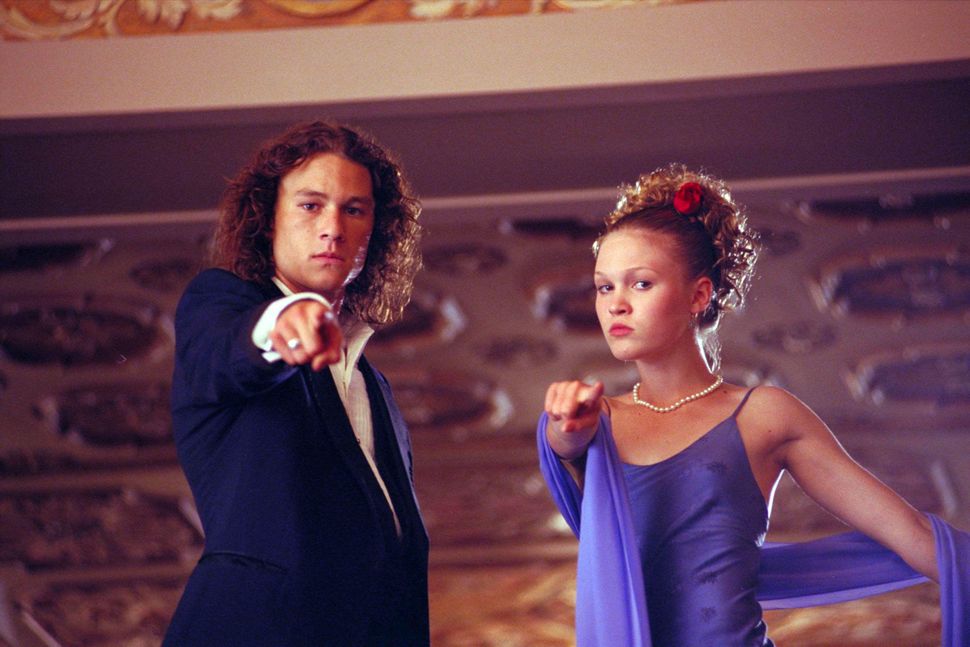 Watching the late Heath Ledger in 10 Things I Hate About You gives the movie immense bittersweet qualities. However, the chemistry he shared with Julie Stiles makes it worthy of watching and many subsequent rewatchings. Ledger stars as Patrick Verona, who is recruited by a classmate to woo the likes of Kat, played by Julia Stiles. All of this is so her younger sister, Bianca, can finally date.
The movie manages to be successful in its modern take on the famous Shakespeare play, "The Taming of the Shrew." Strong acting, surprisingly subtle comedy, and a somewhat complex but well-written plotline make it a top choice in the world of rom-com. While it may initially come across like a typical teen movie, it resonates deeper than that for its viewers, especially as the '90s become a part of our distant past.
Watch on Prime Video
Begin Again
John Carney, the director of the musical Once, brings us a low-key, but charming romantic comedy in his movie Begin Again. It stars Mark Ruffalo as a down-and-out music producer, Dan, who has practically lost it all. One night during a drinking binge, he hears Gretta, played by Keira Knightley, singing on stage. Her raw talent pulls him in and he's determined to collaborate with her.
It may surprise you to learn that Keira Knightley does her own singing in the movie. Adam Levine stars in this movie as Gretta's boyfriend, Dave. He plays an egotistical character, which is a unique contrast to Ruffalo's humble demeanor. Between the music, the love, and the platonic devotion between all the characters, this movie is a relaxing addition to the popular movie genre.
Watch on Prime Video
Elsa and Fred
Not enough romantic comedies are about finding love in your older years. However, the movie Elsa and Fred breaks us free from this stereotype. Starring two iconic Hollywood actors, Christopher Plummer and Shirley MacLaine, it's about two next-door neighbors finding romance and hope during their 80's.
MacLaine's vivacious Shirley couldn't be more different than Plummer's disgruntled Fred. Age becomes an important part of the storyline, especially as Shirley convinces Fred that there is still plenty of life left in him. While it may not be a movie at the top of your list, it's a charming depiction of romance in your elderly years. In addition, many big-name actors appear in this movie, including Scott Bakula as Elsa's son Gavin, James Brolin as Elsa's ex, George Segal as Fred's buddy, and Marcia Gay Harden as Fred's daughter Lydia.
Watch on Prime Video
Ticket to Paradise
One of our favorite Hollywood pairings comes together again in the rom-com Ticket to Paradise. Julia Roberts stars as Georgia Cotton and George Clooney stars as her ex-husband, David Cotton. When they hear that their daughter is marrying someone she just met, they put aside their differences to stop her from making a mistake.
Their top-notch on-screen chemistry, the beautiful location, and the perfectly timed comedy make this one of the best rom-com movies on Prime Video. For those familiar with the genre, the story may play out in a fairly familiar way, but that doesn't make it less enjoyable. In fact, part of the appeal of this type of movie is the predictability. This movie is a fantastic getaway from the current troubles in the world and one you don't want to miss.
Watch on Prime Video
More from Tom's Guide