Few romantic period dramas have bewitched fans, body and soul, more than 2005's Pride and Prejudice. Keira Knightley earned her first Oscar nomination starring as Elizabeth Bennet, the Jane Austen heroine who exchanges wounding judgments and steamy glares with the wealthier but equally stubborn Mr. Darcy (Succession's Matthew Macfadyen).
The Joe Wright-directed film, which also earned Oscar nods for its art direction, costume design and original score, features the most breathtaking walk across a field since Julian Sands made a wordless beeline to Helena Bonham Carter in 1985's A Room With a View; a chemistry that wouldn't come close to being matched until Carey Mulligan handpicked Matthias Schoenaerts to play one of her love interests in 2015's Far From the Madding Crowd; and some of the most defiant dialogue this side of 2019's Little Women.
After you stream Pride & Prejudice again, here are more Austen movie adaptations and Austen-inspired gems for you to watch.
Emma. (2020)
The importance of making a good match is always central in Austen's work, as marriage was the only way for a woman to truly secure her financial safety in the Regency Era. The difference here is that it's willfully independent Emma Woodhouse (Anya Taylor-Joy) who believes she knows what's best for a young lady, her less fortunate friend Harriet Smith (Mia Goth).
Emma encourages Harriet to refuse the tenant farmer she'd like to marry and hold out for the boobyish reverend, Mr. Elton (Josh O'Connor), instead. Meanwhile, Emma sets her own sights on the mysterious Frank Churchill (Callum Turner), much to the growing frustration of her attentive pal Mr. Knightley (Johnny Flynn).
The lush film, written by Eleanor Catton and directed by Autumn de Wilde, lets the magnetic Taylor-Joy's Emma to be more cunning than Gwyneth Paltrow's protagonist in the 1996 version (currently on Paramount Plus) but she's also more committed to righting her wrongs. Flynn's Mr. Knightley feels more approachable; how could he not after we see him bare-bottomed changing clothes in his entrance? And Bill Nighy steals every scene he's in as Emma's droll, emotionally dependent father.
Watch on Peacock
Love & Friendship (2016)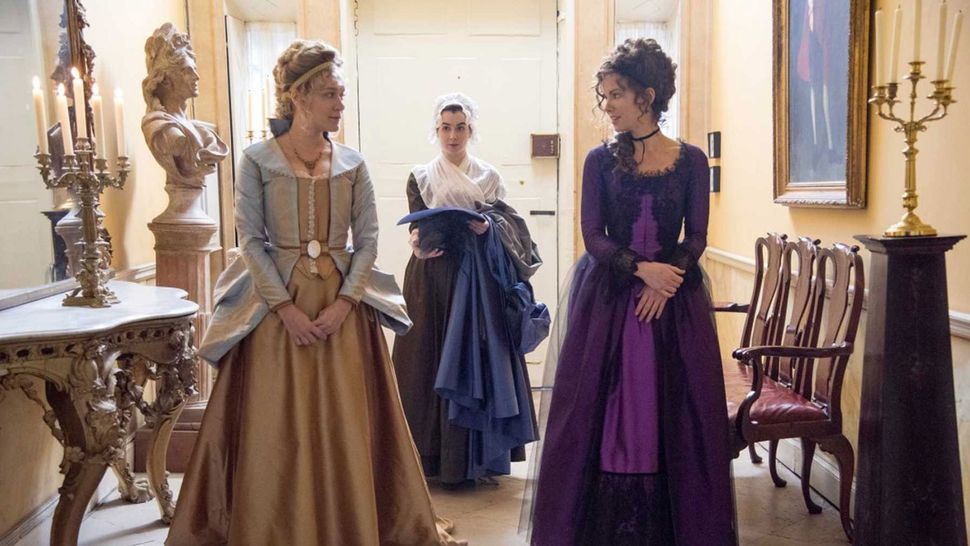 Writer/director Whit Stillman has all kinds of devilish fun with Austen's novella Lady Susan. Kate Beckinsale stars as the unapologetically wily widow Lady Susan Vernon, who is more concerned with having her cake (finding a new wealthy husband) and eating it too (reigniting an affair with a married man) than she is with making sure her daughter, Frederica (Morfydd Clark), is happy with her proposed match, the harmless buffoon Sir James Martin (Tom Bennett).
Beckinsale is absolutely delicious as Lady Susan, who takes refuge at the estate of her late husband's brother. Even though his wife, Catherine (Emma Greenwell), and her brother, Reginald (Xavier Samuel), know Lady Susan's reputation, Reginald still can't resist her. Be prepared for more than one audacious twist. And bonus tip: If you like this kind of wickedness before your happy ending, you'll also enjoy 2022's Mr. Malcolm's List (on Paramount Plus), adapted from Suzanne Allain's novel about a Regency socialite (Zawe Ashton) seeking revenge on a suitor (Sope Dirisu) who found her lacking.
Watch on Prime Video
Sense and Sensibility (1995)
Revered as one of the finest Austen adaptations, this Best Picture nominee directed by Ang Lee stars Emma Thompson and Kate Winslet as the eldest Dashwood sisters, seemingly stoic Elinor and hopeless romantic Marianne. Their lives are uprooted when their father dies and their home is left to their half-brother, John (James Fleet). Elinor develops a close friendship with John's empathetic brother-in-law, Edward Ferrars (Hugh Grant), while Marianne falls for the dashing John Willoughby (Greg Wise). Both men have past entanglements that jeopardize everyone's happiness.
Thompson's Oscar-winning script makes certain we understand that a woman who doesn't express heartbreak through tears can feel it just as deeply. Also clear: audiences will accept a large age difference if the man playing weathered, loyal Colonel Brandon is Alan Rickman.
Persuasion (1995)
While Thompson aged Elinor so she could play her in Sense and Sensibility, Persuasion's Anne Elliot was written as 27 in Austen's novel — the last she completed before her death at 41. Anne (Amanda Root) has lived long enough to regret being persuaded to reject a man she cared for because of his lack of connections, especially now that eight years later, their circumstances have changed: Her family has to rent out their home and Captain Frederick Wentworth (Ciarán Hinds) is a well-compensated hero of the Napoleonic Wars. A zoom-in on Anne's face when she sees him again, with her hand clutching a chair to steady herself, is just the first time we'll feel the weight of her confronting all she's lost.
Netflix's divisive 2022 adaptation starring Dakota Johnson has a more hopeful Anne from the start, but you'll miss the awe in Root's eyes as she realizes she has the chance to bloom again in this version's far more satisfying and swoon-worthy ending.
Mansfield Park (1999)
The reality of displacement is a theme of Fanny Price's story as well. Sent as a child to live with her wealthy aunt and uncle at the titular estate, Fanny (Frances O'Connor) — a more vibrant heroine here than in Austen's novel — develops feelings for her kind cousin Edmund (Jonny Lee Miller). Their unspoken bond is threatened when he finds himself attracted to worldly Mary Crawford (Embeth Davidtz) and Fanny is sent back to her poor family to rethink her refusal of Mary's charismatic brother, Henry (Alessandro Nivola).
Fans of Bridgerton certainly won't blush, but writer/director Patricia Rozema does set pulses racing with Fanny's return carriage ride to Mansfield Park. On the journey, she and Edmund admit they've missed each other and he falls asleep on her heaving bosom. Finally, a reason for a woman to wear a corset!
Watch on Pluto TV
Northanger Abbey (2007)
Felicity Jones is a giddy wonder as teen Catherine Morland, who comes of age in Austen's satire of Gothic novels. Visiting Bath with family friends, Catherine is instantly drawn to the genuinely charming Henry Tilney (JJ Feild). A rival suitor tells Henry's father, General Tilney (Liam Cunningham) that Catherine is wealthier than she is, and he invites her to the family's estate. With her imagination already in overdrive, romanticizing dangers she's only read about, Catherine hopes the abbey is haunted and full of secrets — and convinces herself that the general may have had a hand in the death of his late wife, whose rooms are off-limits.
The film is penned by Andrew Davies, whose extensive credits include the Colin Firth-led Pride and Prejudice miniseries (on BritBox) and PBS's Sanditon series. Also worth noting: Feild also plays the male lead in 2013's Austenland, a clever comedy about a modern Janeite (Keri Russell) who spends her savings on an immersive Austen experience.
Watch on PBS Passport
Miss Austen Regrets (2007)
If you're curious about the real Austen — and why she never married — you'll find this BBC biopic starring Olivia Williams as the author in the final years of her life riveting. As Jane nears 40, her niece Fanny (Imogen Poots) seeks her flirtatious and witty aunt's approval of a promising suitor (Tom Hiddleston!) and to find out if Jane ever had a love of her own.
Writer Gwyneth Hughes poured over Jane's surviving letters to imagine how Jane would look back on her decisions to deny the Rev. Brook Edward Bridges (Hugh Bonneville!), and, most pivotally, wealthy Harris Bigg-Wither. Jane had, in fact, accepted Bigg-Wither's proposal in 1802 before changing her mind the following morning. In the film, ailing Jane's final heart-to-heart with her unmarried sister Cassandra about that choice of freedom over security is an achingly beautiful tearjerker.
Funnily enough, Miss Austen Regrets' Jane only references her interest in Tom Lefroy when she was 20 in passing, suggesting it was both a summer fling that ended when they were reminded that neither of them had money and something that she got over quickly. Yet that imagined romance is the heart of 2007's feature biopic Becoming Jane, starring Anne Hathaway and James McAvoy.
Watch on Britbox (via Prime Video)
More from Tom's Guide