With so many new shows and movies rolling, finding something to watch this weekend is a cinch. Netflix, Peacock, Apple TV Plus and other streaming services have a wide selection of new releases for your viewing pleasure.
The weekend slate is led by Shrinking, created by Ted Lasso's Bill Lawrence and Brett Goldstein. Its cast features Jason Segel, Harrison Ford and Jessica Williams. The other big new show is Poker Face, the "howcatchem" murder-mystery series from Knives Out and Glass Onion mastermind Rian Johnson that stars Natasha Lyonne.
On the movies' front, love is in the air. Jennifer Lopez debuts her latest romantic comedy, Shotgun Wedding, while Black-ish creator Kenya Barris pairs Jonah Hill and Lauren London in a mixed race/religion relationship.
Here's our guide on what to watch this weekend — and if you finish this list, check out our guide to the 9 best Oscar movies to stream with 90% or higher on Rotten Tomatoes.
Poker Face (Peacock)
With Russian Doll season 3 up in the air, Natasha Lyonne is moving on to a new mystery series. Instead of getting stuck in time loops and grappling with family trauma, she's investigating an oddball case of the week. Lyonne partners with creator Rian Johnson, whose two Knives Out movies clearly indicate his love of the mystery genre. He takes a page from Columbo and other classic procedurals, but adds his own verve and cinematic flair.
Charlie has an extraordinary ability to determine when someone is lying. After hitting the road in her Plymouth Barracuda, every stop brings an encounter with colorful characters involved in strange crimes that she can't help but solve. What a concept!
Streaming now on Peacock (opens in new tab)
Shrinking (Apple TV Plus)
While Ted Lasso season 3 has been percolating for 500 years, the show's co-creator Bill Lawrence and star/writer Brett Goldstein teamed up for a side project with Jason Segel to make this new comedy. If it's Ted Lasso-adjacent, we'll take it. Plus, Harrison Ford brings his famously dry humor to the project, only his second television show ever (after 1923).
Segel plays a grieving therapist who starts breaking the rules and telling his clients exactly what he thinks. By ignoring his training and ethics, and against the advice of his mentor (Ford), he finds himself affecting their lives in significant, tumultuous ways. And he sees his own become quite a rollercoaster.
Streaming now on Apple TV Plus (opens in new tab)
Shotgun Wedding (Prime Video)
Just a couple weeks ahead of Valentine's Day, Jennifer Lopez adds another romantic comedy to her résumé. This time, she pairs with Josh Duhamel, with a stacked supporting cast featuring the likes of Jennifer Coolidge, Cheech Marin and Lenny Kravitz.
Darcy and Tom are gathering their loud, lovable and highly opinionated families for the ultimate destination wedding — but both are experiencing cold feet. The proceedings get even more complicated when the entire party is taken hostage. In this case, the bride and groom are literally shackled. The question is, will they say "I do" if they can get free?
Streaming now on Prime Video (opens in new tab)
You People (Netflix)
Black-ish creator Kenya Barris makes his feature directorial debut with this modern romantic comedy co-written with star Jonah Hill. The love story at the heart of it features clashing cultures, faiths and generational differences, much like you'd expect from a Barris joint.
Ezra Cohen (Hill) has a meet-cute with Amira Mohammed (Lauren London) when he mistakenly thinks her car is a rideshare. They start dating and when things get serious, their families get involved: his progressive Jewish parents (Julia Louis-Dreyfus and David Duchovny) and her more conservative Muslim parents (Eddie Murphy and Nia Long). For all their differences, both sets tend to interfere with their children's lives.
Streaming now on Netflix (opens in new tab)
Teen Wolf: The Movie (Paramount Plus)
MTV's popular supernatural series Teen Wolf ended its run in 2017, after making stars out of its young cast members. Paramount Plus is bringing many of them back for a revival movie, which sees a new threat rising in Beacon Hills.
Werewolf Scott McCall (Tyler Posey) is no longer a teen but still an Alpha. When a terrifying evil emerges in town, he puts out a call for the return of Banshees, Werecoyotes, Hellhounds, Kitsunes, and every other shapeshifter in the night. The group of trusted friends and new allies must dig deep to fight the most powerful enemy they've ever faced.
Streaming now on Paramount Plus (opens in new tab)
Wolf Pack (Paramount Plus)
Sarah Michelle Gellar knows how to contend with supernatural happenings, so she's in familiar territory with this YA series about werewolves. Teens Everett (Armani Jackson) and Blake (Bella Shepard) meet just before their school bus is attacked and they are bitten by some creature.
As the full moon rises, they begin to exhibit special abilities and form a bond with siblings Harlan (Tyler Lawrence Grey) and Luna (Chloe Rose Robinson). Turns out, they are all werewolves. Their mutual secret is threatened to be exposed when an arson investigator (Gellar) begins asking questions about the wildfire that triggered the attack.
Streaming now on Paramount Plus (opens in new tab)
How I Met Your Father season 2 (Hulu)
The spinoff/sequel series to the now-classic How I Met Your Mother returns with Sophie (Hilary Duff) continuing to look for The One. As established, she has already met him, but he might be pal Jesse (Chris Lowell) or Tinder date Ian (Daniel Augustin) or any other guy who appeared in the first episode.
In season 2, Sophie goes on more dates, including with an older man (John Corbett). Meanwhile, Valentina (Francia Raisa) and Charlie (Tom Ainsley) have split, Sid (Suraj Sharma) eloped and Ellen (Tien Tran) lands a job. And after Cobie Smulders made a cameo last year, Neil Patrick Harris suits up as Barney once again.
Streaming now on Hulu (opens in new tab)
What else to watch this weekend
The 1619 Project (Hulu)
A docuseries based on the New York Times historical initiative.
Streaming now on Hulu (opens in new tab)
Tár (Peacock)
An acclaimed composer/conductor (Cate Blanchett) experiences a downfall.
Streaming now on Peacock (opens in new tab)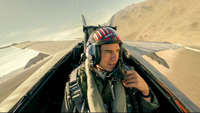 (opens in new tab)