There's nothing like feeling great on a run, only for your Garmin watch to tell you your training was 'Unproductive'.
Training Status is a feature included in most of the best Garmin Watches on the market, but the key to using this metric is understanding exactly what it's telling you.
You'll find the Training Status feature on a lot of Garmin Watches designed for runners and cyclists, including the Forerunner 255 and Forerunner 265, the Forerunner 955 and Forerunner 965, Fenix 7, Epix 2, and the Enduro series. The feature shows you how much your current training load is affecting your overall fitness level — it does this by looking at information from your VO2 max estimations, and your training load, to provide you with feedback on how effectively you're training.
VO2 max is the maximum rate of oxygen your body is able to use during exercise — a higher VO2 max usually means you have better aerobic fitness. The VO2 max reading on your Garmin Watch looks at your heart rate and your recent pace to see if you're getting fitter. It also accounts for things like altitude and heat, which could affect your heart rate, but not be a true indicator of your fitness.
Your training load looks at your excess post-exercise oxygen consumption (EPOC) — in other words, the increased rate of oxygen consumption following exercise. When you exercise, your body continues to use oxygen at a higher rate once you have stopped exercising. The oxygen your body uses is directly related to the amount of energy it uses, so Garmin uses your EPOC measurement over seven days to see how your body is coping.
Ready to take a deep dive into what your Training Status might mean? Read on to find out more.
We've also looked at how to use the Body Battery function on your Garmin Watch, as well as 15 things you didn't know you could do on Garmin Connect.
How do you see your Training Status?
In order for your watch to display your Training Status, you'll need one to two weeks of activities to establish your VO2 max. This means if you've just bought a Garmin watch, and you've never used Garmin before, your Training Status might show up as 'No Status' until the watch has a couple of weeks of training history.
It's worth noting that indoor runs and trail run activities will not count towards your VO2 max, so you'll need to wear your watch for outdoor runs or rides in order for the watch to estimate your VO2 max.
You can see your Training Status by scrolling down from the home screen on your Garmin watch, as well as in the Garmin Connect app. Depending on your device, you should be able to see further information about your Training Status displayed in text form, or represented by arrows, when you click on the widget.
What does your Training Status mean?
As we mentioned above, Training Status looks at your VO2 max and your training load to establish how well your body is coping with your training. If you appear to be getting fitter at the same time as you increase your training load, Garmin displays this as 'Productive'.
If your training load is increasing, but your fitness is going down (like mine was in the first few weeks of marathon training), Garmin calls this 'Unproductive'. This is a sign you might need to take a couple of extra rest days to help your body recover and adapt to the load.
Here are all of the different statuses you might get, and what Garmin says they mean:
Peaking: Peaking means that you are in ideal race condition. Your recently reduced training load is allowing your body to recover and fully compensate for earlier training. You should plan ahead, since this peak state can only be maintained for a short time.
Productive: Your current training load is moving your fitness level and performance in the right direction. You should plan recovery periods into your training to maintain your fitness level.
Maintaining: Your current training load is enough to maintain your fitness level. To see improvement, try adding more variety to your workouts or increasing your training volume.
Recovery: Your lighter training load is allowing your body to recover, which is essential during extended periods of hard training. You can return to a higher training load when you feel ready.
Unproductive: Your training load is at a good level, but your fitness is decreasing. Your body may be struggling to recover, so you should pay attention to your overall health including stress, nutrition, and rest.
Detraining: Detraining occurs when you are training much less than usual for a week or more, and it is affecting your fitness level. You can try increasing your training load to see improvement.
Overreaching: Your training load is very high and counterproductive. Your body needs a rest. You should give yourself time to recover by adding lighter training to your schedule.
No Status: The device needs one or two weeks of training history, including activities with VO2 max. results from running or cycling, to determine your training status.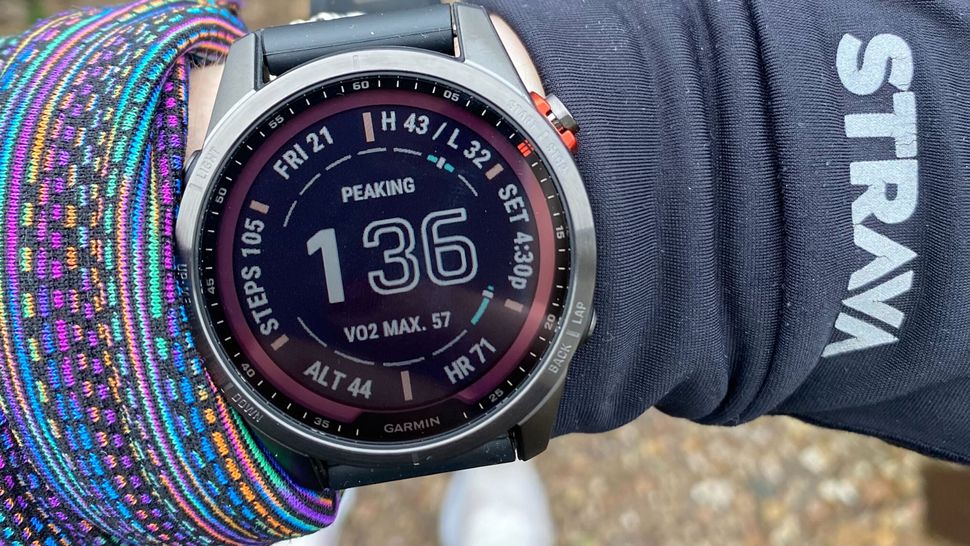 How to use your Training Status data
If all this information feels a little overwhelming, remember that (like a lot of the advanced training metrics on your Garmin Watch) you don't have to focus on your Training Status after every single run.
Technology shouldn't outweigh how you feel, and if you finish a hard session feeling great, don't let your watch tell you otherwise. Remember that getting to the start line feeling positive and injury free about your training is far more important than metrics on your running watch.
In the past, I have used my Training Status tool as a gauge of how well my body is coping with a training plan, and whether I need to skip my cycling commute or HIIT class and have an extra rest day.
More from Tom's Guide