With summer officially over, it's time to get our homes ready for fall. And while this season brings cooler temperatures, there are plenty of fall decor ideas to create a cozy space, and get you into the festive spirit.
From autumn-inspired colors and rustic settings to pumpkin projects, you can spruce up your home to instantly add warmth for those chilly evenings. So, if you want to create festive feels, check out these 9 best fall decor ideas for a cozy home.
1. Warm up your color scheme
As the weather gets cooler, earthy tones such as brown, beige, reds, and burnt orange can add much warmth and coziness. You can add accents of these tones around the home in the form of plush cushions, rugs and soft cozy throws on chairs. Decorate with autumn-inspired candle holders, pumpkin decor or picture frames to give it that rustic feel.
In addition, it's the perfect time to change up your bedding to suit the season. Swap out your summer, lightweight linens with plush flannel sheets and the best comforters to keep you toasty. You can also use autumn colors for bedding, or even exchange your regular towels and hand towels in seasonal tones of oranges or deep red. These warm details can be a nice touch, especially if you want to impress guests.
2. Fall stems/dried leaves in a vase
Fallen leaves are often symbolic of the season, so why not bring the outside in? Artificial maple leaves or other fall stems in a glass vase can add color and warmth around the home. You can also add fall, pampas grass stems to make it feel more festive.
What's more, go outside and collect any dried, fallen leaves in your backyard to display in bowls or vases. One good tip to preserve leaves is to submerge them in one part glycerin to two parts water. Ideally, leave them to soak for up to three days before hanging them up to dry completely.
Alternatively, check out these 5 ways to use fallen leaves in your garden.
3. Fall-inspired dinner setting
Whether you're enjoying family feasts or hosting a large gathering, dress your table with an autumn-inspired makeover. This can be as easy as having a centrepiece bowl with handpainted (or real!) mini pumpkins, or foliage/dried leaves scattered around the table.
In addition, you can cover your table with a warm and vibrant tablecloth or runner, or even add removable chair covers. And don't forget the tableware! Opt for vintage-style glasses or barista coffee cups in amber or smoked glass, for those delicious, pumpkin spiced lattes. Just be sure not to make any of these coffee brewing mistakes!
4. Autumn wreath
Wreaths are not just for the festive season, and there are autumn wreaths too. You can decorate it with pumpkins, corn husks, pinecones, flowers, berries, or fallen leaves, before hanging up on your front door or on your wall.
And if you didn't fancy making one from scratch, there are plenty of different types and sizes to choose from. Autumn wreaths such as this AMF0RESJ Artificial Fall Wreath ($33, Amazon), are a great way to bring the season into your space. If you want to go one step further, you can also wrap solar string lights around your wreath to add more warmth.
5. Warm lighting/lanterns
Another great way to make your home cozier in the fall is autumn-inspired lighting, such as these fun BOHON Pumpkin String Lights ($12, Amazon), or this Realistic Larger Maple Leaf String Light ($16, Amazon).
Not only will these illuminate and glow-up your home, but will create a warm, seasonal atmosphere. As well as outdoors, you can use string lights to decorate the mantel, stair bannisters and fireplace. In addition, you can place lanterns indoors and outdoors to create a warm, autumnal glow.
Just ensure you read the safety instructions carefully before using indoors or outdoors.
6. Spiced candles
Fill your home with seasonal scents by decorating with fall candles. Ranging from pumpkin spice, cinnamon apple and spiced vanilla to salted caramel, these aromas will make your home smell sweet, and feel cozy.
In addition, you can place inside lanterns to give your porch or backyard a warm glow. Alternatively, you can use LED candles if you have small children or pets running around.
7. Pastel pumpkins
If you want to spruce up your home or porch, you can decorate with pastel pumpkins. These are available from most stores, come in varying sizes/colors and are super versatile to decorate your home with.
Display in a bowl with other autumnal greenery to make a stunning centrepiece. Place these around the mantel, fireplace, shelves or on entryway tables. Or simply line them outside on the front porch or staircase. This chic decor feature will make a great first impression for guests.
8. Decorate with pine cones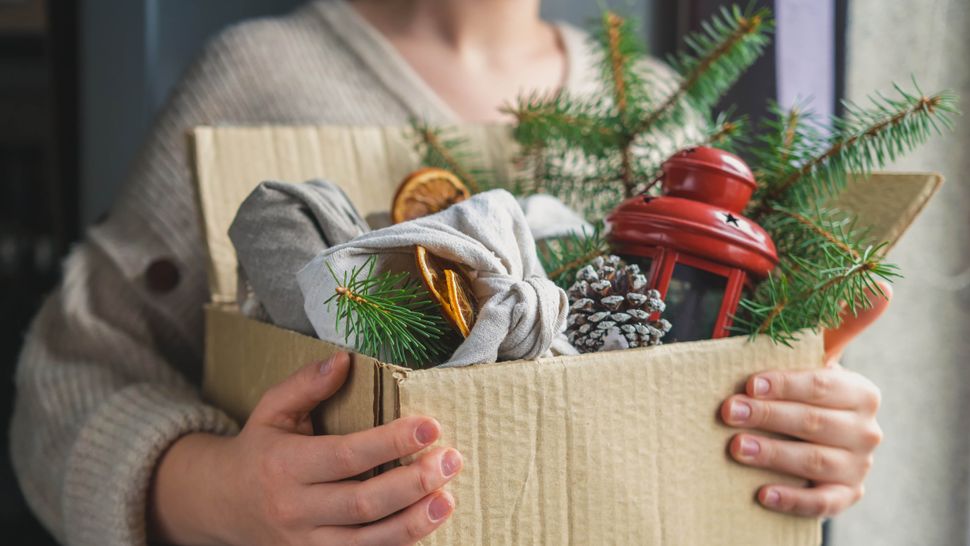 Pine cones can be used for fall and Christmas, adding a warm, cozy feel to your home. You can either wire them into a wreath with greenery, or arrange them in a bowl or glass vase to create a festive centrepiece.
The best way to prepare fresh pine cones for decorating is to soak them in water and vinegar before baking in the oven for a few hours. This will ensure they're thoroughly clean, and prepped for your crafting projects.
9. Fall doormats
Welcome your guests with an autumn-inspired doormat. Swap out your regular mat with a pumpkin or plaid mat for the festive season. There are plenty of fall mats to choose from like this Briarwood Lane Happy Fall Y'all Pumpkins Primitive Doormat ($23, Amazon), or this MUBIN Cotton Buffalo Plaid Rug ($15, Amazon), to add character to your home.
Plus, the warm tones of oranges, beige and browns will instantly add a seasonal, festive feel.
More from Tom's Guide