As the temperatures start to drop, fall is the ideal season to prepare your plants for winter.
Frosty conditions, wind, rain and harsh weather can all cause soil erosion, which can affect your plant and vegetable gardens. And if you don't have certain plants to prevent soil erosion, you'll need to give your plants some extra care ahead of winter.
Coupled with these tips to prepare your lawn for winter, these simple tasks will help to protect your beautiful blooms from damage, ensure healthy plants, and a better chance at survival during the colder months.
Bear in mind, there are certain hardy varieties that can cope with winter temperatures, so do check whether your plants are suited to your USDA Hardiness zone. In the meantime, if you want to protect your favorite blooms so they thrive all year round, follow these simple tips to prepare your plants for winter.
1. Uproot tender summer bulbs
Although nobody really wants to pull up their bulbs at the end of the season, these are best uprooted to ensure you have beautiful blooms in spring.
Tender bulbs including dahlias, calla lillies and begonias are sensitive to frost and freezing temperatures. So it's best to dig up the bulbs from the ground before the first long-lasting frost occurs.
Once bulbs are dug up from the ground, gently brush off any excess dirt before storing them in a suitable box until spring. Avoid washing with water, as this can cause it to rot during storing. Summer bulbs can be stored in a dry location such as in a closet or basement. Avoid places such as garden sheds and garages, especially in freezing temperatures.
2. Add mulch around plants
Covering your garden beds with a layer of mulch is a great way to protect your plants during winter. Adding a few inches of organic material like mulch or wood chippings around plants can serve several purposes.
Firstly, it can retain moisture in the ground, keep the frost from damaging your precious plants as well as provide valuable nutrients. The benefits will vary depending on the type of mulch you're using. Typically, there are two predominant types of mulch you can use, each with its own benefits and purposes: Organic and synthetic.
Also, it's worthwhile knowing when you should replace mulch — and why it's essential.
3. Get rid of weeds
Another part of plant care is to get rid of weeds — especially if left to grow in the winter. Weeds are every gardener's nightmare, and if you don't tackle them ahead of winter, they will grow bigger and wild in the spring.
Ensure you use one a pair of the best gardening gloves when pulling out weeds. There are plenty of commercial weed-killers available, but if you don't want to use toxic chemicals, there are several ways to kill weeds naturally. Plus, you'll need to know how to prevent weeds from invading your yard, once you've taken the time to remove them.
In addition, mulch is also a great way to suppress the growth of weeds, or you can invest in protective weed mats like this Happybuy 3FTx50FT 5OZ Garden Weed Barrier, ($26, Amazon), to protect your garden and flower beds.
Although weeds can generally be composted, avoid these 3 weeds you should never compost.
Just beware of invasive plants and weeds such as Japanese Knotweed and other backyard plants that could damage your yard, and would need to be removed by professionals.
4. Pull up diseased plants and rake lawn debris
While you're removing unsightly weeds, now is a good time to pull up any diseased or dying plants. The last thing you need is for pests or diseases to infect your garden beds or containers during winter. Remove any diseased leaves that easily come away from plants and vines.
In addition, make sure you rake leaves, branches, foliage and other debris around your backyard and even driveway. A thick layer of fallen leaves can suffocate the soil, depriving it of sunlight and other nutrients for your plants. What's more, the damp conditions provide the perfect breeding ground for lawn diseases and pests.
And if your yard is covered in leaves, check out these 7 ways to use fallen leaves in your garden — just avoid these composting mistakes.
5. Prune perennials
Fall is the best time to cut back perennials and old foliage, especially when the first light frosts begin to hit plants in mid to late fall, and the foliage dies away.
Using one of the best pruning shears, cut stems close to the 'crown' or dormant base of the plant, leaving them 4 to 6 inches tall ideally.
Cutting back perennials also aids in plant growth and keeps them blooming the following year. It also keeps diseases and pest issues at bay. Just be sure not to cut back too early, as its energy stores won't get to the roots. Instead, wait until the plant is dead before cutting it back.
Plus, avoid these 7 pruning mistakes you never knew you were making.
6. Protect your plants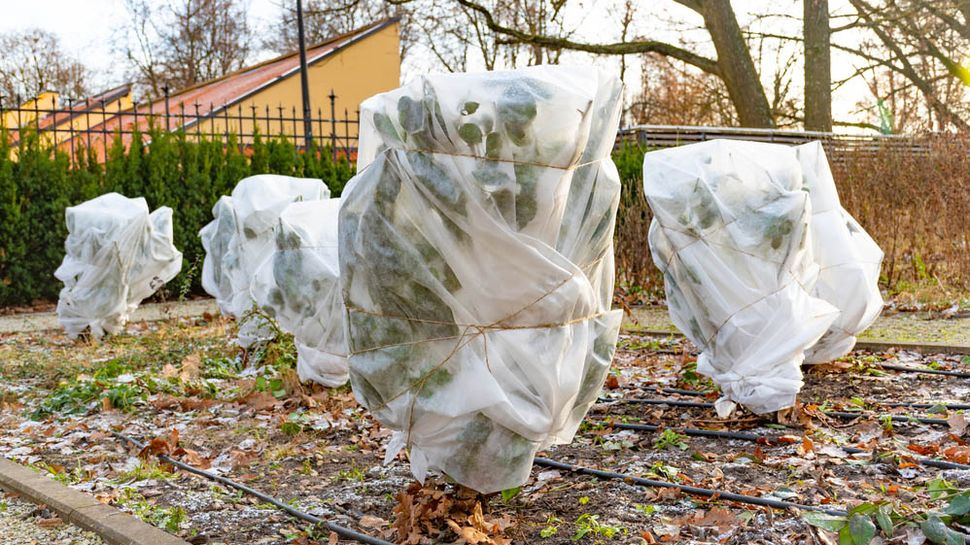 The bitter frost can damage plants, and so these need to be kept warm during winter. Wrap delicate plants with a cover or protective insulation such as horticultural fleece, to protect them once the temperatures plummet at night.
Frost blankets or fleece like these Plant Covers Freeze Protection ($21, Amazon), will give them a better chance of surviving the winter. In addition if you're worried about the weight of such covers on your delicate plants, use stakes to give them extra support.
"If you're growing root vegetables, cover them with a straw blanket to safeguard them from the ground around them freezing," says Chris Bonnett, gardening expert and founder of Gardening Express. "By taking these preventative measures now, you can look forward to your garden emerging beautifully from its winter hibernation come spring."
Then once the temperatures resume to normal, you can remove the cover immediately to allow proper light and air circulation.
7. Bring container plants indoors
Alternatively, if you're growing plants or herbs in containers, bring pots inside before the cold frost or severe weather causes damage to plants.
According to experts, the best time to bring plants inside is when the nighttime temperatures start to drop below 55 to 60 degrees F. While there isn't a specific day, it's usually around early autumn, or until after the last frost. Of course, this will depend on your location and seasonal changes.
Before bringing containers inside, make sure you debug your plants first. Check the soil for disease and for bugs such as mealybugs or spider mites that might infect other, surrounding houseplants. Experts recommend soaking the pots in lukewarm water for about 15 minutes to get rid of any bugs before thoroughly rinsing plants to remove dust, debris as well as any hidden pests.
"To ensure the more tender plants' survival, it's best to move them to a warmer spot, like a sheltered area in the garden or the greenhouse," agrees Bonnett.
In addition, it's best to repot plants if they do have bugs, or if your plants have outgrown the original containers, before watering. Just avoid these 9 mistakes you make when repotting a plant.
More from Tom's Guide