Heated clothing is essential for surviving cold winters. I've tried heated gloves, heated socks, heated coats and even other heated vests before to stay warm. But none of these options use intuitive AI technology like Carhartt's new smart heated vest.
Priced at $219, the Carhartt X-1 Smart Heated Vest is definitely a splurge. That said, it's packed with proactive features that help manage temperature changes throughout the day, whether it's for a job, outdoor exercise or a busy schedule during cold weather. The X-1 takes the manual effort out of adjusting heated clothing according to your environment with automatic controls for keeping the wearer's body at comfortable temperature.
The X-1's smart features are powered by Clim8's intelligent thermoregulation technology. In the companion Clim8 app, not only could I control the vest's three heating elements based on my personal preference, but I could put it into AI autopilot by telling the app my current activity.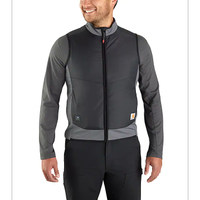 Carhartt X-1 Smart Heated Vest: $219 @ Carhartt
Carhartt's new heated vest uses AI technology to adapt the temperature automatically based on activity and environmental changes. It comes in one color in sizes S-2XL.
New York City's recent cold front let me gauge how well the X-1 actually adjusts. Even though the wind chill was below freezing, my dog still needed to be walked. I zipped the vest over a thin Lululemon long sleeve top, powered it on, and layered it under a sweatshirt and winter coat.
Clim8 combined the vest's temperature, my environment, and additional layers to make temperature adjustments in real-time. Waiting for my apartment building's service elevator can often take several minutes, so the vest didn't get uncomfortably warm before I made it outside. When I did hit the bitter-cold air, I felt my torso warm up rather quickly. Toward the end of the walk, it felt perhaps a little too warm under my layers, but I prefer extra heat to frostbite.
Walking my dog takes 30 minutes on average. In the middle of my fifth walk with the X-1, I noticed that I didn't feel continuous heat coming from under my coat. I pulled my iPhone 14 Pro Max out of my pocket and saw the vest was no longer connected — the battery had died.
Luckily, without the heating function and smart features, it's still a plushy polyester vest that's comfortable to layer. But as for what you can expect from battery life, there's not a true estimate, as longevity depends on how much energy the vest is using to stay hot.
Is the Carhartt X-1 Smart Heated Vest worth it?
Compared to the popular Omoro heated vest I've tried, Carhartt's X-1 is certainly more techy and has the brand-feel that I (and many other Carhartt fans) love. If you ask me, the vest's high-quality construction alone helps justify the price. That said, the Omoro vest costs $169 at full retail and promises 10 hours of battery life. It's a long-lasting alternative that costs a good chunk less.
As for the AI heating features, I don't know how many people will actually opt for auto-adjustments using the app versus turning the vest on and off using the physical button on the outer right pocket of the vest.
If you're on-the-go outside, you might want to eliminate your smartphone as an interface for staying warm. But if maintaining a comfortable temperature throughout your activities is important to you, Carhartt's smart heated vest might be the best solution yet for adapting to the cold weather.