It's a-me, the specter of disappointment! That's because the reviews for the Super Mario Bros Movie are pretty bad with Rotten Tomatoes giving it a paltry score of 54%; it's a lower 48% when the Top Critics filter is applied.
Maybe you'll be completely unsurprised by this, given all the discourse around Chris Pine being the voice of Mario and how the last Mario movie — a live-action flick starring Bob Hoskins of all people — got a laughably bad 29% RT score. But then as the new Mario movie drew closer, it was looking like it could actually be better than expected.
But under the harsh glare of the critics, the Super Mario Bros Movie is a bit of a stinker; especially when one compares it to HBO's critically-acclaimed The Last of Us, as an example of how to handle a videogame adaptation. So if you're keen to wash away the bad taste of the Mario movie, or fancy playing some great Mario games before you see the movie yourself and cast your own judgment, then check out these excellent must-play Mario games.
1. Super Mario Odyssey
Pretty much an essential Nintendo Switch game, Mario Odyssey felt like a breath of fresh air for the mustachioed plumber. While familiar Mario tropes were present, from goombas to Bowser, the addition of Cappy injected a new mechanic into the game. With a living cap, Mario can throw it at various objects or enemies to possess them. This low-grade body horror in technicolor form is actually a lot of fun, and is the key to solving all manner of puzzles.
With a huge amount of 'Power Moons' to collect and a load of areas to explore, Mario Odyssey is easily a game you can plow hours upon hours into and not feel fatigued. The action, design and soundtrack all make it into a game that's basically pure joy from start to finish. — Roland Moore-Colyer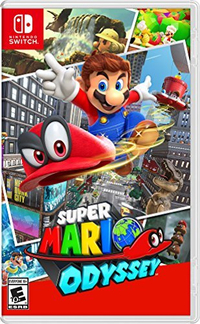 Mario Odyssey: was $59 now $50 @ Best Buy
Embark on a globe-trotting adventure with Mario and his new pal Cappy. Explore new worlds and collect Moons to power up your airship. You'll also need to master a whole new set of platforming moves and unlock dozens of outfits to dress up Mario for his surrounding. Released in 2017, Mario Odyssey remains one of the best Nintendo Switch games ever made.
2. Super Mario 64
More than two decades after its initial release, this masterful platformer remains perhaps the most influential 3D game of all time. Released the same year as the iconic Tomb Raider, Super Mario 64 pushed the boundaries of what was possible in 3D environments. While getting Lara to shimmy over small rocks felt like trying to parallel park in an 18-wheeler, Mario could joyfully bust out triple jumps, butt stomps and outrageous leaps without breaking a sweat.
Is it a little tricky to play Super Mario 64 in 2023? Annoyingly, yes. Your best bet is to sign up for an annual Nintendo Switch Online + Expansion Pack subscription ($49.99/£34.99). Though emulation is merely okay, there's still so much to love here. Race a giant penguin down an ice slide on Cool, Cool Mountain! Catch a ride on a plesiosaur in Hazy Maze Cave! Go for an Aladdin-shaming carpet flight on Rainbow Ride! All these years on, this remains a joyous celebration of 3D movement. — Dave Meikleham
3. Super Mario 3D World
As the sequel to Super Mario 3D Land, which Shigeru Miyamoto himself described as a "3D Mario that plays as a 2D Mario Game," Super Mario 3D World expands on this formula with larger levels and new power ups. However, it also adds four-player multiplayer where you can play as Luigi, Princess Peach or Toad in addition to Mario and each character controls differently with their own unique abilities. Even if you're playing by yourself though, finding all of the three Green Stars in each level will keep you coming back for more.
Although Super Mario 3D World initially launched on the Wii U, the game finally came to the Nintendo Switch in 2021. Besides a new online multiplayer option and four-player co-op for the Captain Toad levels, it also includes a brand new campaign called Bowser's Fury.
Unlike Super Mario 3D World's main campaign though, Bowser's Fury is set in an open world full of various islands you explore at your own pace. Don't take too long though as the gargantuan Fury Bowser will appear and begin launching massive fire attacks. Both the original Super Mario 3D World and the Bowser's Fury expansion are well worth a playthrough, especially if you haven't tried this style of Mario game before. — Anthony Spadafora
4. Luigi's Mansion 3
Mario often takes center stage but the cult favorite Luigi's Mansion franchise shines the spotlight — or should that be flashlight — on his brother instead. This second sequel to the GameCube original sees Luigi and pals visit a swanky high-rise hotel for a much-deserved vacation. But once they arrive, Mario, Peach and Toad are quickly kidnapped by King Boo, and it's up to a very frightened Luigi to recuse them.
Luigi's Mansion 3 sees you exploring various themed hotel floors as you search for your missing friends. But each new floor is stuffed with an assortment of paranormal threats including some spooky boss ghosts. Fortunately, Luigi has his trusty Poltergust G-00 vacuum at hand which can suck up ghosts, as well as all manner of treasure. And the cowardly Mario brother also receives help from Gooigi, a slimy doppelgänger sidekick who assists in solving a variety of satisfying puzzles. If you want a Mario game without the titular plumber taking center stage, then this is the one check out — Rory Mellon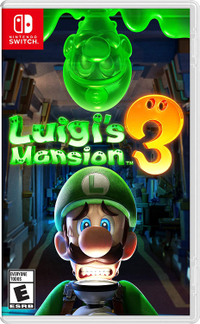 Luigi's Mansion 3: was $59 now $49 @ Amazon
Mario's brother takes the spotlight in Luigi's Mansion 3. The game sees you explore a haunted hotel, as you seek to rescue Mario, Peach and Toad who have been captured by King Boo. You'll need to make use of your trusty Poltergust vacuum and slimy doppelgänger Gooigi in order to solve the hotel's many puzzles and discover its abundance of secrets.
5. Mario Golf Super Rush
Mario Golf Super Rush is a zany take on a traditionally sedate sport that sees the citizens of the Mushroom Kingdom tee off on a variety of colorful courses and includes all the Mario Golf madness you'd expect.
The big new addition in this latest entry in the long-running franchise is Speed Golf. In this novel mode, it's not just about hitting the ball into the hole, you've also got to run to find your ball in between strokes. Of course, you can use power-ups to slow down your rivals along the way.
Our biggest complaint about Mario Golf Super Rush at release in mid-2021 was a lack of content, but Nintendo has done much to remedy this issue in the months after launch by offering up a suite of free DLC via post-launch patches. So pick up your virtual club and get thwacking at balls in what's shaping up to me a modern-classic Mario game. — Rory Mellon
6. Mario Tennis Aces
Sure, Mario is great at platforming, but he also regularly serves up excellent sporting titles. And for me, Tennis Aces is the pick of the bunch. What sets this game apart from previous Mario Tennis outings is the story mode. With boss fights and a world map resembling a more traditional Mario game, this is Mario World with racquets. This game also features more Mario characters than you can care to remember.
As a tennis sim, Tennis Aces straddles the line between arcade and realism. Mario and his pals mix back-and-forth rallies utilizing drop shots, lobs topspin, smashes and slice with more eccentric special shots that can break your opponent's racquet completely and leave you victorious. If you're tired of traditional sports games, then Mario Tennis Aces is definitely worth a spin. — Andy Sansom
More from Tom's Guide