You might not expect a killer Prime Day sale on graphics cards, but we've discovered one. This best-in-class Nvidia GPU almost never dips below $1,000, and makes the perfect centerpiece for any gaming PC build. In fact, with this deal, you could theoretically buy all the other components you need and still get a top-of-the-line gaming rig for less than $2,000.
For a limited time, Amazon has the Zotac GeForce RTX 3090 Ti for $999 on Amazon. That's $900 off and it's best price to date. Tom's Guide researched the price history of the Nvidia GeForce RTX 3090 Ti, and the device has hit $999 exactly once before, back in September. As far as we were able to tell, it has never gone below that, making this the lowest price ever on a superlative GPU.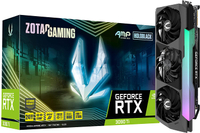 Zotac GeForce RTX 3090 Ti: $1,899 $999 @ Amazon
The Zotac GeForce RTX 3090 Ti is Zotac's take on the best-in-class Nvidia GeForce 3090 Ti graphics card. This device can run the latest and greatest games at UHD resolutions and high frame rates. Alternatively, you could use it for demanding productivity work, ranging from graphic design to animation. While it's no longer the absolute newest card on the market, it's still one of the most powerful components you can buy.
Now that the Nvidia GeForce RTX 40-series is launching, the 3090 Ti will technically be last-gen hardware pretty soon. But it's still one of the most powerful components on the market, and it should run the latest games at demanding settings for years to come.
There's only one major caveat about this device, and that's the manufacturer. While the GPU uses Nvidia technology, this particular 3090 Ti model comes from Zotac rather than Nvidia. Zotac has a bit of a mixed reputation among hardcore PC gamers, as the build quality tends to be variable. If you get a good card, you'll be set for years; if you get a lemon, you might have to go through an arduous exchange process. Tom's Guide hasn't tested this brand of 3090 Ti directly, so we can't comment on its reliability.
Still, finding a 3090 Ti for less than $1,000 may be too good to pass up. Nvidia CEO Jensen Huang recently claimed that GPU prices are probably about to spike again, and we don't imagine that the Nvidia GeForce RTX 4080 or 4090 will come cheap. When building or upgrading a PC, you'll always have to choose between price and power, but this deal is perhaps the best balance of the two you're likely to find for a while.