LIVE: Best Prime Day TV deals — $1,000 off OLED TV and sales you can still get
We're tracking the best Early Access Prime Day TV deals still available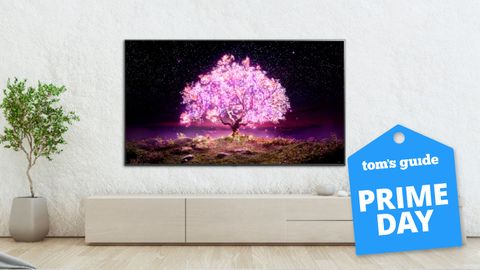 (Image: © LG)
Amazon's October Prime Day deals event has ended, but that doesn't mean that the best TV deals have completely dried up.
Until Amazon decides to change the price on it, there's still a 65-inch LG C1 OLED that's $1,000 off its regular price and a number of great QLED TV deals on Samsung and Hisense TVs that are still up for grabs.
The bad news? Unfortunately the deal on the $109 55-inch Amazon Omni TV is long gone, but hopefully it's going to re-emerge on or before Black Friday in November.
I'm Nick Pino, Tom's Guide's Managing Editor of Entertainment, and thanks to a decade of experience covering TVs I can help you sort which deals are worth buying and which ones are worth skipping.
Prime Early Access TV deals — Quick links
Prime Early Access TV deals — Best deals right now
Refresh
This is the Early Access deal everyone will be looking for today – it's a 55-inch 4K Fire TV for just $112. It's a door-buster and it's going to be gone in a few seconds.
The deal hasn't gone live yet, but keep checking throughout the day.
Why is the TV so hot? Well, not only is the price incredible, but it's got built-in Fire TV and Alexa support, and it's got decent specs. With solid HDR support, you'll be able to stream shows like House of the Dragon and Lord of the Rings at their highest quality, and you won't break the bank at just $112.
Amazon Omni Series 55" 4K TV: $559 $112 @ Amazon
Looking to grab a fairly cheap 4K TV today? Amazon's 4-Series TVs are starting at $299. For a sub-$300 TV, this is a better deal than the Insignia models you're likely to see around the same price as it offers better specs and better performance.
Like the Omni Series mentioned earlier, the 4-Series comes with built-in Fire TV and Alexa, and at 43 inches it shouldn't take up too much space on your entertainment center.
Amazon 43" 4-Series Fire TV: $369 $299 @ Amazon
For OLED-lovers, the LG C1 OLED is an incredible TV – and at $1,000 off its regular price, it's one of the best Early Access TV deals happening today.
Why this OLED? The C1 is the epitome of a price-to-performance TV. It has a 120Hz refresh rate with several HDMI 2.1 ports to connect your consoles. It's got an amazing processor to upscale HD video to 4K. It has a great smart platform, excellent smart home compatibility with both Alexa and Google Assistant and, of course, unbeatable contrast.
It's the TV everyone wanted last year, and now it's one sale at a $1,000 discount.
LG 65" C1 OLED 4K TV: was $2,499 now $1,499 @ Amazon
Looking for something bigger than 65 inches? Sony's selling its 77-inch Sony A80J OLED for $1,999 after a HUGE $1,500 discount (regularly $3,499).
It's obviously larger than the 65-inch C1 OLED, but we also like the Sony because it uses the Cognitive Processor XR that enhances the sharpness of textures and delivers a higher peak brightness than most other OLEDs.
It's a great pick for gamers and sports lovers, too. With a 120Hz native refresh rate, it's perfect for PS5 and Xbox Series X consoles and can display 4K/120fps as specified in HDMI 2.1 with input lag as low as 8.5ms. Lastly, it packs in Google TV.
It's pricier than some other picks we've mentioned, but you won't find another 77-inch TV today that offers this level of performance for less.
Sony 77" A80J OLED TV: $3,499 $1,999 @ Amazon
Samsung's The Frame is always a popular TV during events like Amazon's Early Access days because it possible to score a huge discount on a great-looking screen.
This is the latest 2022 model of Samsung's popular design, which means it sports a matte screen that reflects less glare than earlier models. Amazon currently has a number of models on sale but the 65-inch model is a good balance between price and performance.
Since it's a QLED display it should be a bit brighter than typical LCD panels, with better contrasts and more vivid colors. Plus, Samsung offers a ton of high-res artwork that you can display on the screen (as well as your own photos) when you're not watching anything else.
Samsung The Frame (2022): $1,997 $1,597 at Amazon
The Hisense U7H and U8H are already here, but that doesn't mean last year's Hisense models aren't worth picking up. In fact, at discounts like the ones we're seeing today, the Hisense U7G is a great budget pick.
This TV has a bright display with excellent color and sharpness. The one annoyance with this set is Hisense's motion smoothing feature is extreme, but at least there are plenty of options in the settings to reduce or turn off the motion smoothing.
It's also a great TV for gamers, due to its low lag time and ability to display 4K content at 120Hz. The Hisense U7G has 2 HDMI 2.1 ports (as well as 2 HDMI 2.0 ports) for a speedy connection.
Hisense U7G QLED Series 65-inch 4K TV: $1,099 $699 @ Amazon.
It's not quite as good as the LG C1 OLED deal, but if you want the cheapest OLED you can buy before Black Friday, you should look at the LG A1 OLED.
Available in a 48-inch size for just $679, this 48-inch set delivers a 4K picture with Cinema HDR and Dolby Vision support, and there's a a7 Gen 4 AI processor for upscaling to UHD. Other highlights include a Game Optimizer Mode and Google Assistant and Alexa built-in.
With the LG A1's built-in smarts, you can access all of the best streaming services, including Netflix, Prime Video, Apple TV Plus and Disney Plus. And the included Magic Remote makes it easy to point, click and scroll, as well as button shortcuts for content providers.
LG OLED A1 TV 48": $1,199 now $679 @ Amazon.
Here's a surprise: the LG C2 OLED – the newest model for 2022 – is already discounted for Amazon's Early Access sale.
What's on offer is the smallest size – a 42-inch OLED – that's down from its regular price of $1,399 to just $996.
What makes the C2 better than the C1? Well, the C2 has a newer processor in it and comes in the 42-inch size that wasn't available on last year's C1. A 42-inch OLED TV can work perfectly in a dorm room or a small apartment, and you're getting all the great perks of the larger sizes including 4K @ 120hz support.
42" LG C2 OLED: $1,399 now $996 @ Amazon