10 Weirdest and Wackiest Gadgets of CES 2016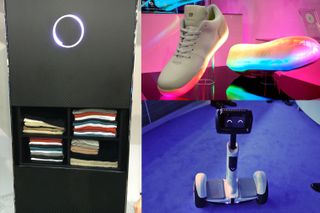 10 Weirdest and Wackiest Gadgets of CES 2016
CES brings together the most innovative minds and their latest clever devices. But some of the gadgets we saw this year were so far out they seemed plucked right out of the imaginations of mad scientists. From a robot bartender to a gaming console for pets, here are some of the wildest products from CES 2016.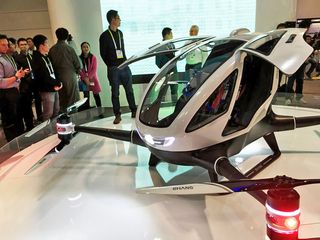 eHang 184 Passenger Carrying Drone
If only we could strap passengers onto drones and fly them wherever we wanted, wouldn't the world be a far better place? That's clearly what eHang believes with its "autonomous aerial vehicle," which is better described as a drone with a passenger seat. You get in, set your destination, and sit back for your 28-minute flight as the machine runs on autopilot. Questions about the safety and legality of such a vehicle have yet to be answered, but the eHang 184 is surely one of the most fascinating gadgets we've seen.
MORE: eHang's Far-Out Passenger Drone: Will It Ever Take Off?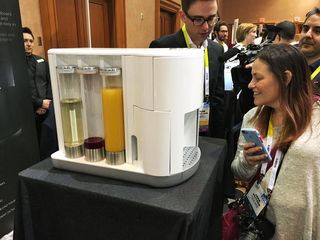 Somabar Robotic Bartender
No matter what your poison is, this robot bartender has it for you. Preloaded with 300 drink recipes, the Somabar has six removable cylinders that you can fill with your choice of alcohol or mixers. Using the companion app, you'll have to tell the device what's in each cylinder, and it will give you a list of drinks you can make with those ingredients. You can tweak the recipes to make your drinks weaker or stronger, too. It's like buying your very own bartender for $450; just don't expect it to chat with you about your problems.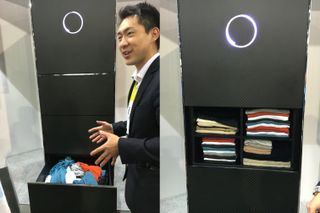 Laundroid
Arguably the worst part of being an adult is having to fold your own laundry, but an upcoming machine could take that pain away. The Laundroid by Seven Dreamers is touted as the world's first laundry-folding bot, and could make your dreams come true when it arrives in 2017. All you have to do is put your cleaned laundry in the bottom drawer, and the machine will automatically fold it and sort it into different bins.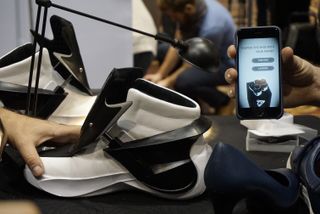 Digitsole Smartshoe
Too lazy to bend over and tighten your shoes? Let your smartphone do it for you, thanks to the Digitsole Smartshoe's self-tightening feature. These cool kicks also have a built-in heating element to let help keep your tootsies warm, and track your daily steps and impact pressure. A little LED light up front helps you see better at night, and you can charge the shoe's batteries wirelessly.
MORE: Back to the Future: Control These Sneakers With Your Smartphone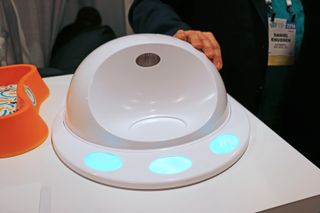 CleverPet Hub
When we get bored at home we can plug in the PlayStation or Xbox and amuse ourselves for hours, but what can your beloved dog do when you leave the house? With the CleverPet Hub, he can play games just like his owner, and get treats for rewards. The CleverPet features three light-up panels on its base that offer different games for your canine companion. It prompts Rover to tap the right light or series of lights to get a reward, improving his intelligence and response time. Plus, it keeps the boredom at bay and can even keep your pet fed while you are gone for the day.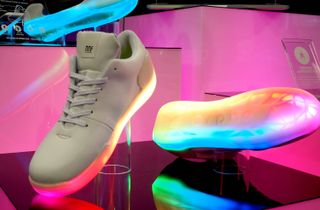 Orphe Light Up shoes
Light up your life, literally, with the Orphe Light Up shoes. These kicks pack 100 LED lights in each shoe, with translucent soles that let the colors shine through. The colors change based on surrounding music, or can be set by a smartphone app. The shoes also carry 9-axis motion sensors to record how the shoe is moving and which part of the shoe is hitting the floor, so they can act as virtual tap shoes.
MORE: These Light-Up Shoes Are The Coolest Thing I Saw at CES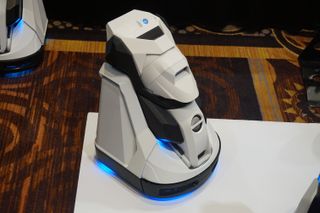 Cerevo Tipron Projector Robot
Your TV can move around with you. That is, if you have a Cerevo Tipron. The robot will drive around the house and use its built-in projector to display any content from your phone to any flat surface up to 80 inches in size. The futuristic-looking Tipron remains closed while it's moving, but transforms, folding out its projector head and growing to twice its height (30.4 inches) when ready to beam content. Its head can also rotate and tilt to project higher or lower on the wall.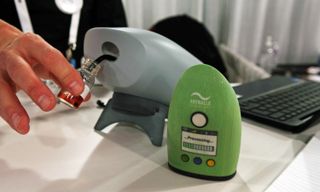 NeOse
Can't tell if you smell gas or rotten food? A new device could identify scents for you. NeOse sucks in molecules from a subject, records its optical signals, and then sends it to a database for analysis and identification. NeOse will be able to recognize up to 150 scents, including cigarette smoke, burned bacon, grilled bacon and cleaning alcohol. It will arrive in Q4 2016 and cost between $200 and $300.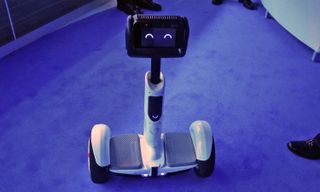 Segway Butler
What a pain it is to have to lug your bike or Segway around after you get to your destination. The new Segway Robot could lessen that burden for you by turning into a robot that follows you around after you hop off. At the push of a button, the Segway lifts up a small robot head with an LCD screen on it, showing a pair of blinking eyes. It identifies people with its Intel RealSense depth-sensing camera, and follows the captured person around at a distance. It can also avoid bumping into other people and objects as it rolls around. In the future, the Segway Robot could answer the door for you and more, once developers realize its potential.
MORE: Jump off This Segway and It Turns Into a Robot Servant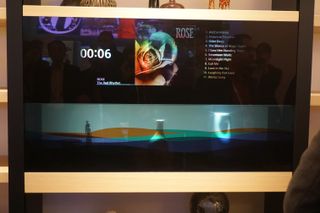 Panasonic Transparent TV
Does your television set take up too much space in your living room? A new development could make your TV seem like it isn't even there at all. A new prototype thin LCD panel by Panasonic can change its transparency, so it's completely see-through when you don't need it. This way, you can leave it in front of a display cabinet and turn it transparent when you're not watching TV, or increase the opacity when you are. You can also select certain sections to keep translucent, or make specific parts opaque and transparent.