7 Ways Lenovo's Smart Display Beats Echo Show (And 3 Ways It Doesn't)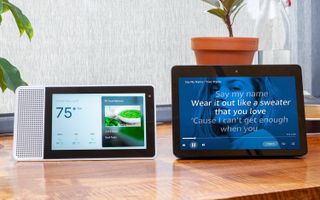 The Lenovo Smart Display is the first touch-screen device to feature Google Assistant, and the first to go head-to-head with the Amazon Echo Show, which, when it came out a year ago, was the first device to have Amazon Alexa and a screen in one.
Having had a year to dissect the Echo Show, it's clear, based on our testing, that Lenovo and Google have improved on Amazon's idea in a number of ways. Still, there are a few things that the Echo Show does better.
Credit: Tom's Guide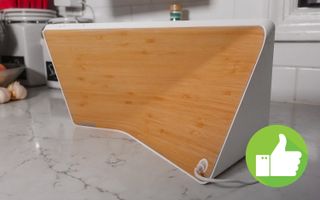 It looks better
While the Echo show, with its mesh fabric backing, the 10-inch Smart Display has a unique design. The back of the device is covered in bamboo and angles out, which lets you rest it in either landscape or portrait mode, though the latter mode is just for video calls. However, the 8-inch version of the Smart Display has a soft-touch gray back, and looks more similar to the Show.
Credit: Tom's Guide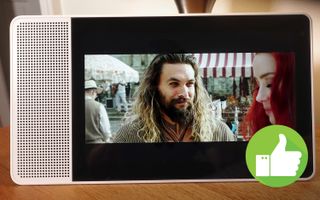 A superior display
The screen is larger, sharper and more colorful on the Smart Display. The 10-inch Smart Display has a resolution of 1920 x 1200, while the 8-inch model has a resolution of 1280 x 800. The Echo Show has a 10-inch screen with a resolution of 1280 x 800, which makes it about equal to the 8-inch model, but not quite as good as the 10-inch model. Moreover, Lenovo's devices have IPS displays, which, in addition to their larger sizes, makes it more enjoyable when looking up recipes or watching movies or video. The Echo Show's screen kicks back a lot of glare, despite its high quality.
Credit: Tom's Guide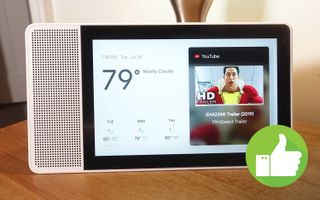 YouTube on board
Speaking of video, the Lenovo display works directly with YouTube, allowing you to watch trailers, music videos, viral videos and more, just by asking Google to play a video. You can watch YouTube videos on the Echo Show as well, but you need to navigate to the website through one of its built-in browsers (Firefox or Silk) and search for the video you want.
Credit: Tom's Guide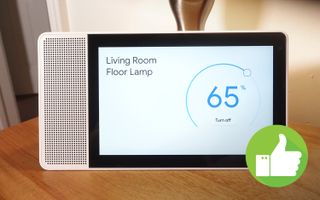 Better smart-home control
Lenovo's smart speaker is better for controlling smart-home devices. When you ask Google Assistant to turn on your lights or adjust your thermostat, it not only performs your action but also puts controls on the Smart Display itself so you can manually dim the lights or change the temperature on the thermostat. You can't do that on the Echo Show. That said, the Echo Show does contain a Zigbee smart-home hub, which you can use to set up some smart-home products that aren't Wi-Fi enabled.
Credit: Tom's Guide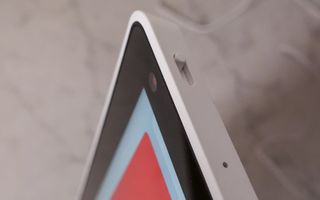 Built-in camera shutter
Privacy-minded folks tend to cover up the Echo Show's camera with a piece of tape. But the Smart Display has a little slider that blocks its camera for added security.
Credit: Tom's Guide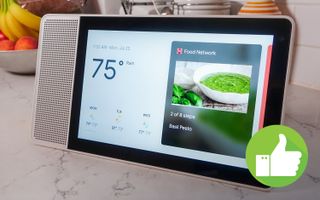 It starts at a cheaper price
Right now, the 7-inch Echo Show costs $229, and the 8-inch Smart Display costs $199. So, at least when it's not on sale, Lenovo's speaker is a better value. However, the 10-inch Smart Display costs a heftier $249.
Credit: Tom's Guide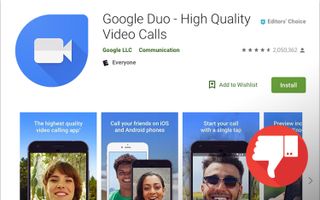 Video calls require a separate app
You can also make video calls using the Smart Display, but you — and whomever you're calling — will need to download Google Duo, a tedious extra step. With the Echo Show, you just use the Alexa app.
Credit: Google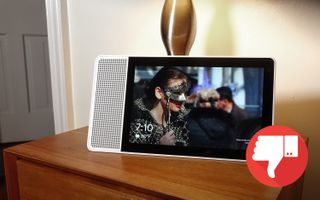 The 10-inch model is BIG
Where the Echo Show makes for a good bedside companion, the 10-inch Smart Display, which measures 12.3 x 6.8 x 5.3 inches, took up a lot of space on my nightstand. It's a better fit in your kitchen or home office. Lenovo is also making a 8-inch model, but that's a fairly large 10.4 inches wide. While the Echo Show is around the same size, it's studier, and you can easily perch it on a bedpost or the corner of a nightstand.
Credit: Tom's Guide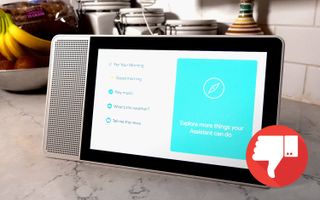 Google Assistant can't do as much.
There are tens of thousands of third-party Alexa skills that add a lot more functionality to the Echo Show, from trivia to ambient sounds to games and much more. The Echo Show also has a number of unique features, such as web browsing and live TV via NBC and Hulu. However, Google Assistant is smarter in some categories, such as giving directions.
Credit: Tom's Guide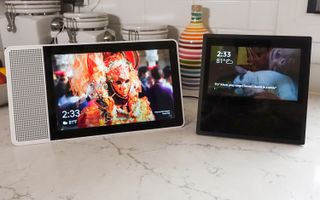 Bottom Line
Ultimately, the Lenovo Smart Display is better than the Echo Show when it comes to the display. The display not only looks better, but it lets you do more with Google Assistant than you can with Alexa on the Show. However, Amazon's device is still better with video calls, and its voice assistant is still more capable than Google's when it comes to skills — Alexa's support among third-party developers is a key differentiator. Plus, there are more fun and unique features on the Echo Show, as well as a built-in smart hub.
The Smart Display shows its potential when you pair Google Assistant with a touch screen. If you're looking to use it in your bedroom, I would suggest the smaller 8-inch model. Either way, you're getting a very capable device.
Credit: Tom's Guide