6 Reasons to Buy the OnePlus 6 (and 4 Reasons to Skip It)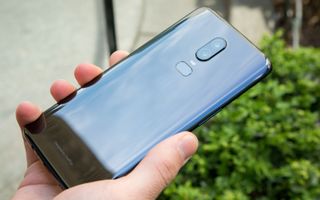 OnePlus 6 Pros and Cons
Starting at $529, the OnePlus 6 is an excellent choice for smartphone buyers who want to save a few hundred dollars compared with what they'd pay for the Galaxy S9 or the iPhone X but don't want to sacrifice flagship performance and build quality. However, OnePlus' new phone is not perfect, and you do lose out on a couple of noteworthy features in opting for the company's latest bargain.
To help you figure out if the OnePlus 6 is right for you, we've assembled a list of reasons you might want to buy or skip the latest phone everybody's talking about.
Photo Credit: Shaun Lucas/Tom's Guide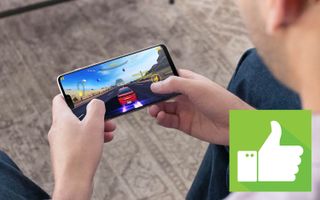 Fastest Android phone yet
Right now, the OnePlus 6 is one of the few phones equipped with Snapdragon's latest premium chipset — the Snapdragon 845. (The Samsung Galaxy S9, Sony Xperia XZ2 and LG G7 ThinQ are the others.) But what's truly impressive about the OnePlus 6 is that, despite costing less than those other phones, it was faster than all of those competing devices in the benchmarks we use to test them.
One reason for that performance is the OnePlus 6's standard 6GB or optional 8GB of RAM, both of which are more than the 4GB you get from those other flagships, save for the 6.2-inch Galaxy S9+. Coupled with OnePlus' streamlined software and intuitive new gesture navigation, the OnePlus 6 runs like a dream, whether you're flipping between apps or hardcore gaming on the go.
Photo Credit: OnePlus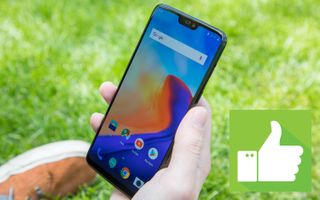 Gorgeous OLED display
The 6.28-inch Samsung-built AMOLED panel in the OnePlus 6 is absolutely unrivaled at this price, and the only screens we've tested thus far that best it are the ones in Samsung's own smartphones.
With a resolution of 2280 x 1080 and a peak full-screen brightness of 574 nits, the OnePlus 6 is equally sharp and vibrant. A multitude of display modes, ranging from OnePlus' standard saturated calibration to more realistic sRGB and DCI-P3 profiles, allows you to customize the pallette to your liking. And because it's an OLED panel, darker scenes look stellar, thanks to the technology's ability to render pitch black by turning off pixels completely.
Photo Credit: Shaun Lucas/Tom's Guide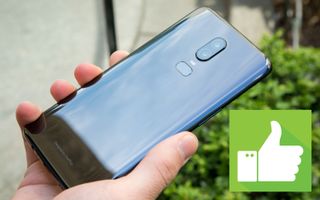 Stunning new glass design
OnePlus elected to go with Gorilla Glass 5, rather than the aluminum on last fall's OnePlus 5T, for the back of the OnePlus 6. This choice raises some durability concerns, but OnePlus says the new material should allow for improved connectivity and data throughput.
Besides, the way OnePlus has treated the glass on each colorway makes the OnePlus 6 look far more enticing than the company's previous models. The Mirror Black version, for example, embeds film underneath to give the surface the visual properties of ceramic, while the upcoming limited-edition Silk White model employs pearl powder and multiple layers of finishing to produce a texture closer to plastic than typical glass. The result is a collection of phones that look and feel like nothing else on the market.
Photo Credit: Shaun Lucas/Tom's Guide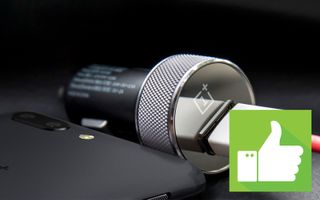 The fastest-charging battery around
Thanks to OnePlus' proprietary Dash Charge protocol, which prioritizes increases in current rather than voltage, the OnePlus 6 can reach a 60-percent charge from empty in just 30 minutes using the stock adapter. In an hour, it easily crosses 90 percent.
But this isn't just the fastest-charging OnePlus phone we've ever tested — it charges faster than any other smartphone, period. Only the LG V30 comes close, reaching 53 and 86 percent in 30 and 60 minutes, respectively. The iPhone X mustered just 50 percent in a half-hour, and that's only if you spring for Apple's $25 Lightning-to-USB Type-C cable, sold separately.
Photo Credit: OnePlus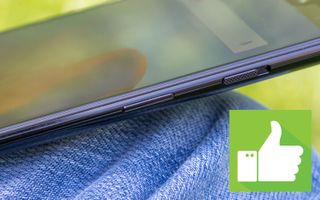 That low price!
Even if you spring for "only" the base OnePlus 5T model with 6GB of RAM and 64GB of storage for $529, you're getting the most powerful unlocked Android device available on our shores, as well as all of those aforementioned features.
And the $579 and $629 128GB and 256GB variants are still considerably less expensive than most leading flagships, like the $720 Samsung Galaxy S9, the $750 LG G7 ThinQ, the $849 Google Pixel 2 XL and the $999 iPhone X. That kind of value is simply too compelling to ignore.
Photo Credit: Shaun Lucas/Tom's Guide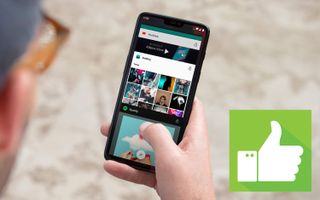 Wonderful software and gestures
The OnePlus 6 ships with Android 8.1 Oreo on board. On top of that, you get OnePlus' OxygenOS, which adds a few noteworthy features to Google's platform, like Gaming Mode, Reading Mode, faster Face Unlock, customizable soft keys, App Locker and more. There's also OnePlus' clever new gesture interface, which emulates navigation on the iPhone X as well as what Google is planning for the yet-to-be-released Android P.
The new gesture controls are easy to learn and allow content to take up more of the display than Android's traditional three-button row. Better yet, owners are free to return to the old navigation method if they don't like OnePlus' system. So why not give it a shot?
Photo Credit: OnePlus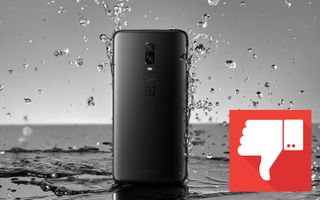 Missing wireless charging and water resistance
While OnePlus included a top-of-the-line processor and an excellent screen on the OnePlus 6, the trade-off is that it lacks some of the conveniences many other flagships offer.
For one, there's no wireless charging — odd, considering the switch to a glass back — nor is there any true IP-rated water resistance. OnePlus says the device is splash-resistant even though it isn't certified, but that's not something we recommend testing out.
Finally, you won't find a microSD slot for expandable storage, which is something Samsung and LG buyers get to enjoy. However, there is a second SIM card slot for frequent international travelers.
Photo Credit: OnePlus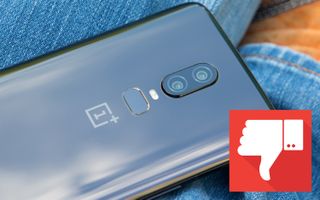 Won't work on Verizon or Sprint
Arguably the biggest downside of the OnePlus 6 is that it is exclusively compatible with GSM networks, like T-Mobile, AT&T, Cricket Wireless and MetroPCS. Like all previous OnePlus devices and many unlocked phones, subscribers to CDMA networks, including Verizon and Sprint, remain hopelessly out of luck.
Worse yet, there simply isn't a phone on either of those carriers that compares to the value of the OnePlus is offering here. At $499, the dual-band Essential Phone gets close, but its processor is outdated, its cameras are disappointing and it's likely to be replaced with a successor in the second half of the year.
Photo Credit: Shaun Lucas/Tom's Guide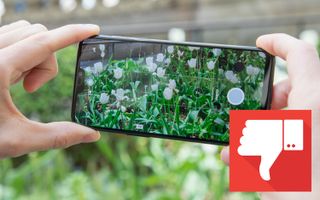 Cameras are just OK
OnePlus' 16- and 20-megapixel dual rear shooters offer better low-light performance than their predecessors, but they're still not a replacement for the best smartphone cameras out there. In our review of the OnePlus 6, we found that the device was outclassed by the superior dynamic range, sharpness and image processing of Google's Pixel 2, which remains our favorite handset for photography.
The OnePlus 6's cameras are great for a $529 phone, but if taking the best photos is a top priority, we recommend you shell out a little extra on the Pixel 2 or one of Apple's latest iPhones.
Photo Credit: Shaun Lucas/Tom's Guide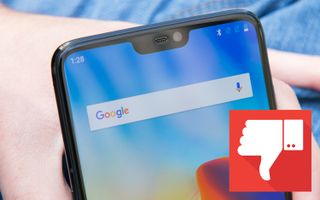 Battery life is not great
After the OnePlus 5 delivered upward of 13 hours in our battery test and the OnePlus 3 turned in a shorter runtime of roughly 11 and a half hours, we were disappointed to see the OnePlus 6 fall even further. The phone lasted just 10 hours and 33 minutes on our battery test, which consists of continuously streaming websites on T-Mobile's LTE network.
That's good, but it does not match the Pixel 2 XL (12:09), the Galaxy S9+ (10:59) or the iPhone X (10:49). Despite Qualcomm's claims of the Snapdragon 845's improved efficiency, the OnePlus 6 doesn't have the same longevity as its predecessors, which is a downside for commuters and power users.
Photo Credit: Shaun Lucas/Tom's Guide