Best Toys of Toy Fair 2018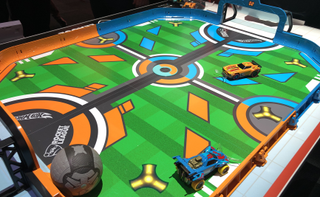 From Rolling Robots to Flying Poop
Roaming the halls at Toy Fair can make even our cranky, middle-aged writers feel like kids again. This year's show featured a plethora of powerful playthings, from holographic pets to robotic dinosaurs and a drone you control with your hands.
We found plenty of educational toys that are designed to teach kids how to program or develop their artistic talents. However, there will also a lot of noteworthy products that were just made to be fun. Here are the 25 best toys from Toy Fair 2018.

Spin Master Supernova Drone
I've never been big on drones, but Spin Master changed that in a single demonstration. The motion-controlled Supernovais a small, unmanned vehicle that you move with your gestures, as you flash your hands around it. And while it's easy to begin, you simply flip it upside down and drop it into the air, things get wild after that.
As I watched a trained performer dance circles around the Supernova, I marvelled at the fact that children today have toys that will make them feel like miniature Tony Starks. — Henry T. Casey

Ninjago Stormbringer (Lego Boost Expansion)
The best robot kit for kids, Lego Boost, is getting even more versatile this August when Lego releases the Ninjago Stormbringer kit. If you own the Boost Starter Set, you'll be able to use the additional pieces in Stormbringer to build a robotic dragon and then program it to move, roar, recognize colors and even respond to questions using the Boost app. -- Avram Piltch

Mattel Flushin' Frenzy
This decidely low-tech game is a skatalogical celebration of the world's most important technology: indoor plumbing. Players place a smiling plastic turd inside a spring-loaded toilet and then take turns pushing down the plunger to see who can dislodge the unwelcome excrement. You get one point for pushing out the poo or two for catching it in your hands.
If you give a crap (or want someone to give it to someone else), you'll be able to buy Flushin' Frenzy this fall for $19.99. We think it will be quite poopular with younger kids. -- Avram Piltch

SeeMeez Holographic Pets
SeeMeez is putting a new spin on the virtual pet craze by giving kids a cute holographic friend to play with. Available starting at $9.99, SeeMeez creates its interactive holograms by projecting 4 separate images of your new friend on to a small plastic container placed you attach to the center of your phone or tablet.
From there, you can feed it, scratch its belly or play with it. However, the best part about SeeMeez is that you can create your own personal hologram, which is great for people wanting recreate that Princess Leia hologram scene from Star Wars: Episode IV - A New Hope. –– Sherri L. Smith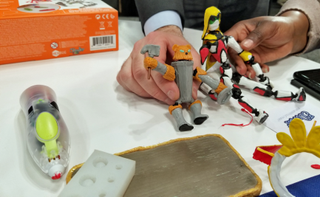 3Doodler Start and Expansion Sets
Targeting the crafty kid in your life, the 3Doodler Start is essentially a 3D-printer for kids or people interested in the technology, but not in spending oodles of dollars. Available for $59.99, the Start pen has a growing category of individually-sold expansion sets that lets you created a myriad of things.
At the show, 3Doodler debuted sets for creating articulated action figures, food-themed keychains, engineering sets and more. You can even create a moving figure with the Robotics kit, which features a small motor. Whatever kit you choose, what you create is limited only by your imagination. –– Sherri L. Smith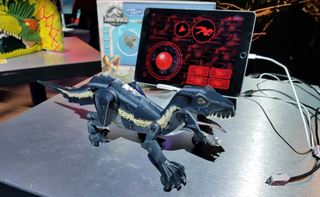 Jurassic World Kamigami Robots
These robotic velociraptors can walk on all fours, roar and light up their eyes. As with the original Kamigami robots, you snap these creatures together with pieces of foldable plastic then use a mobile app to control and program them. Available this spring for $59.99, these robots can also fight each other if you buy two.-- Avram Piltch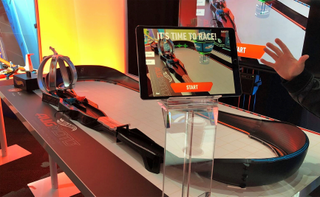 Hot Wheels Augmoto
What happens when you combine the fast-paced action of Hot Wheels with the connected track aspects of Anki Overdrive and add a dash of augmented reality for good measure?
Well, if you're Mattel, you get something like the Hot Wheels Augmoto. Augmoto takes the face-paced racing track action the company is known for and adds a bit of strategy and excitement via a companion augmented-reality app for a futuristic new spin on racing toy cars. –– Sherri L. Smith

Luvabella
The incredibly life-like Luvabella baby doll is back with a new Snuggle mode, which lets you put the doll to sleep by feeding it a bottle instead of just laying it down. This way you can play with Luvabella in any position without fear of it going to sleep. The doll still has a host of actions it can perform while it learns 200 words and phrases. Those interested in Luvabella's male counterpart, Luvabeau will be pleased to know that it is no longer a limited-edition device and will go on sale in mass quantities soon. –– Sherri L. Smith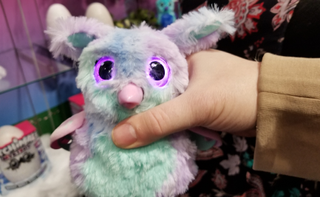 Spin Master Hatchimals Mystery
Spin Master's Hatchimal toys have been a huge success since their launch in 2016. The company is hoping to continue the trend with its latest addition to the line, Hatchimals Mystery. Available for $59.99 starting in August, the Mystery line adds four adorable new members to the line, each with the ability to learn to interact with you in adorable ways. Just help them hatch and let the fun begin. –– Sherri L. Smith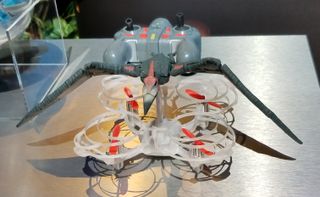 Jurassic World Pterano-Drone
Pretend that your backyard is Isla Nublar with this pterodactyl drone that flaps its wings as it flies around. Use the included remote to fly it manually or engage the auto-circle and auto-land features. The Pterano-Drone is due out this spring for $119.99. -- Avram Piltch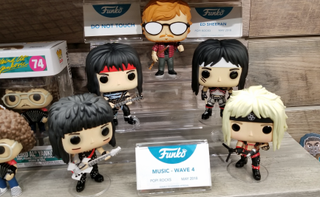 Funko's New Vinyl POP Figures For 2018
Funko flashed tons of its latest Pop Vinyl figures at Toy Fair. Not only do Game Of Thrones enthusiasts have a slew of new options to choose from, but new toys based on everything from SNL (well, well, it's a Pop in a box) to Overwatch to A Wrinkle In Time mean everyone has a new must-buy on their wish lists. My favorite is Dark Willow from Buffy: The Vampire Slayer — the veins in her face are so accurate that I'm worried it might come to life. -- Henry T. Casey

Duplo Steam Train
Designed for children as young as two years old, this set combines hours of building fun with simple programming concepts. The $59.99 set, due this fall, features a Duplo electric train which rolls around a track and obeys command blocks that you place in its path. Kids learn to make the train reverse, stop, light up or play sounds. There's also an adorable mobile app with a virtual train conductor.-- Avram Piltch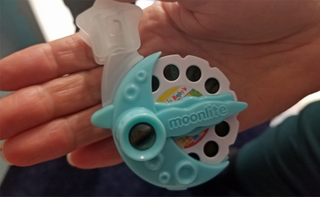 Moonlite
Storytime with your little one is getting a lot more entertaining. Moonlite, a mini projector that you works with most Android or iOS smartphones projects beautiful illustrations complete with background music on a wall or ceiling to add even more fun to storytime.
Best of all, Moonlite doesn't require a battery; just attach it to your phone's flashlight and get ready for the fun to begin. Through a combination of public-domain tales, partnerships with publishers and creating original stories, Moonlite is building an expansive library of tales to keep your child looking forward to bedtime. –– Sherri L. Smith

FurReal Chewbacca
The Rebel Alliance's favorite wookie has always been lovable, but he's never looked, felt nor sounded this darn cute. Even if your heart is as cold as a carbonite bath, this adorable, purring animatronic Chewie will prove he's worth his $129.99 when he lands this fall. Not only does he yawn when he's tired and roar when shaken, but you can even rock him to sleep.— Henry T. Casey

Mattel Rocket League RC Rivals
If you've enjoyed playing Rocket League on your computer or console, you'll love playing it in real life. Due out this fall for $179.99, Rocket League Rivals gives you two remote-controlled Hot Wheels cars, a ball and the materials to build a sizable arena on your living room floor.
Two players use their phones or tablets to see who can score the most goals. You can't make your vehicle jump and whack the ball in mid-air like you do in the video game, but playing with physical cars and a real ball is a blast. -- Avram Piltch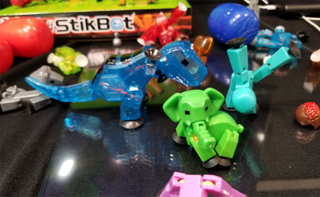 StikBots
Who knew something so simple looking could be a YouTube sensation? StikBot, the stop-motion animation toy has over 800,000 subscribers on its YouTube channel and growing.
Zing, the company behind the Bot, is planning to keep the momentum going with its new Safari Pets pack, which introduces exotic animals to the mix. Want to make a nature doc or something more wacky? Just grab your StikBots, film with the companion app and post your video. It's a great way to introduce kids to filmmaking without spending hundreds of dollars on equipment. –– Sherri L. Smith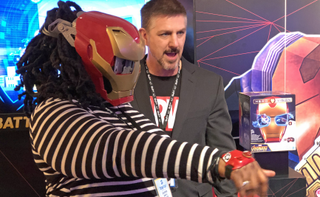 Marvel Hero Vision
It's not x-ray vision, but Marvel's Hero Vision is still pretty cool. Hidden in an Iron man mask is a smartphone holder. Pop your phone into the mask, start the device and strap on the included hand gauntlet and you're ready to shoot down waves of enemies in augmented reality. It's a whole new twist of playing superhero. -- Sherri L. Smith

Circuit Cubes Rule the Ring Set
Circuit Cubes allow you to augment your Lego (or Lego-compatible) creations by snapping on lights, motors and other electronic features. Due out this summer for $99,the Rule the Ring set provides the blocks to build a giant rolling ring and control it via Bluetooth. You can also take the Bluetooth module and use it to super-power any of your Lego projects.-- Avram Piltch
Editor's Note: This video was shot at CES 2018, but was under embargo until Toy Fair.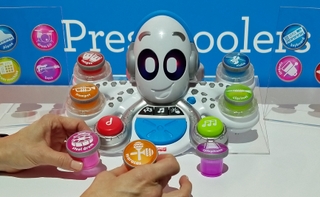 Fisher-Price Think & Learn Rocktopus
This STEAM toy teaches kids ages three to six about music and math. Children program their own tunes by placing instrument blocks into ports on the Rocktopus's tentacles while parents can use the free app to save & share their tunes. There's also a Math mode which helps kids learn basic arithmetic concepts. Rocktopus will be available this fall for $59.99. -- Avram Piltch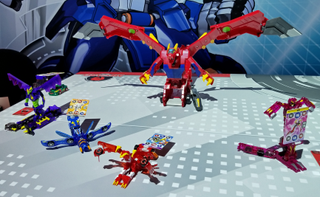 Mecard Mecardimals Transforming Cars
Based on the popular anime series that Mattel brought has started releasing in the U.S., Mecard combines the best aspects of Transformers, Pokemon and Yugi-Oh. You and your friends can compete by rolling your Mercdimals over their cards to earn points. When it rolls over a card, each vehicle pops open to reveal an awesome battle robot inside. Due out this spring, the Mecardimals will cost between $14.99 and $19.99. -- Avram Piltch.

Spin Master Shredderz Guitar
This touch-sensitive guitar will turn anyone into a living room rock star for under $30. Due out later this year in a variety of designs and colors, the Shredderz guitar is completely flat with no physical strings or controls. Players strum at the different strings or wah wah bar by running their fingers over the surface of the device.
You can make your own songs, attach a line-in from any audio device to play karaoke or play along to one of the built-in songs. Each guitar design comes with a different song preloaded; we'll take the one which plays "I Love Rock n' Roll" every time. There's also a Shredderz drum and a Shredderz amplifier.-- Avram Piltch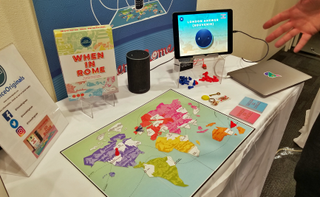 When in Rome
The first Alexa-powered board game, When in Rome is an international adventure. You and a friend (or a group of friends in teams) compete to see who can collect the most souvenirs and points while jetting around the globe. At each stop, Alexa asks you geography-focused trivia questions that you must answer correctly to increase your score. When in Rome is due out in late spring for around $25. -- Avram Piltch

Fur Real Friends Ricky the Trick-Loving Pup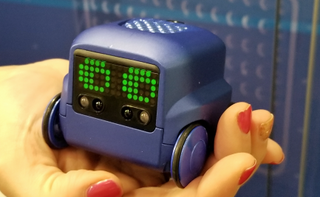 Spin Master Boxer Robot
This adorable little automaton is ready to be your child's programmable best buddy. Due out later this year, the $79.99 robot responds to touch, gestures and sounds. You can also play games with it, using an included set of cards and a game ball. The Boxer has a personality with moods that change as it gets to know you. You can also program it or play additional games by using a mobile app. -- Avram Piltch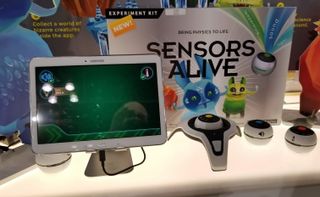 Sensors Alive
This science-oriented toy is designed to teach children about the world around them. As its name implies, Sensors Alive comes with a series sensors for conditions such as light, sound and temperature.
Kids place the sensors in the house so they can collect the data. Then the app uses the information to create a 3D creature and a habitat for it. For example, if you placed the sensor in a cold room, your creature would develop long fur to keep it warm. Sensors Alive is due out later this year for around $150. -- Avram Piltch