Upgrade a Desktop Machine to SSD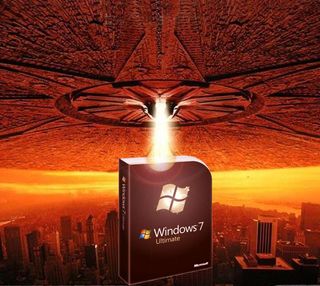 The Future Arrives
I relish making changes to my primary work PC only slightly more than dental surgery. Things can go wrong. My productivity vanishes. I'll deal with work-arounds for months before cracking open my case for an upgrade.
And yet, I just published a story called "Can Bargain SSDs Give Windows A Quantum Performance Leap?" for Tom's Hardware, and what I'd found when doing that story blew my mind. I was used to measuring Windows startup times in minutes, literally being able to make lunch in the time it took to go from power off to having all of my normal apps loaded. I built a similar configuration on my bench, placed it on Western Digital's VelociRaptor (the fastest SATA hard drive around), and got a full load time of 65 seconds. Then I cloned the configuration to Kingston's entry-level SSDNow V-Series SSD and saw the load time plummet to only 27 seconds. Feeling like Will Smith at the controls of some fresh alien tech, I hollered, "Oh, I have got to get my Windows 7 one of these!"
We heard a lot of off-the-record praise from readers after publishing our recent feature on laptop SSD upgrading. Experienced users tend to populate our forums, but those who have never done a hands-on system upgrade tend to hang out invisibly in the background and it seems they appreciated a step-by-step guide to the upgrading process. It's primarily for this latter group that we're returning now with a companion piece on how to take your desktop PC through the same process...only I've added a new twist, as you'll see below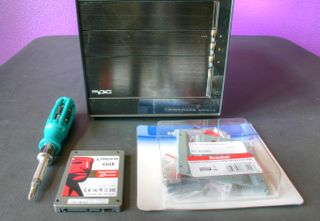 Meet the Lucky Winner
In real life, I did perform this SSD upgrade operation on my own tower system, which is crowded with two optical drives, four hard drives, and a rat's nest of cabling. However, this article is meant to inform and provide clarity, and my tower was not the best model for the job. So I grabbed a roughly three-year-old Shuttle system off the shelf, which is probably a better fit for those who want to put new life in an old box, anyway. I also drove down to the local PC shop and purchased a 2.5" to 3.5" drive-mounting kit for $10. You'll need one of these for practically any desktop SSD upgrade. The alternative is to simply let the drive hang loose or tape it to the inside of your case. I actually considered this for a minute since there are no moving parts in the drive and thus no vibration to worry about. But from an airflow, aesthetics, and general-practices standpoint, it's just a bad idea. Get the bracket.
Note: I took the photos for this article during an exceptionally dark and rainy winter's day. Stuck with miserable lighting conditions, I opted to take triple-bracketed exposures for each shot and process them as high dynamic range (HDR) photos in Photomatix. The upside to this is you can see everything. The downside is that every scratch or bit of dust seems to pop from the frame, a fact I didn't notice until later. So if you're wondering why there's so much grit in these images, now you know.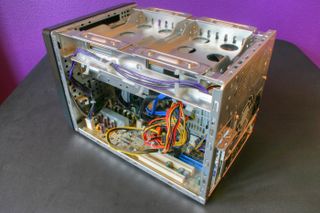 Digging In
Any desktop PC upgrade starts with removing the side wall that gives access to the system's inner components. In the case of a Shuttle XPC system, both walls and the top unscrew and lift away as a single piece. In this shot, I've removed any add-in cards and disconnected the parallel ATA cable in order to expose the three SATA ports on the motherboard. The main drive cage holds a DVD drive and a 3.5" hard drive, which I've left installed. My plan is to keep the already-installed hard drive for data storage and add the SSD as the new boot drive.
For a simple drive upgrade, you might want to refer back to our laptop upgrading piece. The cloning process I used to move the system image from the old hard drive to the new SSD works just as well here as it did there. I haven't copied that method in this article because a) it's already been covered and b) my premise was to proceed from a clean Windows 7 install, just as you'd have to do if upgrading from Windows XP.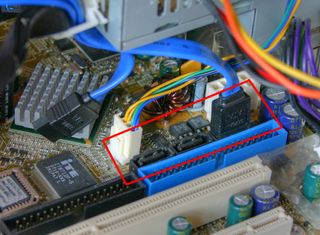 Find Your Ports
Any SSD you're going to buy today will use Serial ATA (SATA) data and power ports. You'll connect the data port to an available SATA header on the motherboard, preferably the first one, marked as SATA 0. Since these ports are usually black, they can sometimes be hard to spot. If I hadn't removed the optical drive's PATA cable, these wouldn't have been visible at all.
One of the benefits of a Shuttle system is that a lot of wiring comes pre-installed, all nicely bundled up and out of the way. I'd encourage you to leave as much of this wiring in place as possible. If you can, try to add any new wires in the cable management clips already installed. While a lot of people cite the advantages of good cable management on airflow, I just like not hearing a stray wire drift into fan blades. That's never a good thing.

Mind the Power
Depending on the age of your system, you may or may not have a power supply with SATA power connections. If not, you'll have four-pin Molex connectors that won't immediately join with the SSD. You'll need an adapter to convert one format to the other. Fortunately, these are cheap and easy to find at any PC shop. In this close-up, you can see the cable that came with my $10 mounting kit. Interestingly, I couldn't use this cable because my Shuttle only had SATA power connections available. (Yes, there were two Molex connectors in the system, but both were already taken by the existing two drives, and I didn't want to add to the clutter by introducing a splitter.) Fortunately, I have plenty of spare SATA data cables, but you can find them at any computer store. Given a choice, though, I'd pick the all-in-one cable type included with the bracket. I find they're easier to handle and tend not to jiggle loose as easily.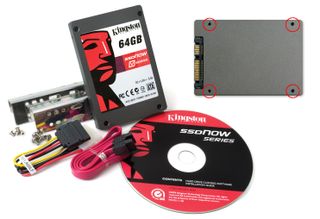 The Whole Package
If you don't want to find a drive here, a cable there, and whatnot, look for vendors that are starting to offer end-to-end SSD upgrade kits. I like that Kingston didn't try to reinvent the wheel with its desktop kit. The side-mounting rails are universal, the SATA and power adapter cables are sufficient, and the bundled Acronis cloning software makes Norton Ghost from years past feel like an exercise in complexity. Now, I didn't have this Kingston kit at my disposal, so be aware that SSDs typically have screw holes on both the sides and bottom (highlighted with red circles here). Your mounting kit will use either one set or the other.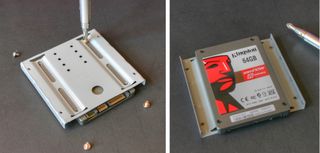 Mounting in the Bracket
You'll find that 2.5" drives are a lot more forgiving of exact mounting positions than 3.5" drives are when it comes to desktop systems. About the only thing I had to worry about with my practically generic StarTech mounting kit was making sure the drive's SATA ports stuck out beyond the edge of the bracket far enough to make a good cable connection. If you're short on screws and can only secure your featherweight drive with two or three instead of the recommended four, it's not the end of the world. Again, SSDs don't vibrate. You're only trying to hold the thing in place and be relatively tidy.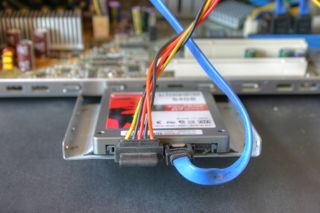 Cables In
Here's what you can expect to see when using separate power and data cables. If you look closely at the connector on the blue data cable, you'll notice a little metal clip on it. This feature can be found on higher-end SATA cables, and Shuttle included two of them with this barebones system. I'm a big fan of the little clip. I can't tell you how many times I've had a drive mysteriously "disappear" from my system because a SATA cable pulled just far enough out of its connector socket to break the connection. I haven't seen SATA power cables do this, but it happens a lot more frequently than I'd like with the data cables, especially when they're pulled taut from just barely reaching or being bound too tightly by cable management.

Not Quite as Planned, Pt. 1
The great thing about this Shuttle design is how easily the drive bays remove for upgrading. With many desktop cases, particularly towers, there will be a pull-out cage for hard drives. Removable cages and trays make the upgrading process easier—definitely easier to photograph—but they're not essential. Mounting a drive into a fixed cage is no big deal once you pull off the case's other side panel. Now, normally you connect a drive bracket into a cage or tray at all four corners. As you can see here, though, Shuttle spaced its second pair of screw holes too far back in the tray to accommodate my bracket kit. This only let me secure the bracket at the two front corners. Still, there's zero chance of the drive or bracket moving out of position unless I operate the PC upside-down. Unconcerned, I let the matter go.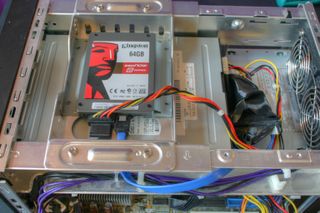 Everything in Place
This is what the system looks like with the tray mounted back into its position. You can't see it at this angle, but there's a rectangular opening in the tray and chassis corner cross-brace for the SATA cable to enter through. This helps keep the cable connection straight so the cable doesn't pull away from the drive over time and also makes use of the case's well designed cable management opportunities. Every once in a while, depending on the case design, it can be easy to forget where a component came from and which way it should be oriented. That's why I like those little arrows Shuttle etches into the sheet metal. On this case in particular, it's common to misalign the trays, but if you follow the arrows, it's pretty straightforward. Good case manufacturers will either build in tips like this or make sure that components only fit together in one way.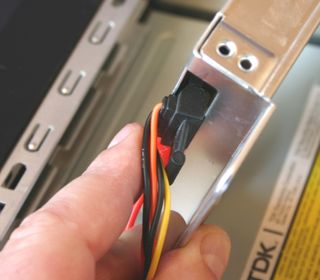 Not Quite as Planned, Pt. 2
Maybe you noticed in that last photo that I left the power cable laying across the drive tray rather than routing it through the cable management as I did with the SATA cable. Here's why: Shuttle built its proprietary power supply with special SATA power connectors, made extra thick for quality and with little handles that jut out for easy grasping.This is a great idea on paper, but somehow the plug on this longest power line ended up being so large that it wouldn't fit through the side opening in the tray. This isn't a problem with 3.5" drives, which have their SATA ports mounted flush against the tray opening. But when you have to dig inside the tray to reach a 2.5" drive in a bracket, things don't work as well. Functionally, it's not a big deal, but little issues like this will bug cosmetic purists Have some chamomile tea and forget about it.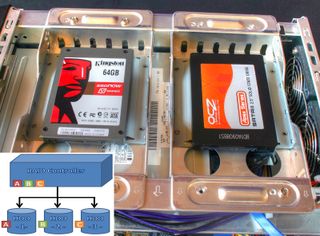 Why Settle for Being Single?
You know, with two available trays in this box, it seems like such a shame to let that Kingston drive spend its life all alone up there. Hey, it doesn't have to! Literally the morning before I started shooting the photos for this article, I was on a call with one of the SSD product guys at Intel and he was talking with me about the new 40 GB X25-V model, which shares the same sub-$150 price band with the Kingston V-Series and similar entry-level models. He noted that if all someone wanted was a wicked fast boot drive, why not buy two of the X25-Vs? You'd pay just $10 or so more than you would for an 80 GB X25-M, but by putting the two 40 GB drives in a RAID 0 configuration, you'd get much faster response times for the kinds of Windows tasks in which I was interested.
If you're new to the idea of a RAID, or redundant arrays of inexpensive disks, a RAID 0 "stripes" one data stream across multiple drives. You can see this in the diagram set into the photograph here. Instead of trying to move one file to one drive, RAID 0 splits up the file and moves the pieces to multiple drives in tandem. This greatly shortens the read/write times for the array compared to a single disk. The more disks you have, the faster the performance, although the benefits don't scale linearly. The law of diminishing returns thus applies here.
The Intel representative's comment floored me. Of course, I'd read and thought about running an SSD RAID in the past, but I was still in the habit of believing that they were too expensive for an everyday system like mine. I thought I was lucky to just get one. But no, if speed is what you want, the cost to get a striped RAID 0 SSD boot volume is now almost too low to pass up. Fortunately, I had a 60 GB OCZ Apex on hand. The capacity matched well against the Kingston, even if the OCZ is faster. That's fine. Ideally, you want your RAID drives to be identical, but in this scenario, I was more interested in making a point than I was splitting hairs with a stopwatch.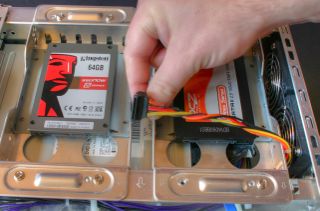 Not Quite as Planned, Pt. 3
Remember how I had no trouble reaching that power cable over to the Kingston drive before, even though it wouldn't fit through the drive tray opening? Well, guess what. With the second tray installed, it won't reach again. The drive trays sit so closely above the DVD drive that the power cables are too thick to sandwich between them. Again, the more specialized the case, the greater the chance you have of running into odd cases like this. At first, I thought I was going to have to special order a SATA power extension cord. You'll pay almost $10 for one of these after shipping. Fortunately, I was able to cheat.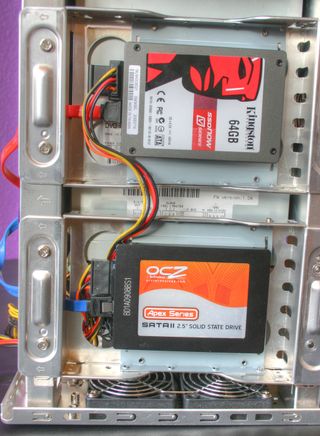 Problem Solved
There are a series of holes cut into the bottom of my drive trays. No doubt, Shuttle designed this primarily to help ventilate the circuit boards of installed 3.5" hard drives. The holes proved just big enough to let me fit Shuttle's jumbo-sized SATA power plug through. If not for this, I would have had to use an extension cable for this long power line in order to reach the farthest drive from the power supply.
Note how I have the power wires in something of an S-shape. This is because Shuttle cut away a portion of the tray side walls just for this purpose. If I didn't have the power cables lying in these cut-aways, they would be pinched between the top of the tray wall and the case cover when I put it back on. You don't want to pinch or bend your cables too tightly, which could damage them.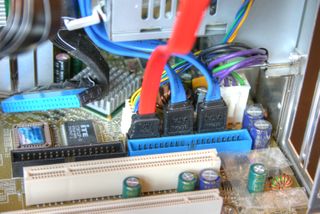 Headers Filled
Back on the motherboard, I connected all three SATA cables into their respective headers. Before closing up, always double-check that your cables are firmly seated. In fact, I recommend leaving the case cover or walls off until you're all done with configuring the machine. Inevitably, it seems there's some loose connection or forgotten component that I have to go back into the case for while performing the upgrade and software configuration, and having to take those walls off again just irks me.
Now that I study these photos, I can spot something I should have done differently. I prefer my boot drive on port 0, my optical drive(s) on the highest port number(s), and my storage drives in the middle. Given that, I should have plugged the two SSDs into ports 0 and 1 here and put the hard drive on port 2. Live and learn.

Let the Config Begin!
Now that's I've shown the basics of hardware configuration in performing an SSD upgrade, it's time to turn to the software side of things. The easiest thing to do is take your old hard drive and clone it onto a single new SSD with a tool such as Acronis True Image. The operation only takes a few minutes. Just be careful to make sure your old system image will fit within the capacity of the likely smaller SSD.
If you're like me, you wind up doing a clean Windows installation every year or two because there's so much garbage scattered around your registry and config that your system performance has slowed to a crawl. Moving to an SSD is an ideal time to do one of those clean installs. Several weeks ago, I was in a position where I only had days left before my copy of Windows 7 RTM expired and I'd have to do a clean install of retail Windows 7. I figured what better time to do that than with a clean install to an SSD? That's what led to this article in the first place.
So before I dig into this RAID business, just let it be said that if you want cheap and easy, a clean install on a single SSD followed by reinstallation of your apps is a good way to go. The speed benefit you see in going from one SSD to a pair of SSDs in RAID 0 will pale beside the leap from an old hard drive to even one entry-level SSD. Did I benchmark the difference with the RAID 0? No. I know some readers will ask, but this isn't that story. We're just here for the nuts and bolts of upgrading.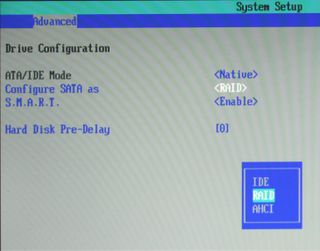 Enable RAID in the BIOS
That said, let's do the RAID 0 setup, if only because it's something you can't do on most laptops and, well, it's even faster than a single drive.
In practically all motherboards made in the last few years, basic RAID functionality is supported in the chipset. You merely have to enable it and set it up in the BIOS. However, hardly any two motherboard BIOS configurations are identical, so you'll need to check with your motherboard vendor's manual on how to enable yours. Once you do this, often in the Integrated Peripherals section of the BIOS, you'll be able to configure the specifics of the RAID in another area.
The picture you see here is a shot of the Advanced section of the BIOS on an Intel DX58SO motherboard in the exact place where you enable RAID for connected drives. I didn't want to work with my Shuttle system because, as I said, it's an older box, and I felt more comfortable illustrating a more current configuration. I recently received Intel's Core i5-661 CPU with Intel's DH55TC for review, and I set about planting my two drives on this to illustrate RAID setup. I was stunned to find that there is no RAID enabled on this board, which makes absolutely no sense for a media platform on which users might want to mirror the contents of their attached storage with RAID 1 for data safety. This is the first consumer board I haven't seen with RAID capabilities in a long time. But in any case, I had the slightly older DX58SO standing by a few feet away, so I went with that.

Into the RAID Configuration
Once you've turned on RAID and saved the settings, you need to enter the RAID configuration utility. On the DX58SO, this is done by hitting "CTRL + I" during boot-up. Other boards will be different, and you may be able to access the RAID settings right from the main BIOS area.
Here you see the first screens Intel presents. On the left, you can see that the motherboard correctly identifies both of our SSDs, including their sizes and the fact that they're presently configured as stand-alone drives, not RAID members. I hit "option 1" to create a new RAID volume.
On the right screen, the Create Volume Menu plants us on the Strip Size option with the default already set to 128 KB. As per the Help section on the bottom of the screen, this is the recommended value and I left it set at the default.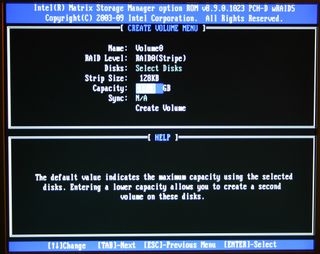 Select Capacity
The next option is to set the size of the array. You can see that the motherboard recommends 117.1 GB, which is the sum of the 59.6 GB and 58.6 GB drives. On this point, I might recommend leaving the default. Most SSDs now leave some margin of unallocated space on the drive for spare memory cells and swap space for write operations. Simply put, this unallocated area helps the drive perform better. In general, the more unallocated space you have, the better the drive performs. This is why the 64 GB Kingston registers in the BIOS as only having 59.6 GB of capacity that is available to use.
The latest breed of mid- and high-end SSDs makes more effective use of this spare space. You're not going to see as much benefit on low-end drives such as the ones we're working with here today. But soon enough, all SSDs will take advantage of the latest efficiencies, so it's good to start thinking about unallocated reservations now. I'd probably leave 15% to 20% unallocated including the amount already reserved by the vendor. In this case, if I were really doing this operation for my own system, I'd aim for a total RAID 0 volume size of about 105 GB, skimming away 15% of the total memory space.

Create the Volume
This is pretty simple stuff. From here, just go down to Create Volume and hit Enter. You'll be prompted with a warning that says all data on the drives will be lost if you proceed, and that's fine. Hit "Y" for to say "Yes" and create the volume. A few seconds later you'll be back at the main menu, only now the drives will be listed as "Member Disk(0)," meaning they're now part of RAID 0. Should the RAID volume develop any trouble in the future, you can return to this screen. If the problem is hardware-based, one of the drives should note the error in red letters.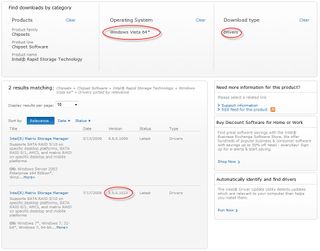 Finishing Touches
That's it! You're now ready to install your operating system and achieve tasks speeds much faster. Once you get the operating system installed, complete with chipset drivers, graphics drivers, and whatnot, you'll still want to make sure you've got the optimal storage drivers in place. For the Intel platform, as of this writing, that means the Intel Matrix Storage Manager version 8.9. The Microsoft drivers that come built into Windows 7 will work, but they're a little glitchy under some conditions. Intel's own drivers are more reliable. You can grab them from downloadcenter.intel.com. Save yourself some time by filtering by operating system and download type.
Not so hard, right? Give it a shot and be amazed at how little money it takes to give your everyday tasks a rocket-fueled speed boost with SSD technology.