Best AMD Ryzen Gaming Desktops Available Now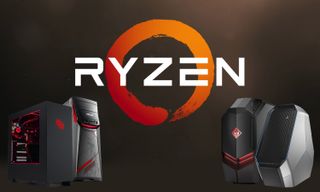 Best AMD Ryzen Gaming Desktops Available Now
AMD's Ryzen processor line is finally here (at least for desktops) and top manufacturers are starting to outfit powerful desktops with this new hardware. This new microarchitecture promises great gaming performance and VR experiences at affordable prices. In fact, you can find a number of models that cost under $800.
If you want a desktop with Ryzen inside, these are the best options so far.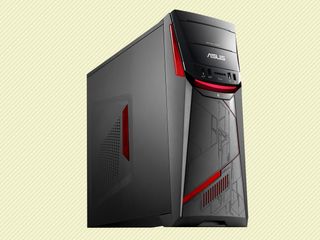 Asus G11DF (Starting at $699)
This highly customizable $699 ASUS desktop includes processor options across AMD's entire Ryzen lineup, including its powerful 7-series 1800X. The high-end GPU offerings include a choice of either a GTX 1080 or AMD's own RX480, while RAM is expandable up to 32GB and storage is capped at a 512GB M.2 PCIe SSD. The only color option for this mid-tower desktop is iron gray, but customizable LED lighting effects on the front and side of the case elevate its design. The included Aegis III software will help users keep fan speeds and voltage thresholds under control.
Credit: Asus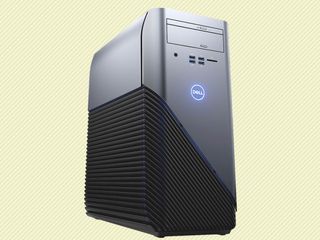 Dell Inspiron 5675 (Starting at $849)
Dell's Inspiron gaming desktop runs off either a Ryzen 5 1400 or a Ryzen 7 1700X processor. Dell is pairing AMD's latest with either a RX 580 or Nvidia's GTX 1060 graphics, which is good enough for VR. Other specs include up to 32GB DDR4 RAM, dual-drive storage options and 7.1 Channel HD surround sound. This $849 Inspiron's mid-tower case features wraparound vents for sufficient cooling and quiet operation, while the easily removable side panel ensures quick access to internal components.
Credit: Dell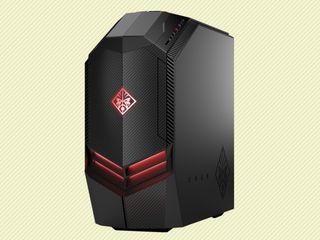 HP Omen Desktop 880 (Starting at $899)
HP continues to expand its Omen gaming lineup with the mid-tower Desktop 880. Its hexagonally shaped case is defined by sharp edges, a transparent window and a dramatic black-and-red color scheme. Consumers can choose to outfit the $899 desktop with either a Ryzen 5 1600 or Ryzen 7 1800X processor. The GPU is configurable up to a GTX 1080Ti, though those who want to stick with an all-AMD build can opt for a RX580 instead. Other key specs include up to 32 GB RAM and dual-storage options up to a 512GB SSD and 1 TB HDD.
Credit: HP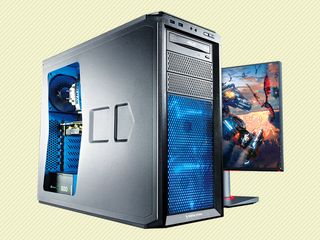 Digital Storm Vanquish
The $958 Vanquish mini-tower has a preset configuration, but its 3.2 GHz Ryzen 5 1600 CPU and a GeForce GTX 1050 Ti will not present many performance compromises. Digital Storm's budget gaming model is capped at 8GB RAM and a 2TB HDD, but it does features an attractive case with internal LED-lighting, a cable system designed for airflow and an array of powerful fans.
Credit: Digital Storm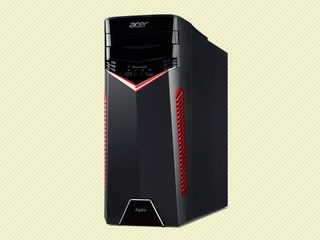 Acer Aspire GX-281 (Starting at $799)
With a starting price tag of $799, Acer's upcoming desktop offers a decent entry point into the Ryzen 5 processor line. This mid range gaming desktop features a quad-core Ryzen 5-1400 processor, up to 64GB DDR4 memory and a GeForceGTX 1050 GPU. The mid-tower case is a black, gray and red affair with accented details throughout, including a set of bold red fans that flank the desktop's front panel. It also features front-facing connectors like an SD card slot, a USB 2.0 port and a standard headphone jack/line-in microphone.
Credit: Acer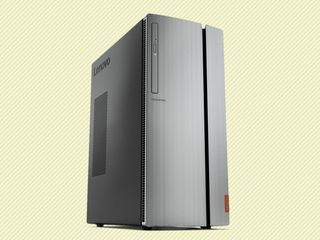 Lenovo Ideacentre 720-18ASU (Starting at $779)
The $779 Lenovo Ideacentre 720 features a sleek, utilitarian design and a brushed metal finish. Lenovo stuck with an all-AMD lineup, with a choice of a Ryzen 5 1400 or 7 series 1700 CPU and either an RX 480 or a 540 GPU. Other technical highlights of this mini-tower desktop include up to 32GB RAM and a 1TB, 7200-RPM hard drive. It features a variety of ports, including three USB 3.0 ports, two USB 2.0 ports and a combo SD/MMC/Memory Stick reader.
Credit: Lenovo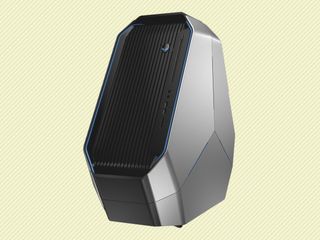 Alienware Area 51 Threadripper Edition
Alienware looks to shred the competition with the newest entry of its high-end Area 51 gaming desktop line. The processor of choice here is AMD's Ryzen 16-core/32-thread Threadripper CPU, which significantly improves upon the performance of its top-end Ryzen 7 offering. Its bleeding-edge GPU configuration includes up to two GTX 1080s in SLI or three AMD RX 580s in Crossfire. The full-tower case has options for up to a 1TB PCIe SSD and 64 GB DDR4 RAM, while a full array of ports outfit both the front and rear of the case.
Credit: Alienware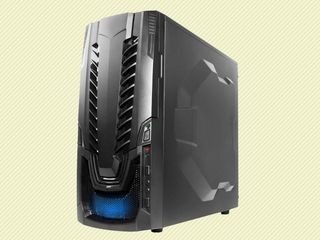 iBuyPower Ryzen 5 and 7 Desktops (Starting at $849)
iBuyPower has a fleet of new Ryzen desktops in an array of brilliant colors, case sizes and lighting effects. Its desktops can be configured with either a base Ryzen 5 or 7 processor, which start at $849 and $1,149, respectively, but both models can be scaled up considerably with impressive specs. The most expensive configurations include a Ryzen 7 1800X and a VR-ready GTX 1080 Ti Founders Edition GPU.
Credit: iBuyPower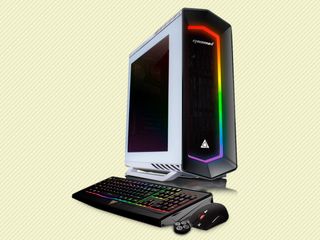 CybertonPC's Rhodium and Celestrium (Starting at $949)
CybertronPC unlocks all of the Ryzen processors in its customizable desktops for easy overclocking. The $949 base model includes a 3-GHz Ryzen 7 1700 processor and a GTX 1050 GPU, while more expensive configurations feature up to a GTX 1080 Ti, 32 GB RAM and four separate hard-drive slots with optional RAID configurations. Visually, the two high-end models impress most with translucent eight-color LED mid-tower cases that add a digital splash of color to its side panel.
Credit: CybertronPC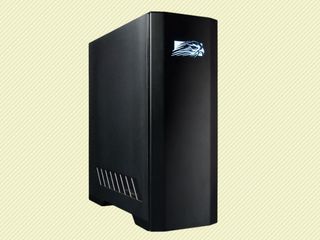 Falcon Talon/Mach V (Starting at $2,000)
Falcon Northwest recently introduced Ryzen processors to both its $2,000 mid-tower Talon and $2,500 full-tower Mach-V desktop lineup, all the way up to the Ryzen 7 1800X series. At the highest end, consumers can choose between the gaming-focused GTX 1080 and Titan or opt for Nvidia's professional Quadro P6000 GPU. Both models feature rectangular cases and minimal lighting, though unique vent designs and custom paint colors offer extensive personalization options.
Credit: Falcon Northwest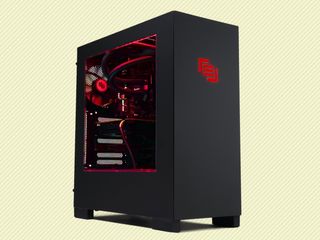 Maingear's Ryzen Lineup (Starting at $1,250)
The entire range of Maingear desktops can now be outfitted with AMD's top-of-the-line Ryzen 7 1800X processor. GPU choices are powerful and wide-ranging as well, with options for maxed-out GTX Titans in SLI or dual AMD Radeon Pro Duos. Notable models available for purchase include the easily upgradable Vybe mid-tower at $1,250, as well as the $1,829 Rush, which implements a sophisticated liquid-cooling system and has enough space for a quad-GPU setup.
Credit: Maingear