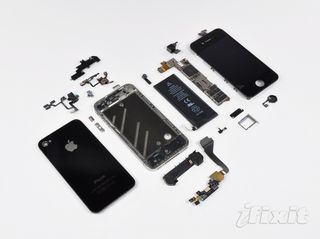 The iPhone 4's pricing is no different than it's been in for the past two generations -- $199 for one, and $299 for double the storage. But what's different now is the cost.
According to teardown firm iSuppli, the 16GB iPhone 4 costs an estimated $187.51 on the bill of materials. That's just for the component parts only, not including the packaging and shipping. The software costs and R&D investment are also additional to Apple's costs. But in terms of just raw materials, those signing up for the iPhone 4 at $199 are getting almost exactly what they're paying for.
"Just as it did with the iPad, Apple has thrown away the electronics playbook with the iPhone 4, reaching new heights in terms of industrial design, electronics integration and user interface," said Kevin Keller, principal analyst, teardown services, for iSuppli. "However, the BOM of the fourth-generation model closely aligns with those of previous iPhones. With the iPhone maintaining its existing pricing, Apple will be able to maintain the prodigious margins that have allowed it to build up a colossal cash reserve—one whose size is exceeded only by Microsoft Corp."
The iPhone 4 turns out to be the second most expensive iPhone yet. iSuppli estimated the BOM of the 3GS in 2009 at $170.80; the 3G in 2008 at $166.31 and the first iPhone in 2007 at $217.73.
Not surprisingly, the most expensive part of the device is the awesome 960x640 3.5-inch Low-Temperature Polysilicon (LTPS) and In-Plane Switching (IPS) display, followed closely by the 16GB of Samsung MLC NAND flash.
Check out the list below for the full breakdown.