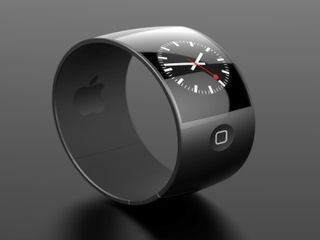 Japanese blog Macotakara is reporting on two articles in Monday's edition of Taiwanese newspaper Economic Times, which focus on Apple's rumored iWatch device. The first report claims that Apple has begun sampling 1.5-inch OLED displays from RITEK subsidiary RiT Display. The second claims that Foxconn has already received orders for the gadget.
The report surrounding RiT Display follows one that surfaced in December claiming that Intel has gotten involved with the project. The company supposedly wanted a 1.8-inch screen for its wearable iDevice, but that size proved to be too large on one's arm, so Apple went with the 1.5-inch model instead. RITEK's joint venture RitFast will supposedly furnish the touch sensor technology.
As for the second report from Economic Times, it talks about the smart watch industry as a whole, but mentions Foxconn's part in the iWatch timeline. The order volume is only around 1,000 units, so there's a good chance that the iWatch will be introduced during WWDC next month, and developers will receive the 1,000 units. Feedback from these developers will likely shape the final product to be released later this year.
Macrumors points out that talk of an Apple smart watch began to escalate after the December report. The New York Times said Apple was experimenting with curved glass designs while Bloomberg stated that Apple has 100 product designers working on the device. Rumors peaked in February and March with talk that the gadget would make an appearance this year. Little has been said about the device since.
"This can be a $6 billion opportunity for Apple, with plenty of opportunity for upside if they create something totally new like they did with the iPod -- something consumers didn't even know they needed," said Citigroup Inc. analyst Oliver Chen, who covers luxury-goods retailers. He also said that the global watch industry as a whole will generate more than $60 billion in sales in 2013 alone.
Sources claim that the iWatch will handle some of the tasks currently performed by the iPad and iPhone including identifying incoming calls, making calls, and checking map coordinates. Health-related services may include a pedometer and a sensor for measuring the wearer's heart rate. The gadget will supposedly work on any device via a Bluetooth connection, but an iPhone or iPad would certainly be ideal.
"There's no doubt the wrist is a valuable piece of convenient, glanceable real estate for viewing essential information," said Scott Wilson, a watch designer who produced a number of watchbands for the sixth-generation iPod Nano. "It'd be great to see information like, 'Where are we meeting for lunch?'"